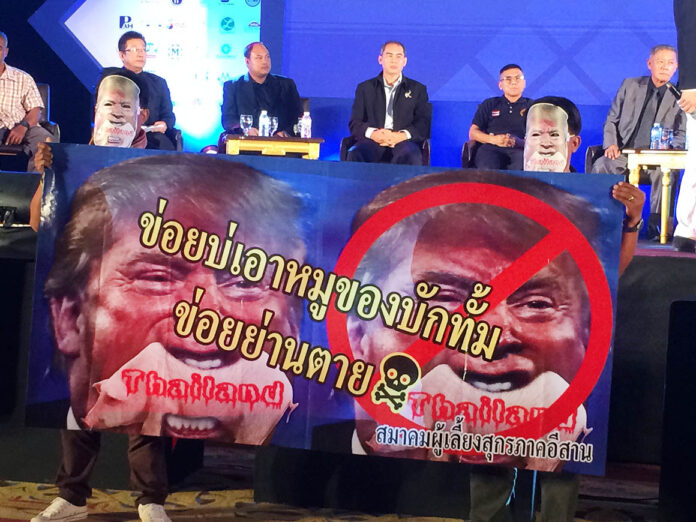 BANGKOK — On one banner, American president Donald Trump was depicted as a sharp-fanged pig. On another, he was being burnt at the stake.
Such banners framed a Bangkok stage upon which speaker after speaker denounced the 71-year-old leader as a stone-hearted and greedy businessman out to destroy Thai people's livelihoods.
"Americans like to tell Thai people we don't know meaning of human rights, but Americans don't know meaning of human lives!" one speaker vented into the microphone to much applause. "They wage war without any care for human lives. They dump their agricultural goods on Third World countries to destroy them."
The full force of anti-American rhetoric wasn't at an ultranationalist political rally but a Friday trade association event attended by hundreds of trade reps, farmers, workers and sales agents of Thailand's pork industry.
From across the country, they had converged on Bangkok to protest a US government call to open Thailand to imported American pork products, a move they fear will put much of the Thai industry out of work. They hoped their voices would be heard today when junta chairman Prayuth Chan-ocha was due to discuss the plan with President Trump in Washington.
"I'm sure Mr. Prayuth will use the trip to voice his opposition and ask them not to come here," Surachai Sutthitham, chairman of Swine Raisers Association of Thailand, said on the stage. "He will tell them: Thai people are in trouble."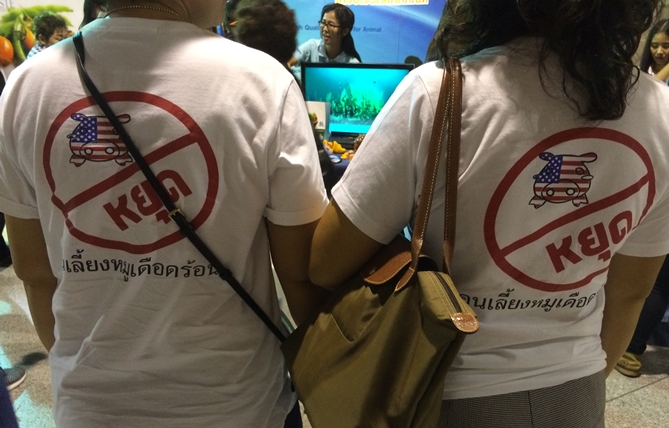 Trade leaders at the conference said they fear the United States will dump cheap pork on the Thai market, devastating the domestic pork industry which counts 300,000 swine farmers and is valued at about 100 million baht annually. There are 9.8 million pigs kept for slaughter, according to the agriculture ministry.
The Ministry of Commerce was non-committal when the pork trade groups filed a complaint in protest last month, Surachai said.
Threats of American pork drew more than 1,000 people to the Grand Diamond conference room in Impact Muang Thong Thani. Many wore T-shirts blazoned with slogans opposing the deal. They nibbled on free hamburgers and sandwiches cooked on the spot by their meat industry friends and checked out booths selling animal-based medicines, fertilizers and pig-related products.
And some vented their frustrations with the impending threat.
"We are now the second, third generation of our family business," said Sukanya Teeranuwat, who owns Prasuy Farm in Nakhon Pathom, a province associated with pig farms.
"This will not only affect me, but also my workers," she said, "everyone in the system."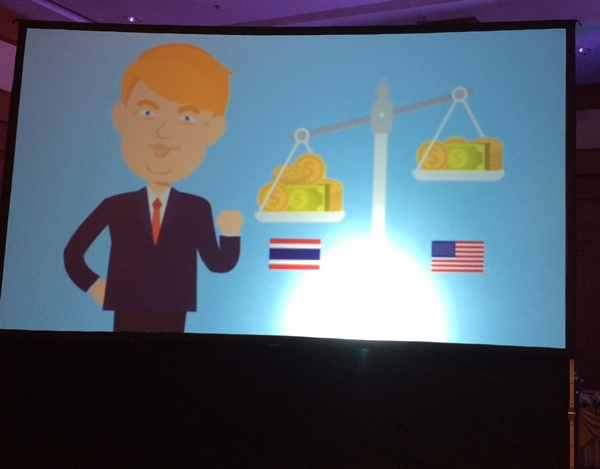 Pitchayakorn Buasawat, 59, said she has been working as a janitor at a pig farm in Ratchaburi for decades. And she fears afraid an American leader called Trump is threatening her job.
"I won't be able to do anything if I lose my job. I'm already so old," Pitchayakorn said. "The farm owner talked to us. He said if this really happened, we will all be in trouble."
Pitchayakorn was accompanied by a colleague of hers who sells pork meat at a local market for extra income.
A number of attendees said it was the first time American pork has sought to enter the Thai market. Past experiences do not bode well for the domestic industry, said a crop trade rep who recalled a time Thailand dropped 27 percent duties on imported American wheat.
"Once the [American] wheat arrived, farmers of grain rice and corn industry suffered lower price," Songsak Songsermudomchai, president of crop grower guild, said. "If the same thing happens to pork, they'll be dead."
Topics slated to be discussed during Prayuth's trip to the White House include bilateral relations, North Korea and trade agreements, according to government officials.
Highlight of Friday's event was a panel discussion featuring 11 trade reps taking turns denouncing what they perceived to be American interference in Thailand.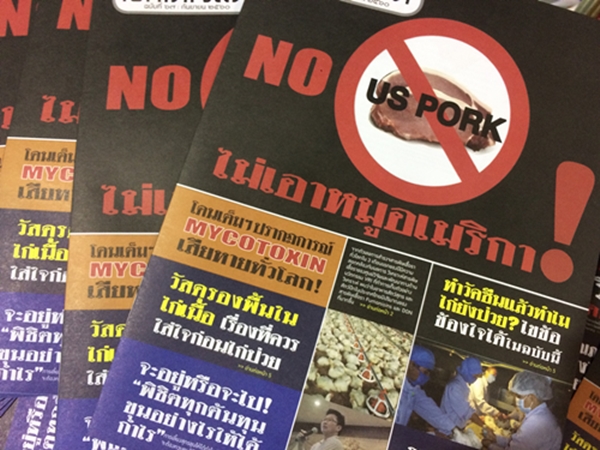 "Trump is doing this to us because he always says 'America First,'" Nipat Nuenim, head of a Ratchaburi pig farm network, thundered on the stage. "Can we Thais ask for Thailand First, too?"
"Yes!" the crowd shouted in response.
Preecha Kijthaworn, a corporate pig trader in the south, urged Trump not to make new enemies.
"Mr. Trump, you already have so many adversaries, from the Russians to the North Koreans," Preecha said, drawing laughs. "Your country and Thailand have been friends for more than 200 years. Please don't turn us into your enemy."
The head of a network of farmers and cooperatives associations said he hoped Prayuth will use Thailand's leverage as a strategic American ally to good use.
"[Prayuth] should make Trump understand if he wants us to be friend with him, he must stop the plan," Sathu Anumotami said.