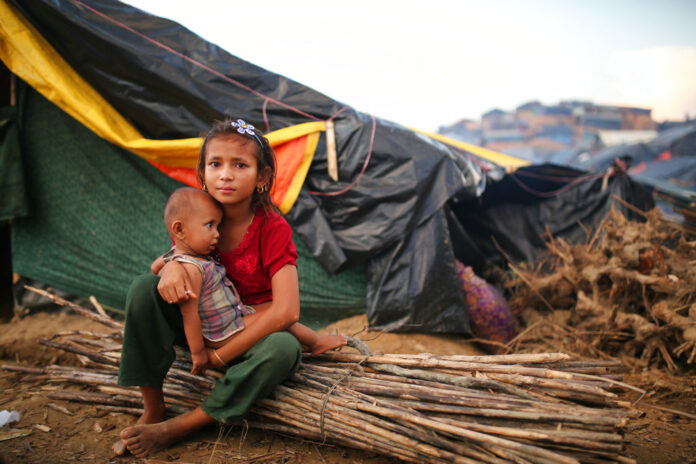 BANGKOK — Facebook should police the kind of hate speech and disinformation fanning the flames of conflict in Myanmar, the UN's special rapporteur on free expression said.
At a time when Facebook and other internet giants are facing calls to police their content against fake news and hate speech, David Kaye said in an interview Wednesday that Myanmar's dominant social media platform should dedicate resources to prevent it from being used to incite violence.
"Facebook should apply whatever standards it has about hate speech. It needs to be paying very close attention and devote company resources to police that space vigorously," Kaye said during an interview in Bangkok.
Kaye said it looks as if there exists "an online effort at ethnic cleansing if not genocide" taking place on Facebook as well as "disinformation."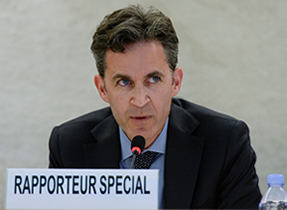 He said Facebook is responsible for such content – but should not be held liable for the violence which has driven more than half a million Rohingya from their homes and into dire conditions in makeshift refugee camps.
Dozens of Rohingya have been killed by Myanmar's military according to Human Rights Watch since the crisis began in August after a nascent insurgent movement attacked state security forces. The UN's top human rights official has described the crisis as "textbook ethnic cleansing."
Facebook has become a safe haven for hate speech that includes calls for the murder of Rohingya, which are made openly and in private groups.
"We can see how these platforms can be abused," Kaye said.
As the top UN proponent for free expression, Kaye said there is a balance to strike.
"We can all say hate speech is terrible and yet have a conversation whether it should be criminalized. … Human rights law draws that line pretty clearly. Hate speech itself constitutes incitement to violence and should be prohibited by law. That doesn't mean it should be criminalized."
The concerns raised by Kaye are not limited to Myanmar. Facebook in Thailand is being used as a clearinghouse for anti-Muslim hate speech by Thais who share conspiracy theories and recirculate reactionary memes.
Facebook and its chief Mark Zuckerberg have been on the defensive worldwide over the platform's role in disseminating so-called fake news. In the United States it was criticized last month for allowing use of its marketing tools to target "jew haters" and other users interested in racist sentiments.
The company, which has sought to play down its influence and avoid taking a more active role in policing content, said last month it would be more proactive.
Reached for comment about Kaye's call for it to take action on Rohingya hate speech, a Facebook spokesman who declined to be named said the company was aware of its role "in times of conflict" and said it would remove content found to violate its community standards policy.
"In Myanmar, we have been working with local communities and non-profits to tackle hate speech and raise awareness of our policies for several years," the spokesman wrote in an emailed statement. "We introduced localized, translated versions of our Community Standards and have a dedicated safety Page, which we work with our partners to promote."
He added that they had created "stickers" to "promote positive speech online."
State of Responsibility
Kaye said Myanmar's government "ignores the reality" of what's happening there. Late last month, de facto head of state Aung San Suu Kyi skipped a UN meeting and instead gave a much-awaited address in English in which she made no mention of documented abuses by state security forces.
Asked what his message was to Thailand's government, Kaye said he could not elaborate because he wasn't in Bangkok at the military government's invitation.
"It's a little bit unfair for me to talk about Thailand," Kaye said.
A previous to make an official visit to the kingdom on a fact-finding mission was ignored.
"I don't know when I made such a request," said Kaye, who then checked his iPad to confirm it was in 2015.
He said there was no reply from the government of junta leader Prayuth Chan-ocha. Kaye was noncommittal when asked if he would send another request. Under UN rules, he can only make formal visits to two countries per year.
Kaye, first appointed in August 2014, will serve a second term, meaning three more years on the job. The American; who also teaches law at University of California, Irvine; eventually relented and said a few words about his concerns for Thailand.
Kaye spoke critically of the lese majeste law as well as the "criminalization of all sorts of government criticism."
Last year, Kaye sent six letters raising concerns and seeking clarification about freedom of opinion and expression in Thailand to the Thai government via its permanent mission in Geneva.
The latest, dated April 11, referred to "… the existing hostile environment for the exercise of fundamental freedom in Thailand…"
Kaye said that to just talk about Thailand and Myanmar would be too parochial however, as he was quick to point out his mandate covers 193 nations.
"Freedom of expression is under threat everywhere," said Kaye, citing online harassment, hate speech and incitement to discriminate as examples across the region.
Asked to be more specific, he said free expression is "pretty much under threat in every country" in Southeast Asia.
In Vietnam, anti-government bloggers are being detained. In Malaysia, sedition laws are used to "criminalize everything from reporting to cartooning," Kaye said. In Myanmar, defamation laws are used against those who criticize the government. In the Philippines, journalists face pressure and violence related to their reporting on the war on drugs. In Singapore, offense against religion "is taken very seriously," he added.
"In Southeast Asia, there's significant threat to freedom of expression that is not about individual dissenters or reporters. It's about the vast public that's denied access to information. What you end up having is a deep threat to the democratic process," said Kaye, sitting inside a room on a thirty-odd floor in Bangkok's Silom area.
Further afield, Kaye sees China's "managed internet" as a model that Southeast Asian nations should be "nervous about." He said attention should be paid to maintaining online freedom.
"They should be wary of the Chinese model. People in the Philippines and Thailand have long enjoyed cosmopolitan, open borders," Kaye said.
He doesn't think the Chinese model of internet control can possibly be replicated in smaller countries due to the adverse impact on the economy.
"It's a threat, I hope the countries in the region resist that model," he said.
On censorship, he said any government that resists criticism must be very weak.
"What are you afraid of? If you don't like criticism, give me the reason why it is wrong," he said.
As for citizens and politicians who willingly support censorship, Kaye had this to say.
"My view to people who support censorship is think twice before you support the idea. Don't try to silence the dissent. If you believe in democracy, imagine a time when your government is not in power. What if you are in the opposition five years from now? It's a give and take. If people don't believe in that, frankly they don't believe in democracy," he said.
Kaye said that three years into his job, he strongly thought that the promise of the internet being a place for individual growth, learning and all other good stuff had given way to surveillance, interference with users' privacy and criminalization of online speech and expression.
"The internet is becoming a dangerous place," he said. "It's difficult for us to continually fight the fight."