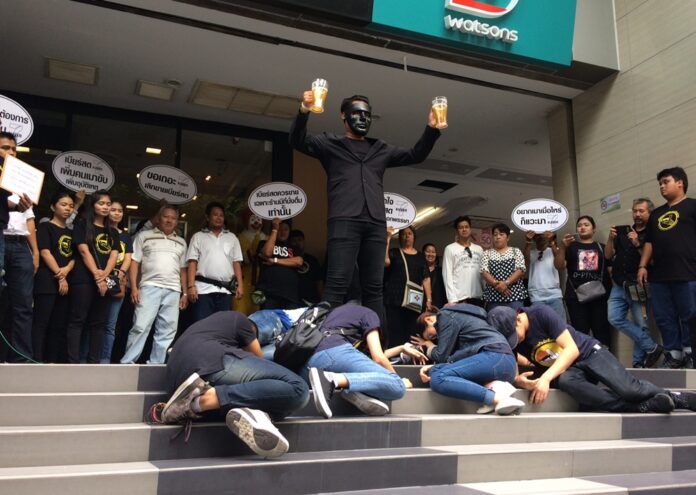 BANGKOK — Cups won't be running over with draft beer at 7-Eleven stores, after all.
Less than a week after a trial of of draft beer machines debuted, 7-Eleven announced Friday it suspended the service nationwide following protests by anti-alcohol protesters.
A representative of CP All, the conglomerate that owns all Thai 7-Eleven stores, said the company would take into account opinions from all sides before making a final decision whether to bring the service back.
"The protesters think it's not good, but customers think it's good," assistant manager Dhanudeth Reukcharoen said. "We have to ask society whether people think it's a good idea. Right now people are divided into two, three sides."
Read: Draft Beer at 7-Eleven Gets Okay, Here's Where to Find It
Today's protest was staged in front of CP All's Silom Road headquarters by a group that seeks to restrict access to alcohol.
"Drop by anytime when you want to get drunk," read one banner, mocking the 7-Eleven slogan "Drop by anytime you're are hungry."
Following a meeting with CP All representatives, Alcohol Business Watchdog group leader Kumron Chudacha said he was told 7-Eleven had suspended the beer machines. Kumron said he was pleased by the company's pledge to review the situation.
"We are not enemies of CP. We only want to point out to them they have more to lose than to gain," Kumron said. "They only collect [franchise fees] and market share, but it's not worth damaging their image in society."
Word that Leo draft beer machines had appeared in some 7-Eleven stores spread on social media this week, prompting health officials to inspect a store in Bangkok's Chinatown on Tuesday. They ruled the company did not break any of the nation's strict alcohol laws and gave them the okay to operate with some restrictions.
Despite the greenlight, Dhanudeth said the draft beer service was suspended in all pilot 18 stores after the visit.
'First in the World'
Sale of alcohol is tightly regulated in Thailand, where lawmakers cite Buddhist precepts that ban intoxicating substances behind numerous anti-booze regulations. Alcohol cannot be sold at certain times of the day or on holy Buddhist days, and the advertisement of alcohol is forbidden. Even a simple act of "encouraging others to drink" is subject to a 500,000 baht fine.
Kumron said his group opposed the draft beer machine because it encourages people to drink alcohol in public, unlike bottled or canned beer which is usually consumed at home. He also believes the novel idea of draft beer in convenience store might attract new drinkers.
"Draft beer in Thai 7-Eleven is the first phenomenon of its kind in the world," Kumron said. "Other countries don't have this."
He described his group as a network of watchdogs across the country who look out for new tactics of alcohol companies that may violate the laws, then alert the authorities. Kumron stressed he's not against alcohol in general; he only protests overt display or sales of booze.
"Draft beer should only be served in pubs and bars where people actually sit in those places," Kumron said. "I never oppose them."
In the phone interview, Dhanudeth said he believed his chain was being treated unfairly in the media, since their competitor – Family Mart –  started a similar service in July, to little or no negative attention.
"I would like to ask for fairness from the media, too. And I don't understand why the alcohol network doesn't know this: Our competitor was there first, three months before us, but no one raises a word with them," Dhanudeth said. "The media should be fair to us. When we do it, why was there so much negative sentiment?"
Kumron said his group also protested Family Mart's draft beer service.
"We aren't targeting only 7-Eleven," he said. "We went to check at their store in Silom, they already stopped it."