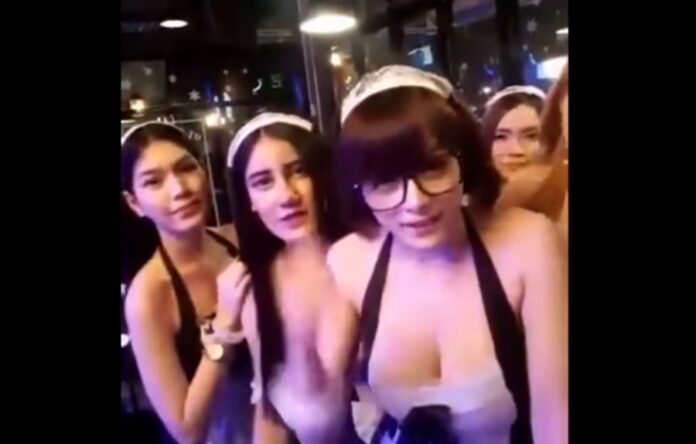 SARABURI  — Three promotional models at a bar in Saraburi province were arrested for promoting alcohol over a Facebook Live stream, police said Wednesday.
Citing a controversial prohibition on acts which encourage others to drink, the women were charged with an offense that carries a penalty of up to 500,000 baht. The arrests on Monday came after authorities renewed their pledge to prosecute anyone who uses social media to promote alcohol consumption.
"Yes, this is part of the new policy, after deputy police commissioner Suwira [Songmetta] gave us the directives," Saraburi police commander Chairat Thipchan said by phone. "In my jurisdiction, we saw the video, and it was a clear violation of the law, so we took action."
The three suspects are Janjira Jansakha, Nanthida Punyamanote and Nantarika Pueakkliang. They work as so-called "cheer beer ladies," attractive women whose job is to promote alcohol brands at venues and events.
Col. Chairat said police were prompted to take action after they saw a Facebook Live video in which Janjira and two others briefly urged viewers to come to their bar, called Bar Cony. Although most of the July 23 clip consists of the women chattering and teasing viewers, Janjira once mentions a "buy one Leo get one free" promotion before 9pm.
"You can come and get us drunk. We want to get drunk!" said Janjira, clad in a maid costume. "Hurry up and get here!"

Chairat said the 2008 alcohol law clearly bans "encouraging others to drink," which includes offering discounts and other promotions.
"We are expanding the investigation to find out whether the bar owner … is also guilty," the colonel said "But it's clear that the suspects are guilty."
The owner of Bar Cony said she was shocked to know police took legal action against three of her staff members for the video.

"At first police told me they would just give us a warning, but when I saw the news, it was way bigger than I understood," said the owner, who declined to give her name because she "doesn't want trouble with the police."
She said the bar would pay the fines for the three women if they are found guilty. Boonrawd Brewery, the conglomerate which makes Leo beer, has contacted the bar to offer assistance, she added.
Alcohol regulators and police announced last month they would monitor social media to look for anyone who promotes booze or "encourages others to drink."
A number of celebrity actors and singers were also charged for posing with alcohol beverage for alleged advertising purposes. The latest crackdown on booze pics resembles a previous attempt by the alcohol regulators in 2015.
Col. Chairat of Saraburi police said his unit will continue to prosecute any violators of the law.
"I believe every business operator knows what's right and wrong. When they applied for permits, the Excise Department already told them about advertising laws," Chairat said. "Yet they kept looking for loopholes."
The Bar Cony owner said the three women charged under the law have taken a break from work because they are shocked and depressed about what happened.
She also questioned why police memos and mugshots of the three suspects were leaked to social media.