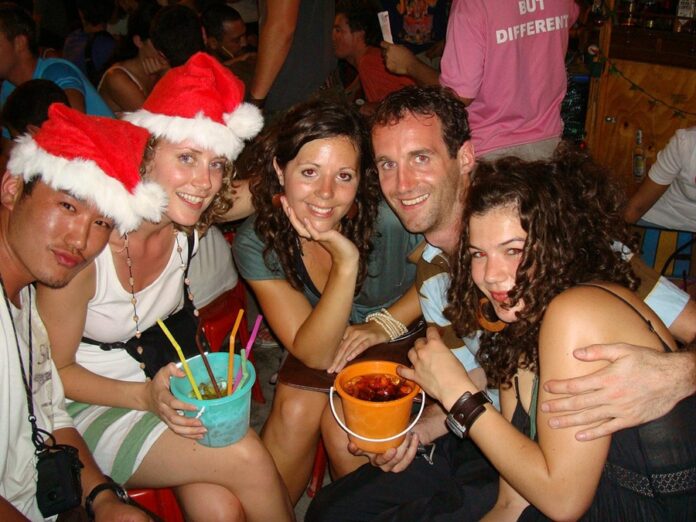 BANGKOK — Police said Friday they've been ordered to monitor social media nationwide for those suspected of advertising alcohol as a trade association argues the renewed crackdown has a vague legal basis.
Citing a law that bans any act that "induces" others to drink, alcohol regulators said Thursday they have instructed police to take action against business owners and celebrities who promote booze on social media. The offense – which is routinely cited to shut down any display of alcohol – carries a maximum penalty of 500,000 baht.
Regulator Shuts Down Booze Buffet; Threatens to Prosecute People Sharing Alcohol Pics 
But Thanakorn Kuptajit, chairman of Thai Alcohol Beverage Business Association, said officials should clarify which actions cross the line into advertisement or inducement before embarking on the campaign, lest it create panic.
"If they enforce the law clearly, the association has no problem. The industry has no problem," Thanakorn said. "But it has to be clear. Otherwise there will be chaos. People will be afraid. If they simply pose with alcohol, would it be considered an advertisement?"
At Thursday's news conference, police and the Alcohol Control Board named four celebrities as potential violators. They were DJ Davide Dorico, actress Cris Horwang and two singers: Pongsak Rattanaphong and Hansa Juengwiwattanawong.
The four are accused of appearing in social media photos which appear to advertise alcohol. As of press time they have not posed any response to the news.
According to an official English translation of Section 32 of the 2008 Alcohol Control Act, "No person shall advertise or display names or trademark of alcoholic beverage deemed to exaggerate their qualifications or induce people to drink such alcoholic beverage either directly or indirectly."
Speaking by phone Friday, a deputy commander in the online crime division said they are not only targeting celebrities but any business operator who violates the law.
"Every command center in every region and every province has been instructed to monitor such behavior," Col. Puttidej Bunkrapue said.
Habits vs. Values
Although alcohol is widely consumed, it is considered sinful by Buddhism, the majority faith. Sale of booze is forbidden on Buddhist holy days, and advertising is tightly regulated. It's not uncommon for television programs and newspapers to censor images of alcohol.
To skirt the tough law, the two main breweries have hired celebrities to pose with products on social media as a kind of guerrilla marketing.
It's not the first time authorities have gone after these undisclosed commercials. In 2015, the alcohol control board summoned a score of actors and actresses and threatened them with legal action over alleged violations of the booze law.
Samarn Futrakul, the head of the agency at the time, also famously threatened to prosecute regular citizens for sharing photos of alcohol on social media.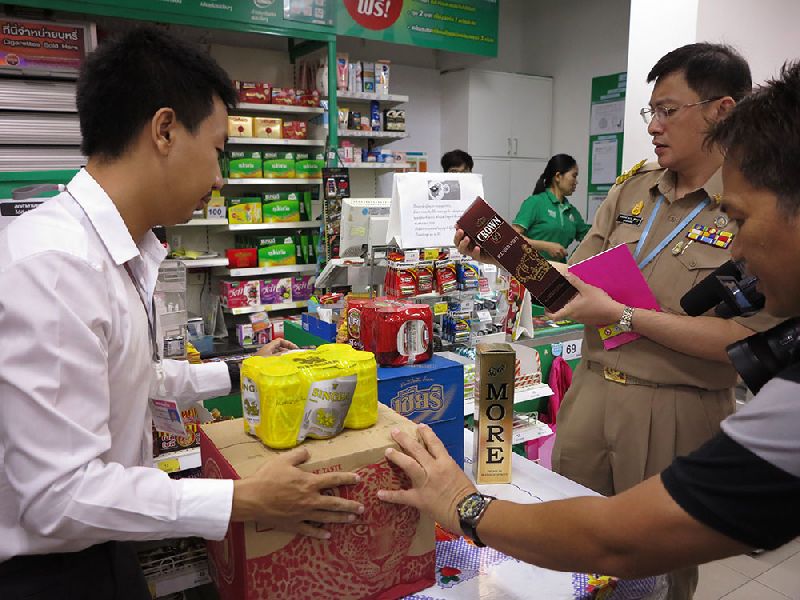 Nipon Chinanonwait, the official who replaced Samarn in February, said he's required by law to look for any illegal advertisement of booze.
"I have taken over this job, and I must carry on," Nipon said. "If we do not act, we may be liable to negligence of duty. We are not targeting anyone in particular."
Thanakorn, the alcohol trade group rep, said officials should define what amounts to encouragement and advertisement, adding that there must be definite proof the accused received compensation for posting the photos.
"Suppose you go out, take pictures of alcohol and post them online. Is that encouragement? It could be encouragement. But is that advertisement?" he said. "Officials must go back to read what's defined as 'advertisement' under the law. The law says advertisement must involve a commercial purpose."
But Nipon wasn't buying that. He said marketers and business owners know full well what constitutes the promotion of alcohol consumption; therefore, the law needs no revision.
"Anyone who's studied marketing would know what counts as marketing and what counts as an advertisement," the director said. "People who do it know exactly what it is."
Questions of Intent
Thanakorn and a number of business owners have previously called for a clearer interpretation of the 2008 booze law, which bans vaguely defined actions. The law criminalizes "encouraging" or "exaggerating" the benefits of alcohol. He repeated the call today.
"This issue is unresolved, about what can be done and what cannot be done. An impartial figure should be brought in to interpret the law for us," Thanakorn said, adding that he referred to the Council of State, an agency with the power to interpret the law and settle disputes for the state.
Col. Puttidej said police will take into account whether the accused intended to break the law.
"We have to prove first who posted the photos, and then we will see their intentions," the colonel said.
There's no plan to bring the four celebrities accused by the alcohol control board in for questioning at this time, he said.
Nipon also stressed that authorities will only take action against those proven to act on unlawful intent.
"Do they have intent to advertise?" he said. "Officials can determine whether there was intent. There are many factors and indicators of an intent."
Related stories:
Make Notoriously Vague Booze Laws More Clear, Trade Group Urges