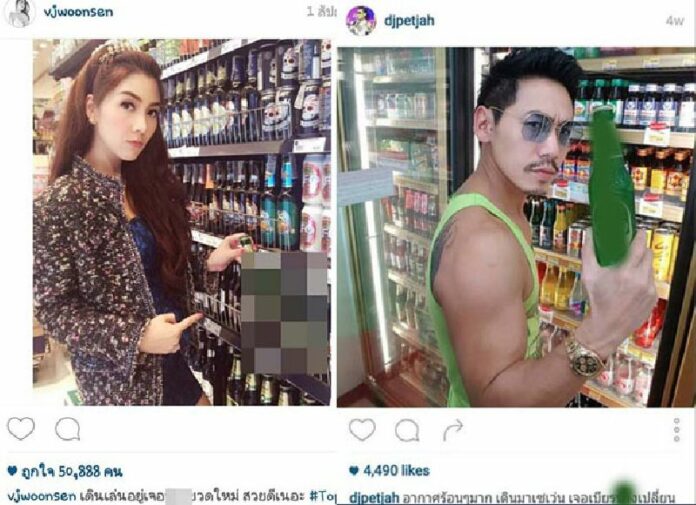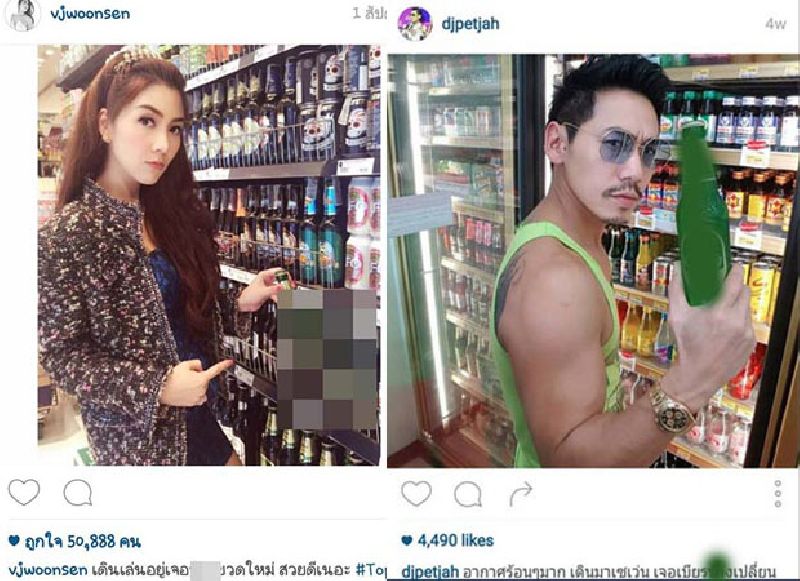 BANGKOK — Police are still weighing charges against celebrities who posted photos appearing to promote a beer brand on their Instagram accounts, while the head of the alcohol control board insists members of the public will be prosecuted for doing the same.
Over 30 actors, actresses and singers are currently under investigation by police for violating the 2008 Alcohol Control Act, which forbids advertising alcohol by even showing brand logos or "enticing" others to drink.
Samarn Futrakul, head of the Alcohol Control Board and the chief author of the act, said the celebrities must face legal consequences for posting photos of themselves posing with or drinking Chang beer on Instagram.
"Getting celebrities and artists to post photos of themselves with alcoholic beverages on Facebook and IG like this is against the law," Samarn said Monday.
---
Chang, Celebs Panned for Pitching Beer On Instagram
---
Although the photos had every appearance of being part of a coordinated campaign to promote Chang's newly rebranded product – Chang Classic – the celebrities in question have repeatedly denied being compensated for posting the photos.
In the images, most of which were posted about the same time several weeks ago, the bottles are carefully turned so their labels are clearly visible. Similar captions extol the brand.
Samarn was unconvinced.
"Whenever there's a problem, they always say that," he said. "But law enforcement officers under the Alcohol Control Act and police officers can exercise their judgment: Whether to fine them or send them to court, because if they keep repeating the offense, they cannot be merely fined."
The celebrities deleted their beer photos soon after investigation was launched last week.
Shared Peril?
Since the scandal erupted, Samarn has insisted private citizens will also be prosecuted for posting photos showing alcohol.
"These people will also be held accountable, because they cannot defy the law," he said, referring to anyone who posts such photos.
The law does not only prohibit traditional advertising, but also any effort to "encourage people indirectly" to drink alcohol, Samarn said.
"If they have no intention to do that, they won't be guilty," Samarn said. "However, people shouldn't post photos of themselves with alcoholic beverages anyway, because it's a sinful product. It's an immoral product. They shouldn't pose with that product, because it's not good for them."
Samarn is a deeply conservative Buddhist and high-profile prohibitionist. He has helped write drafts of a number of laws and regulations aimed to restrict the availability of alcoholic beverage, including the 2008 Alcohol Control Act.
Consumption of alcohol is considered a sin under Buddhism. However, in practice, restrictions on alcohol sales are selectively enforced, and drinking is commonplace in Thailand.
Deputy police chief Pongsapat Pongcharoen also stressed that members of public may be held liable for posting photos of alcohol, but only those doing so for commercial purposes.
"The Royal Thai Police has an agency that monitors social media. We monitor every website. If it fits the definition, it will be considered wrongdoing," Gen. Pongsapat said. "Therefore, we are not only prosecuting celebrities. Every other profession that fits the definition of wrongdoing will be prosecuted as well. But if they have no intention for commercial interest, they need not worry."
The investigation appears to have been launched after Piti Bhirombhakdi, heir to Singha Beer conglomerate, complained online that his rival brewery was using celebrities to post photos of themselves with Chang Beer. In a Facebook post, Piti accused Chang of employing "unethical" marketing schemes.
Samarn confirmed that Piti had filed a complaint to the Alcohol Control Board and would be summoned to testify to the board within the next two weeks.
Meanwhile, actors and actresses who joined Chang's campaign have insisted to the press in recent days that they were not paid for showing off Chang Classic in their Instagram accounts.
"I am not worried because I have genuinely innocent intention," actor Pakorn Lam told reporters yesterday after being asked whether he's concerned by the ongoing investigation. "I have made it clear that I was not paid to do it. But I admit that I feel really, because I have been in this career for 20 years. I want to be a good role model for everyone."
Asked to explain how so many of her peers posted similar photos at roughly the same time, actress Virithipa "Woonsen" Phakdeeprasong said Monday it was just an unplanned coincidence.
"We didn't talk to each other about whether we will post the photos," she said.
Celebrities in Thailand often supplement their incomes by promoting products on social media. Woonsen said not everything she promotes is done for money.
"There are some goods that I get paid for, and many others that I don't get paid. I didn't get paid for this one," she said. "So I feel really bummed that I have to go through all this trouble, and I don't even get paid for it."
Related stories:
Booze Ban to be Arbitrarily Enforced During 6-month 'Study'
Official Resurrects Proposed Ban On New Year Booze Sales
To reach us about this article or another matter, please contact us by e-mail at: [email protected].