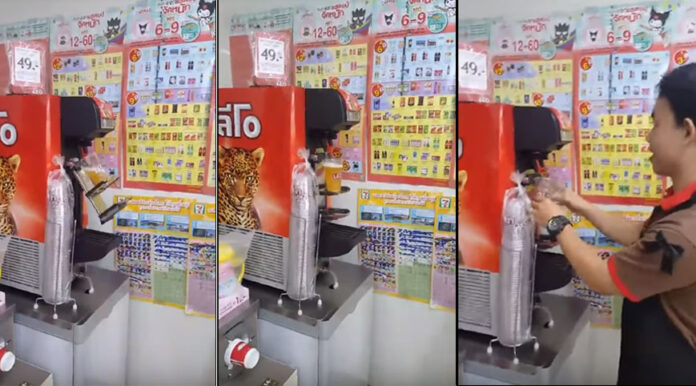 Update: 7-Eleven has pulled the service. 
BANGKOK — Want some pork buns, discounted candy or Singha on draft to go with that?
Draft beer, usually sold only at bars and festivals, is making a heady entry into the nation's ubiquitous 7-Elevens. After inspecting a prototype machine at a Chinatown store, a public health spokesman declared Thursday that pumping beer in that form does not run afoul of strict alcohol control laws.
"They complied with every step of the law," Asadang Ruayajin of the Department of Disease Control said. "I believe the company already studied the law."
Asadang said alcohol regulators were sent to a 7-Eleven in the Yaowarat area on Wednesday after receiving word that draft beer was being sold there.
The spokesman said the inspection was necessary to make sure the beer wasn't sold by an automatic vending machine and advertisements were not displayed; both things that would violate the 2008 Alcohol Control Act.
Asadang said he's not aware how many convenience stores would add draft beer service, but he said CP All, which owns and operates 7-Eleven in Thailand, informed him both of Thailand's major brewers were looking to "experiment in the market."
The beer market is dominated by two conglomerates: Boonrawd, which makes Singha and Leo; and ThaiBev, the brewer of Chang.
7-Eleven is not the first to the market. A Family Mart located on the first floor of the Holiday Inn on Silom Road has a Chang Beer tap.
Sale of alcohol is tightly regulated in Thailand, where lawmakers cite Buddhist precepts that ban intoxicating substances behind numerous anti-booze regulations. Alcohol cannot be sold at certain times of the day or on holy Buddhist days, and the advertisement of alcohol is forbidden. Even a simple act of "encouraging others to drink" is subject to a 500,000 baht fine.
While booze control officials said they'd permit convenience store draft beer, Asadang said staff are still required to cover any brewer's logos on the machines.
Asked how it would be different from bottled and canned beer, which is sold with the logo visible, the spokesman said such displays are part of "product branding" and not considered advertising.
A CP All representative said the taps are currently available at 18 stories in Bangkok, Chonburi and Samut Prakan provinces.
In Bangkok, the taps can be found at several stores.
One is in Chinatown at the corner of Phadung Dao and Yaowarat roads.
Another is located down Soi Ruam Ruedi off Phloen Chit Road, just south of BTS Phloen Chit.
A third is near the Ocean Tower 2 building north of Asoke intersection at the corner of Asok Montri Road and Sukhumvit 21 Soi 3.