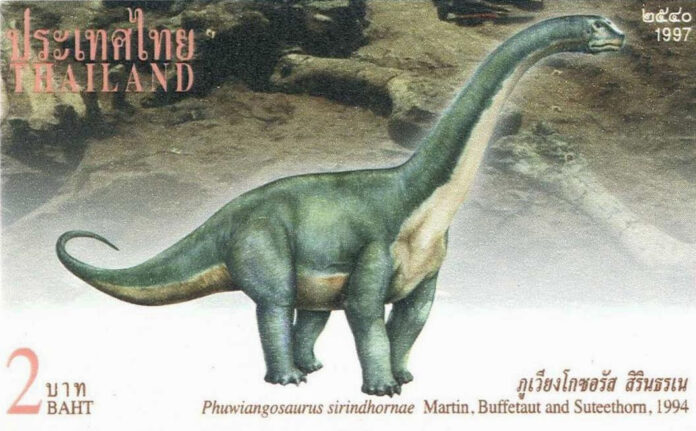 CHAIYAPHUM — While fishing in a public reservoir near his home in Baan Panang Sua, Thanom Luangnan found some unusually large bones and alerted the authorities.
Over a year later, paleontologists said Thursday those bones and more than 20 other fragments likely came from the largest herbivore dinosaur ever to walk what's now Thailand in the Cretaceous era – and could even herald the discovery of a new species.
"I'm confident that this is the largest herbivore dinosaur fossil found in Thailand and Southeast Asia," Niwat Maneechat of the Mineral Resources Department said. "Comparative research will take one to two years for us to determine the species for sure, which may even be a completely new species."
Scientists estimate the dinosaur was 23 meters to 30 meters long, Niwat added. They have been studying the bones since Thanom first made his June 2, 2016, discovery.
The bone fragments are more than 100 million years old. They came from the dinosaur's sacrum, pelvis spine and femur. The longest piece is 178 centimeters.
If not a new species, Niwat said the bones of the long-necked, long-tailed sauropod may belong to Phuwiangosaurus sirindhornae, a species previously unearthed in Thailand and named after Princess Sirindhorn.