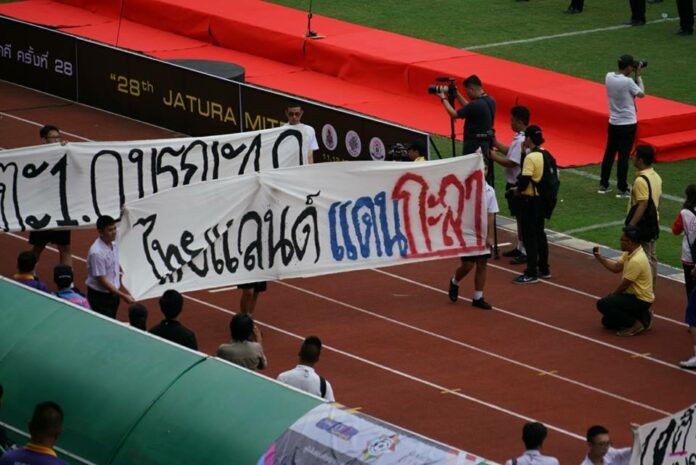 BANGKOK —  A photo of a banner displayed by students at a football match between two of Thailand's top schools remained a hot topic Monday on social media.
"Thailand, Land of the Coconut Shell," the banner said, using an age-old metaphor about an arrogant frog who lives under a kala, or coconut shell, mistaking it for the entire universe.
The banner was displayed Saturday at National Stadium in a parade organized by Suan Kularb students just before their school took to the field against Bangkok Christian College.
The bold declaration went viral, dividing those on social media between those who praised the students for telling it like it is, and critics who accused them of treason.
The 16-year-old student behind the banner said Monday the internet missed his point.
"The word kala [coconut shell] refers to the education system," Thitisant Songkhumawej said. "I mean the education system is in the coconut shell. The system refuses to come out and accept new things."
Saturday's match was part of Jaturamitr Samakkee, an annual tournament pitting four of Bangkok's most prominent all-male schools against each other: Suan Kularb, Bangkok Christian College, Debsirin and Assumption College. It's been a tradition since 1964, but last year's match was canceled due to King Bhumibol's death.
The photo, first posted by a student group, immediately drew a slew of comments.

"Insulting your own country, calling your own country Kala Land," user Patcharaphol Sutthivirat wrote in a post. "I did not expect to this kind of expression from young people at this year's Jaturamitr football match. Very disappointing and sad."
"The brains of these kids are inferior even to dogs and buffaloes. They used the word coconut shell to insult their own country where their own ancestors lived and worked for them," Tanaporn Rakcharoen wrote in reply.
Hardline conservative news sites such as TNews and Manager also reported the news with a critical tone. But the students weren't without support. A satirical political cartoonist compared conservative outrage to dinosaurs.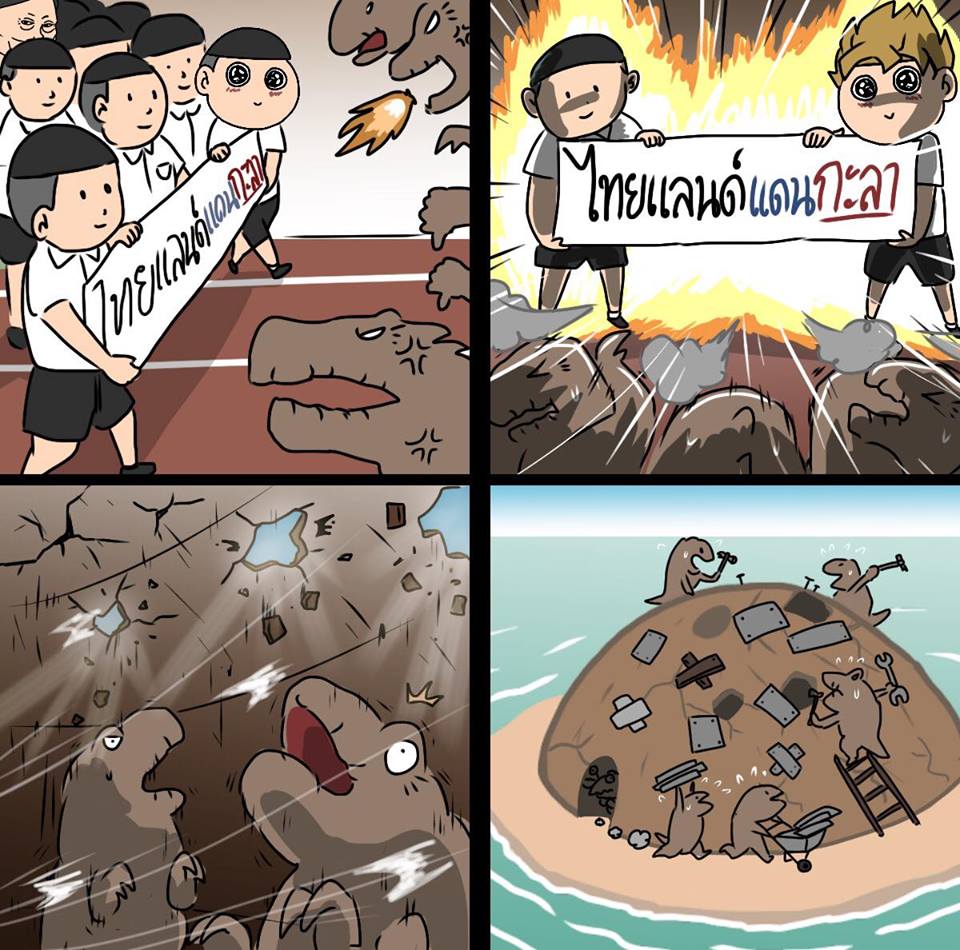 Some said the scorn ended up proving the students' point.
"If you want to know whether Thailand is indeed land of coconut shell, just see for yourself the comments that scold the kids 555," tweeted @gobtaiii. The term was still trending on Twitter by late Monday morning.
Thitisant, the student who made the banner, said he was "a bit sad" but largely undisturbed by the criticism.
"I don't know how to explain my feelings. Well, I'm a bit sad," he said. "Well, I'm the person who made it. I know best what I meant. People who criticize me may not understand it."
Asked what improvements he wants to see to free Thai education from the "coconut shell," Thitisant, a high school student studying arts-math in Matthayom 5, named more creative teaching methods and a focus on teachers' ethics as priorities.
Suan Kularb lost to its rival by 0-1.
Shows at many university and school football matches often start before kick-off in parades that offer political commentary or satire of current events.
At a 2015 match between Chulalongkorn and Thammasat universities, students unveiled banners and floats lampooning the junta at a time when criticism of the regime was muffled elsewhere. The surprise stunt led to scuffles between student organizers and undercover security forces on the scene.