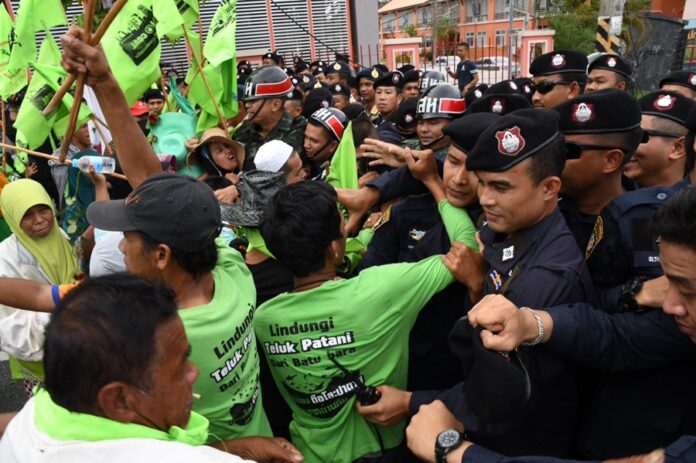 Update: All 15 protesters were freed on bail Wednesday evening with the help of seven university academics who vouched for their release.
BANGKOK — Fifteen people who oppose a plan to build a coal plant in their hometown remain imprisoned Wednesday because they could not afford their bond money – set at 90,000 baht each by the court.
The bail ruling was made in the afternoon – nearly the time the court closes its doors – so a fundraising effort could not be made in time, their lawyer said. A renewed fundraising campaign is underway on Wednesday, the same day the United Nations raises its concern over arrests of the 16 suspects.
"We were unable to secure their bail," defense lawyer Krissada Khunnarong said. "Well, they didn't have enough money."
Read: Coal Protesters Face Prison After Police Scuffle (Photos)
The group was arrested Monday afternoon as they were marching from their hometown in Songkhla to submit a petition to junta chairman Prayuth Chan-ocha, who was touring the region.
Supporters today began soliciting donations on the jailed protesters behalf. A group of academics back home in Songkhla have also pledged to guarantee their bonds, attorney Krissada said.
Of the 16 initially detained, a 16-year-old minor was freed on bail yesterday.
The group opposes a plan by the military government to build a coal power plant in Songkhla's Thepha district, citing its potential impact on human health and the environment. They set out on a march Sunday to hand a petition decrying the project to Gen. Prayuth, who was touring neighboring Pattani province with members of his cabinet.
Police said they broke up the protest because demonstrators were blocking traffic and assaulting officers. Krissada disputed the allegation, saying his clients had assembled peacefully.
The suspects are charged with obstructing traffic, assaulting officers of the law and other related offenses. They have yet to be charged with violating the junta's ban on protest or the public assembly law, their lawyer said.
Policing or Suppressing?
The arrests drew the condemnation of numerous NGO and activist groups. It was the first protest crackdown in recent months.
On Wednesday, the United Nations became the most high-profile group to speak out. In a statement, the UN Human Rights Office in Southeast Asia expressed concern.
"Peaceful protests are an integral part of democratic societies to ensure accountability and public participation," UN human rights officer Cynthia Veliko said.
It continued, "In recent years, the UN Human Rights Office has received reports of intimidation by authorities and companies against community members and activists who peacefully oppose development initiatives due to environmental, health and livelihood concerns."
Deputy junta chairman Prawit Wongsuwan told reporters Tuesday that police acted in self-defense. He described the arrested demonstrators as "hardcore" elements attempting to provoke clashes.
"This has nothing to do with politics at all," said Gen. Prawit, who's in charge of national security.