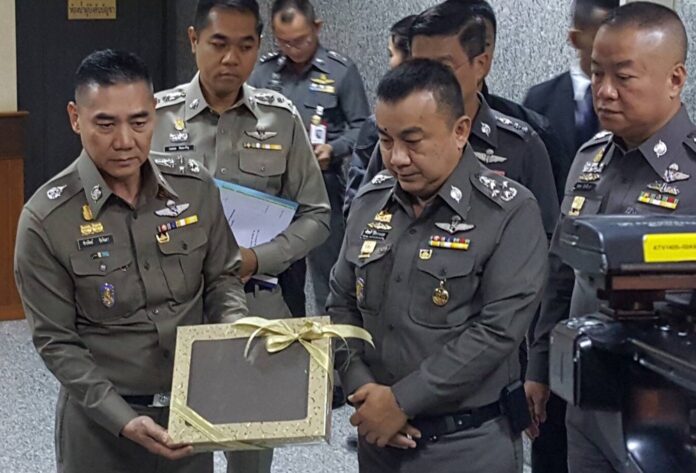 BANGKOK — On the orders of King Vajiralongkorn, police will be given new uniforms, and Bangkok's oldest zoo will move to a larger space outside the city.
Police spokesman Krissana Pattanacharoen said Friday that a single khaki shade, officially called Sor Nor Wor 01, will be implemented across the police force to display a sense of unity. Currently, each unit uses their own shade of khaki despite regulations which call for a single color.
"Every police officer deeply appreciates it," Col. Krissana said.
A sample fabric and color pattern was delivered to police commissioner Chakthip Chaijinda today from the palace.
A committee will be formed to design the final look of the new uniform. Gen. Chakthip will be the first to wear it "as an example," Krissana said, adding that it's not yet clear when the new attire will be implemented nationwide, or how much it will cost.
Dusit Zoo, a much-beloved weekend destination for many Bangkokians for generations, will move to a new home on land granted by King Vajiralongkorn, a zoo official said Friday. The current site sits next to the Ananda Samakhom Throne Hall, a royal estate belonging to the king and recently closed to the public.
The new zoo will be built in Pathum Thani province, north of Bangkok, and will be much larger than the original site, said the official, who asked to remain anonymous because the person is not authorized to speak to the media.
"His Majesty is very merciful," the official said. The date of the move has not yet been finalized.
Since succeeding his late father and ascending to the throne in December 2016, King Vajiralongkorn has introduced a number of changes to the kingdom.
His reign has seen a new form of salute, new haircut regulations for the armed forces and transfers of agencies responsible for palace affairs to his direct control.