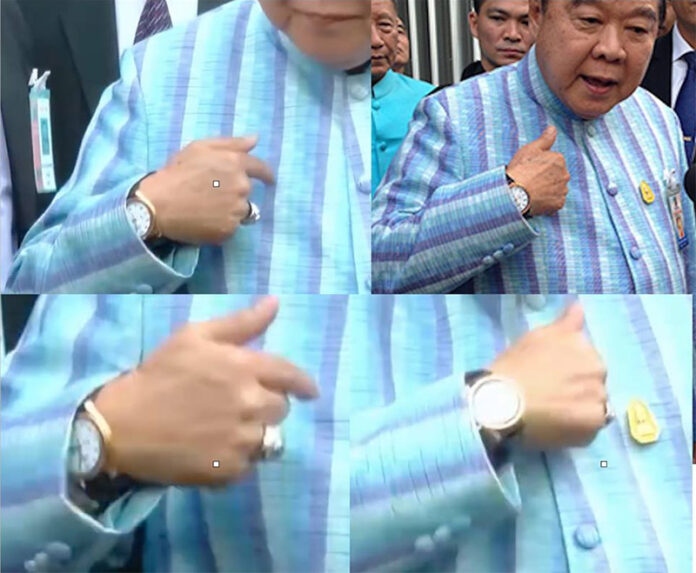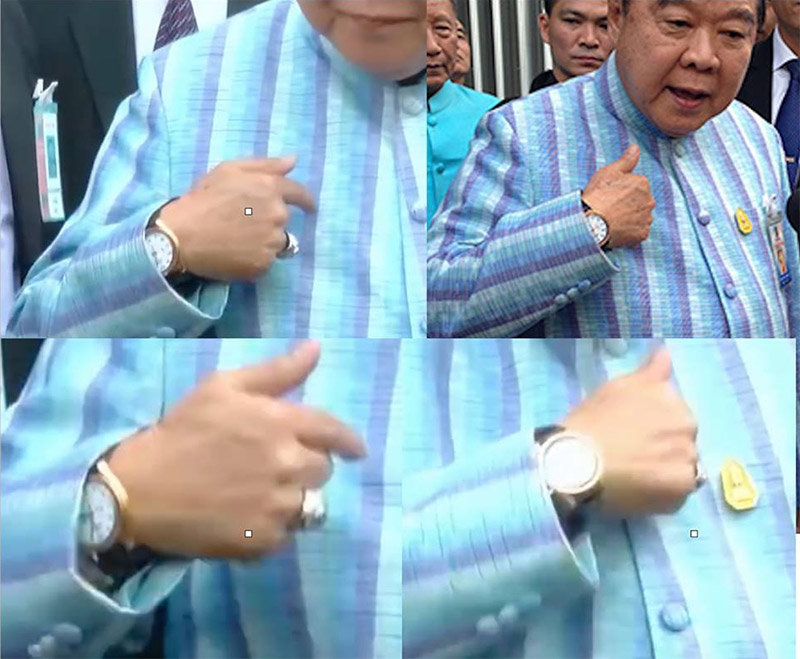 BANGKOK — The anti-corruption chief said Deputy Prime Minister Gen. Prawit Wongsuwan has not explained the provenance of 23 undeclared luxury watches in his possession, over a week after the deadline to do so.
Gen. Watcharapol Prasarnrajkit, chief of the National Anti-Corruption Commission, or NACC, said Monday that Prawit has filed no explanation with his agency, weeks after another high-ranking commission official said they'd already received it.
Watcharapol, who has been criticized for handling the probe due to his close connections to Prawit, also said the commission has no authority to suspend Prawit pending the probe's outcome. He said the commission would continue its investigation into what has ballooned from a single multi-million baht watch to include upward of 23 luxury watches including makes by Richard Mille, Patek Philippe, Rolex and Audemar Piguet.
Read: Prawit Files His Watch Response – And NACC Keeps it Secret
Anti-corruption activist Srisuwan Janya said Monday that he was surprised by the news after reading media reports that Prawit had already submitted a letter of clarification. He said it looked like those tasked with investigating Prawit were actually stalling to buy him more time.
"Society can perceive this as a tactic to give Gen. Prawit more time to explain," Srisuwan said. "Actually I was worried from the beginning that the NACC wasn't willing to talk so much about the case."
The activist – who has petitioned the NACC to probe Prawit and urged junta leader Gen. Prayuth Chan-ocha to suspend him from duty – said he will keep an eye on the case's progress.
In early December, Prawit was spotted wearing a 3 million baht-plus Richard Mille watch in a group photo of the new cabinet. As the scandal unfolded – Prawit did not declare any such item in his mandatory asset disclosures – online sleuths discovered old photos of him wearing various multi-million baht wristwatches. At least 22 more have been spotted to date.
On Dec. 29, NACC Secretary-General Worawit Sukboon said that Prawit had submitted his explanation, but declined to discuss its contents, saying it was a "delicate matter."
Attempts to reach Worawit on Monday were not immediately successful.