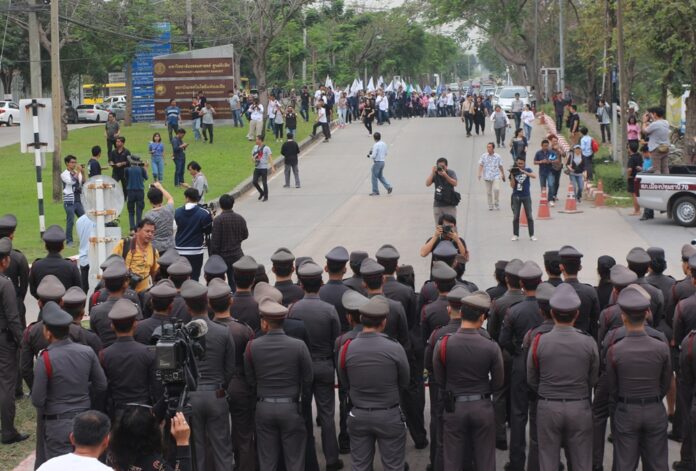 BANGKOK — Activists behind an ongoing cross-country march to demand greater civil rights face charges of violating the junta's ban on public protests, police said Tuesday.
An army officer representing the military filed complaints against eight activists identified as organizers of the march Monday. Police said they have yet to formally charge the campaigners, and one of them pledged to fight the case.
"We have been expecting this," Anusorn Unno, who works as a university lecturer, said in an interview. "We have prepared for this."
Read: BKK – Khon Kaen Marchers to Sue Police
Anusorn and seven others are accused of flouting the junta's ban on political activities by helping organize a march from Bangkok to Khon Kaen province to call for protection of free speech, universal healthcare and other rights.
The march – set to cover a distance of 450 kilometers – got off to a rough start Saturday when lines of police blocked the marchers' path in Pathum Thani province. A standoff followed for hours until the activists resumed the walk by setting out in small groups.
Anusorn said some campaigners were told by police on Saturday that the military was gathering evidence to take legal action at a later time. He said the move will not affect the march.
"Their complaints are about what happened on Saturday. They are not related to the walk," Anusorn said. "People who walk are still walking. They take turns on the walk."
Pathum Thani police chief Surapong Thanormjit said he had yet to charge the eight activists with any crime as of today. He did not say when they would be charged, citing the need for further investigation.
Maj. Gen. Surapong is one of the police commanders named in a lawsuit filed by march organizers to the administrative court Monday, which accused them of unlawfully obstructing the demonstration. Surapong said he would defend himself in the court.
"If they are confident in what they're doing, then let them do it," Surapong said. "They're trying to bring their opponents to court, so let everyone state their facts in front of the judges."
The marchers are in Saraburi province as of Tuesday. They expect to reach Khon Kaen by Feb. 19.