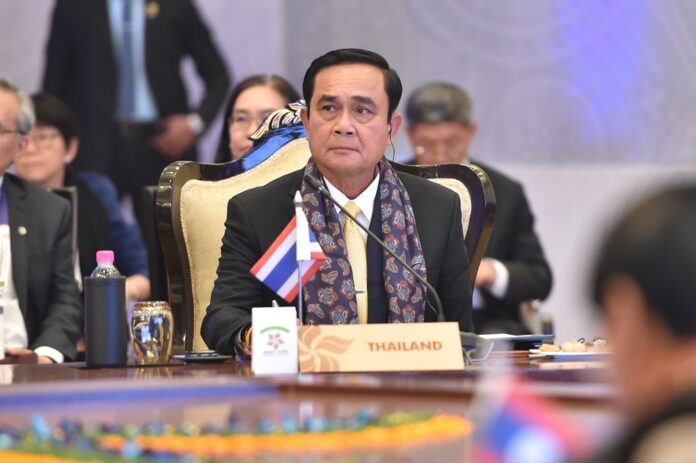 BANGKOK — After Thursday night's vote seemed all but certain to quash hopes of a vote this year, the leader of the ruling junta Friday seemed to play down the chance he would intervene.
Speaking from India this morning, Prayuth said he would not "interfere" despite having yet been "formally informed" that last night's vote, which delayed enactment of necessary election laws, meant voting would be postponed until 2019.
"I have my roadmap. My roadmap is as declared. … I cannot interfere because this is a matter of the law," he said. "Please see what their rationale was [for voting to defer]."
Read: NLA Expects to Pass 'Election Delay' Despite Objections
Those comments seemed to rule out the possibility he would take up the absolute power he enjoys to force the issue by ordering that Election Day be kept to November.
He also denied being behind the delay as critics have alleged. Without mentioning a specific date, Prayuth said he would stick to his roadmap for restoring democracy, a framework that includes no timeline.
In the same comments, Prayuth also questioned the value of letting people choose their leaders by posing a familiar rhetorical question:
"I see that everyone wants elections. … But will there be political peace after elections? Will the same situations occur again?"
Last night, the junta-appointed National Legislative Assembly, or NLA, voted 196-12 to delay enactment of necessary election laws by 90 days. Proponents said it would allow political parties more time to gear up to mount a challenge.
That makes it very unlikely a poll could be staged in November, due to the logistics of what would need to happen in the next nine months.
Critics said the NLA's decision translates into a loss of credibility for the junta and its leader, who has promised to allow a vote every year since 2015.
Nipit Intarasombat, deputy leader of the Democrat Party said he has no confidence in the new roadmap.
"We must wait and see," he said. "It's unpredictable."
On Saturday, pro-democracy activist Rangsiman Rome will help lead a protest on the BTS Skywalk outside MBK Center to demand Gen. Prayuth honor his own word. In October, Prayuth told US President Donald Trump elections would be held this November.
"There's nothing to believe in anymore," Rangsiman said of the latest apparent poll delay. "There's no logic left. What else does the junta want?"
Without public pressure, Rangsiman believes the delay would not prove the last.
"We still want to see elections this year. This may be the time for people to do something," Rangsiman said. "I don't know if it will succeed, but the fact is that even the elections now expected for next year could also be deferred. … Thailand is like a country in deep freeze. If we want change, piling on pressure is necessary."