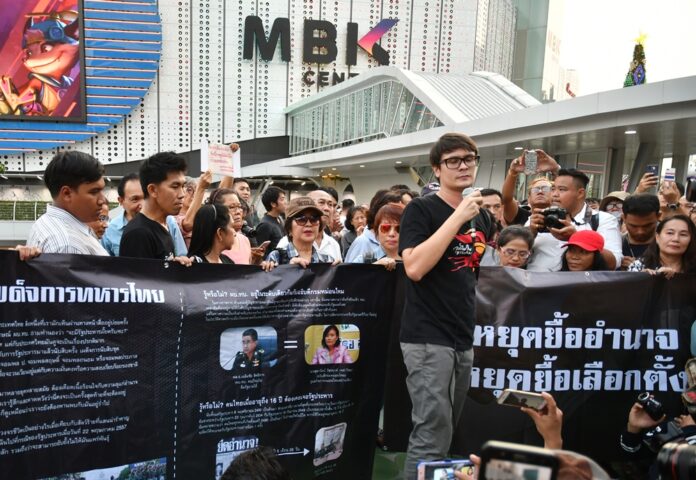 BANGKOK — The junta ratcheted up its prosecution of pro-democracy activists Wednesday by charging 39 with violating public assembly laws.
The 39, which includes seven prominent movement leaders facing sedition charges, were ordered by police to appear Friday at Bangkok's Pathumwan Police Station for protesting too close to royal property.
It was the first known use of that provision by the junta, which has relied on its 2014 ban on political gatherings to quash dissent in the name of maintaining order. The prosecution relies on Article 7 of an assembly act passed by junta-appointed legislators that bars any gatherings within 150 meters of a royal palace. If found guilty, the 39 activists face up to six months in jail and fines of 10,000 baht.
Read: Junta Orders Pro-Democracy Leaders Charged With Inciting Rebellion
Although protests have previously been held on the Skywalk outside MBK Center, one of those charged for joining Saturday's protest said the prosecution is the result of an increasingly anxious junta.
"What they are doing is making people fear," Kan Sangtong said Thursday.
Kan, a 30-year-old political science graduate student, said police and soldiers on Saturday did not inform them the protest was being held within 150 meters of the Sra Pathum Palace.
"This is not rule of law but rule by law," he added. "This is a tactic to deter us."
Across town on Thursday, dozens gathered to wave signs in support of junta deputy leader Prawit Wongsuwan directly in front of the Grand Palace without report of any arrests.
Saturday's protest saw about 100 people gather on the Skywalk over Pathumwan Intersection to demand that junta leader Gen. Prayuth Chan-ocha honor his promise to hold elections in November.
High-profile figures including junta critic Sombat Boonngamnong and Veera Somkwamkid – an unlikely Redshirt-Yellowshirt duo – were charged along with some of the most visible democracy campaigners who have been vowing to keep up the pressure with more protests.
Prayuth this week denied ever making the November promise and on Tuesday appealed to the public to support his remaining in power.
Read: Thai Elections in November 2018, Prayuth Promises
The charge against demonstrators came after seven well-known protest leaders were charged with sedition and violation of the junta's ban on political gatherings. Both rounds of charges were filed by Col. Burin Thongprapai, the junta's legal representative. Burin said on Wednesday that 60 additional people will likely be charged for Saturday's protest. Burin on Thursday refused to talk to Khaosod English.
Also charged was veteran citizen reporter and Redshirt sympathizer, 63-year-old Sa-nguan Khumrungroj, who sounded outraged when reached for comment.
He said he would not be deterred from joining future protests.
"This is lame… It's really a non-issue, and I am a journalist," Sa-nguan said, adding that security officers have been pestering his parents who are in their 90s for a long time.
Sa-nguan asked why earlier protests in the areas did not lead to such charges and why concerts there are not banned.