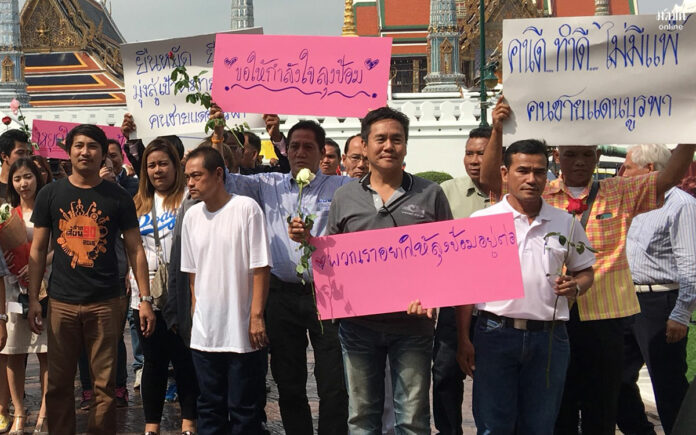 BANGKOK — A few dozen supporters gathered outside the Defense Ministry to urge embattled junta deputy Prawit Wongsuwan not to resign.
A day after Prawit said he might quit over a scandal involving millions of baht worth of luxury watches, about 40 supporters gathered Thursday morning to urge him to stay on. They invited the media to the rally where they held signs with messages such as "Love Uncle Pom," a reference to his nickname.
"I still believe firmly in him. This is a political game that's gone too far. Why do rich people have to have such problems? If I was rich, I'd buy one too, so what?" said the group's leader, Chotorn Nuammaneerat, who hails from the Aranyaprathet district of Sa Kaeo province.
Sa Kaeo is home to the Eastern Tigers and Queen's Guard units, the military power base which produced Prawit's boss, junta leader Gen. Prayuth Chan-ocha.
Chotorn displayed his own luxury watch, which he identified as a Rolex.
Gen. Prawit, who was meeting with his South Korean counterpart, did not come out to greet his supporters.
The military government has been plagued by scandals of nepotism, alleged corruption and abuses of power, but none has resulted in prosecution or resignation.
Protest leader Chotorn exhorted Prawit to hang on and not resign under pressure as previous leaders have.
"Big Pom!" Chotorn said. "Don't be like Chawalit or Banharn! Don't give in!" he said. "I came by myself, with my own heart."
Another Aranyaprathet man also wished Prawit good health.
"He was with us since he was a colonel, working hard for 40 years. He built so many good things for the country. The watch thing is a tiny trend. Let's clear out this tiny story and end it."
Defense Ministry spokesman Maj. Gen. Kongcheep Tantravanich said that the gathering did not violate either the junta's ban on political gatherings or the public assembly law, which was employed this week to prosecute pro-democracy activists for gathering near a royal property.
Thursday morning's assembly took place steps away from the Grand Palace.
Kongcheep played down that it was an organized effort, characterizing it as an impromptu, organic gathering.
"They trickled in in ragtag groups of three, four, five people each, from different places, not as one group all at once," he said. "We had to have a ceremony for the Korean minister, so we asked them to wait at City Hall first because it's not neat to stand in front of the Ministry of Defense. Then we talked to them, and as far as we know, they just wanted to show their support for Gen. Prawit."
Kongcheep said that some Bangkok supporters came from the Lat Phrao area, where government agencies have "lifted slum homes out from sewer waters."
The military government has closed ranks around Prawit despite withering criticism of his displays of untoward wealth. A career military man who reportedly earns 250,000 baht per month, Prawit remained silent for weeks until recently saying that the more than two dozen watches, worth tens of millions of baht, were all loaners from unnamed friends.
The National Anti-Corruption Commission, which is reviewing the matter, has kept secret Prawit's explanation for the first watch that started it all, a Richard Mille spotted in a December photo shoot.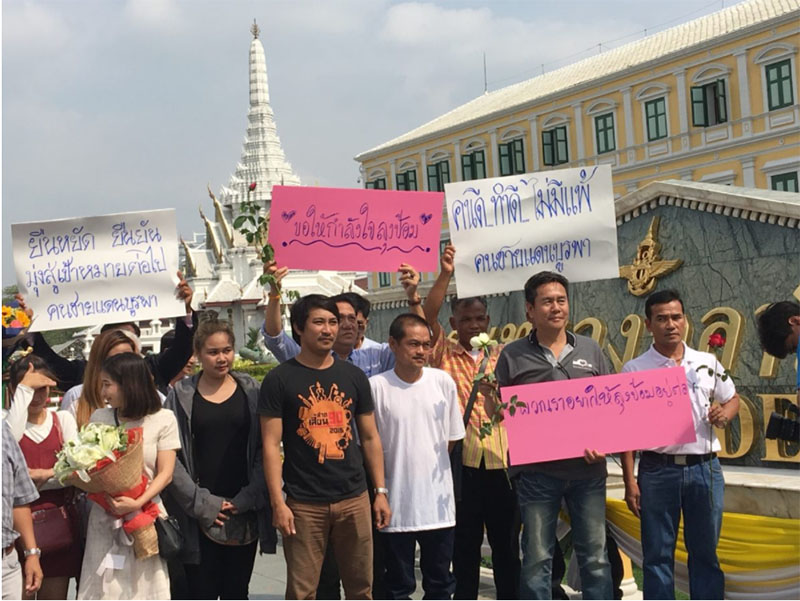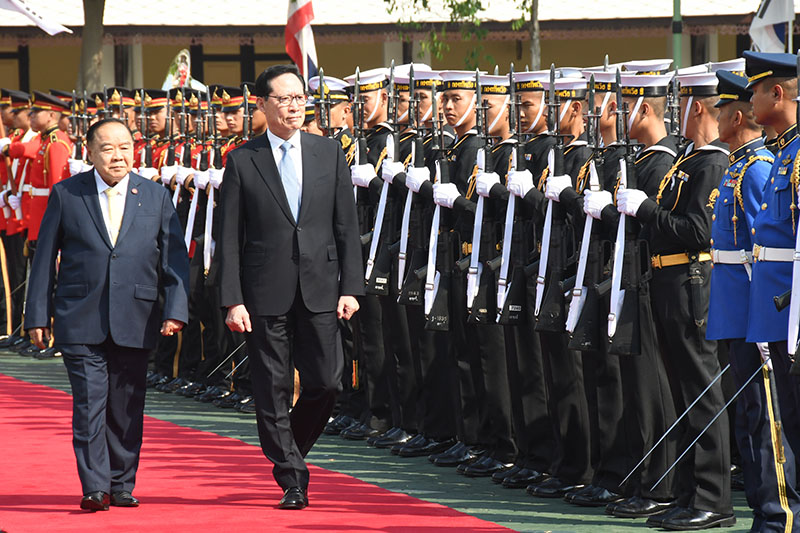 Related stories: