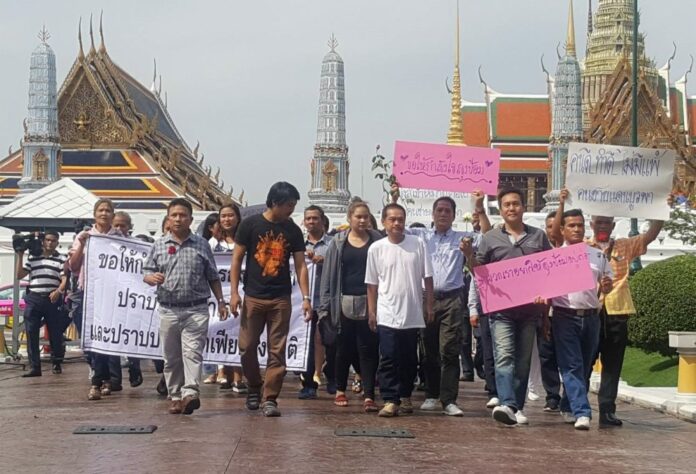 BANGKOK — Police said Friday they're in the process of filing charge against a small group who rallied in support of deputy junta chairman Prawit Wongsuwan yesterday.
The officer in charge of the case said his team is working to find out the names of about 40 people who rallied in front of the Defense Ministry, where Gen. Prawit works. The move comes on the same day about 40 pro-democracy activists reported to police for a Saturday protest the authorities say violated the public assembly law because it was too close to a palace.
"We are collecting information and footage from the media," Phrarachawang Police Station head Thanakrit Chaicharuwuth said. "We have already received a complaint they violated the Public Assembly Act."
Police have yet to charge or summon anyone. Thanakrit said police don't know the names of any in the crowd even though a former politician from Sa Kaeo province identified himself to reporters as the rally's leader.
"We are still checking," the police colonel said when asked about Chotorn. "Maybe the name and the person don't match."
He added, "We are working on this as quickly as we can."
Chotorn, who hailed from the region where Prawit's army clique is based, led pro-junta protesters to urge the embattled general not to resign from his post amid ongoing scandals about his undeclared luxury watches.
They were seen holding signs like "Love Uncle Pom," a reference to Prawit's nickname.
The rally took place on the same day 39 people were notified they have been charged under the public assembly law for joining an anti-junta protest on Saturday. Police said their rally on the skywalk by MBC Center violated the ban on gatherings by falling within 150 meters of a royal residence, in this case the Sra Pathum Palace.
While police did not make any arrests at Chotorn's rally, and a military spokesman initially said it did not violate any law, deputy police commissioner Srivara Ransibrahmanakul later ordered local police to prosecute the group.
Though the rally for Prawit occurred just outside the Royal Palace, police are prosecuting them under a different section of the law: assembling without obtaining permission from the authorities.
Srivara's order was criticized by pro-democracy activist Nutta Mahattana, one of the 39 people charged for Saturday's protest.
"This is not equal legal treatment. This is equal violation of people's rights … What that group did, what my group did and what the We Walk group did are all legal assembly,"  Nuttaa said referring to civil rights marchers who're on a walk to Khon Kaen province.