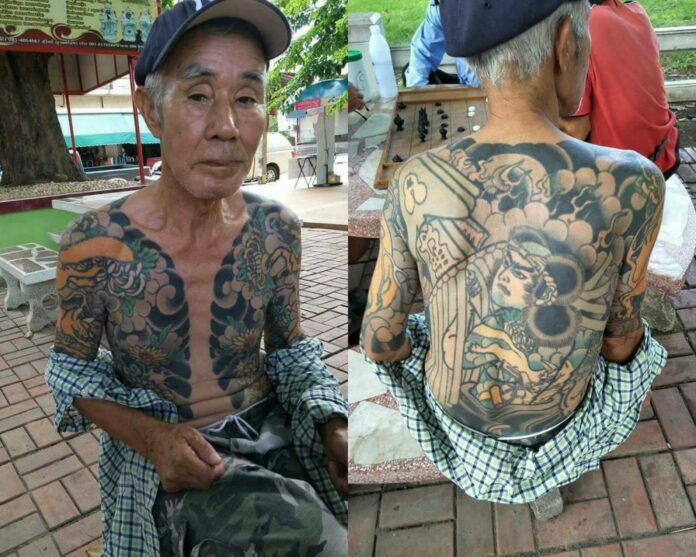 SAMUT PRAKAN — A yakuza member whose tattoos led to his arrest in Lopburi province after over a decade on the run was extradited to Japan on Thursday, police said.
Shigeharu Shirai, 74, a yakuza member of the notorious Yamaguchi-gumi crime syndicate, was flown out of the country Thursday night via Suvarnabhumi Airport, a month after police tracked him down using photos of his yakuza tattoos that had gone viral online. Shirai had been a fugitive from justice since 2005.
"Shigeharu is a level nine leader of the Yamaguchi-gumi," police Gen. Wirachai Songmetta told reporters at the airport last night. "He's being investigated over the killing of a level two leader."
Col. Keisuke Hosaka, a Japanese embassy police attache, was also at the airport. He had provided Wirachai with sensitive information to help identify yakuza members in Thailand. Wirachai said the information would "immediately" be added to Immigration Police databases.
"We would like the immigration police to help investigate the Yakuza, of which there are 40,000 members," Keisuke said. "We hypothesize that some have entered Thailand in the guise of businessmen or tourists."
Wirachai said another seven men in Japan were found guilty of the murder of a gang rival – the same crime for which Shirai is wanted – adding that they accused the 74-year-old of orchestrating the killing.
Shirai fled Japan in 2005 and has a Thai ex-wife, Arisara Aranuwetchapan, 60. He worked doing manual labor at a rice mill and cleaning spirit houses.
Shirai confessed he was part of Yamaguchi-gumi but denied involvement in the murder.
National police chief Gen. Chakthip Chaijinda said his forces would crack down on foreigners such as Shirai who overstay their visas, seeking to cut the current 8,700 to "about three or four thousand."
Related stories:
Cool Tattoos Give Away Lopburi Man's Yakuza Secret