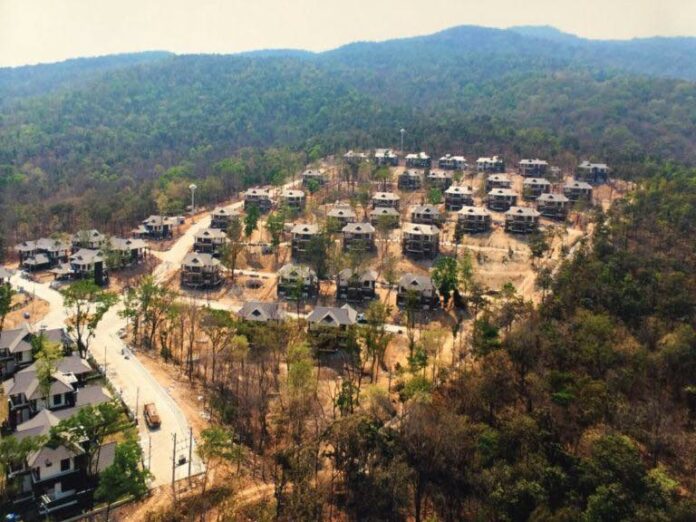 BANGKOK — A controversy raging in the north over a swathe of protected mountain forest felled for judges' homes won't be solved by the junta leader's use of absolute power, his deputy said Friday.
Responding to the growing public demands for the construction site carved into the forest on Doi Suthep in Chiang Mai province to be demolished and returned to the wild, Gen. Prawit Wongsuwan declined to voice his opinion on the project and insisted that everything has to run its legal course before other action could be taken.
"All responsible officials have to review together what are the appropriate measures for this matter," he said. "People can of course file complaints for anything, but we'll have to see if we can demolish it, grow more trees or build a protected forest land."
Read: Court Punts on Pledge to Address Judges' Forest Dachas
He added that the demand to demolish 45 houses is "just public opinion" and the military government won't invoke the absolute power Prayuth claimed upon seizing power to fulfill such a request.
The project started in 2014 but came to public attention recently after a picture of the forest, which was leveled to make way for homes for local judges and officers of the court, went viral in February.
Teerasak Roopsuwan, an activist leading opposition to the development project insisted Friday that the whole construction site must be demolished for environmental reasons and to spare the feelings of Chiang Mai people.
"If the prime minister still wants the project out of an excuse that it would be a waste of the budget and will turn it into an education center instead, it would mean that he doesn't understand the intention of Chiang Mai people at all," he said. "This will not end well, and will sadly deteriorate our faith on the judiciary system."
Lanna Samakom, a local opposition group, expressed disappointment to the news.
"Out of millions square meters on this land, why does it have to be on a place so important to us Chiang Mai people?" the group said in a post online. "You're crushing our hearts with your feet, like Chiang Mai is like a piece of crap to you."
Others lashed out at Prawit, the scandal-tainted deputy of a government that aggressively moved to reclaim public lands after seizing power in 2014.
"He's still borrowing watches from his friends. Why bother asking him? His brain is probably borrowed too," Facebook user Anan Chaisawat wrote.
"He just meant that we're not equal, people," wrote another user Meemew Anusara. "If the public wants to demolish it, that will remain just our opinion."
Related Stories:
Court Punts on Pledge to Address Judges' Forest Dachas
Court Forest Homes: Prawit Urges Marchers to Stop
Homes Carved into Doi Suthep Forest Totally Legal: Official