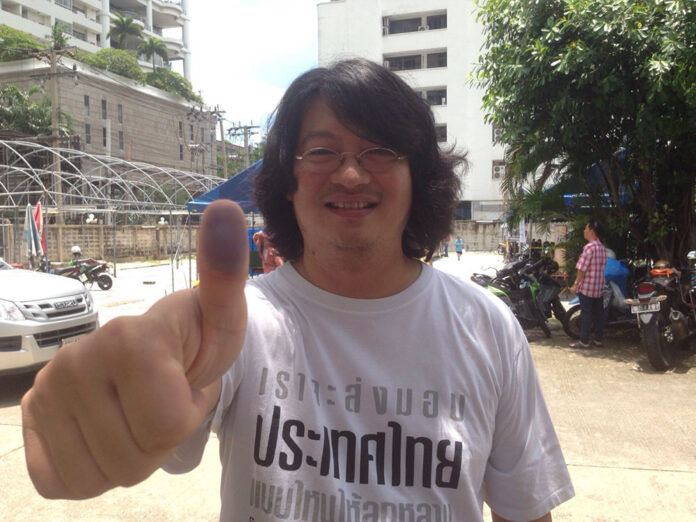 BANGKOK — A court on Monday told a pro-democracy activist to appeal against the Election Commission's refusal to register his political party before seeking a court injunction.
Sombat Boonngamanong said the Central Administrative Court told him to exhaust all appeal channels with the commission prior to filing for a court injunction, after it rejected the formation of the Krien, or "Troll Party," last week on grounds that its name is inappropriate, against good morals and could cause disturbances.
Sombat said by phone that the allegations are outlandish and outdated and that the name of his party could be positively translated to mean the world's evolution over the years. He said he would appeal on Tuesday. Sombat added that he had prepared alternative names for the party in case the current one is finally rejected.
"These allegations are outlandish," Sombat said, citing examples in which television programs have co-opted the word to make it part of their names and used it constructively.
Having obtained more than 600 members on the internet, Sombat said his party is neither a joke nor a troll attempt, but was inspired by Germany's Pirate Party, adding he didn't mimic the name as it would have been out of context in Thailand.
He said his party had three main objectives: providing shelter to street dogs, reforming the education system to allow school children more recess time and organizing trash collection into recyclable categories.
Sombat said trash has becoming a major problem in Thai society, affecting all tourist sites. He said Thais would have to learn how to separate the various types of rubbish before disposing them.
Sombat said successful garbage disposal policy would not only be good for the environment but would train Thais to become more disciplined.
"It will discipline Thais. This is not just about the environment but training people," the activist said.