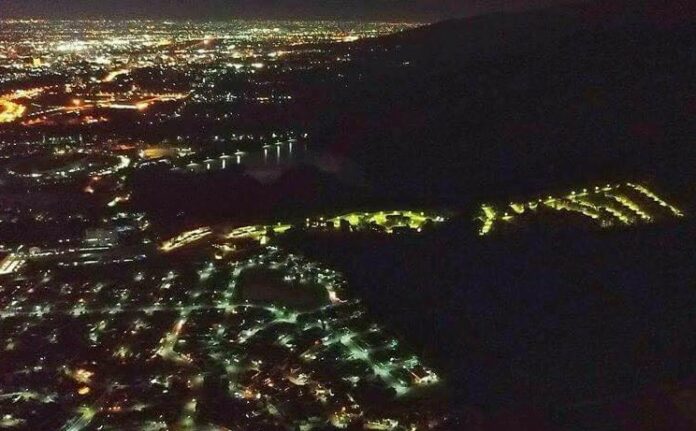 CHIANG MAI — The lights are on, and somebody is home.
A group opposed to building homes in a protected mountain forest vowed Thursday to resume protesting if court officials don't vacate the land just weeks after the authorities said it would be returned to the wild.
A fresh wave of northern fury erupted this week when images went viral of the lights on inside homes built atop Doi Suthep, fueling suspicions they had been occupied despite the government's promise.
The leader of those opposed to the project said about 30 families have lived in condominiums built there since April, while the 45 large homes remain unoccupied.
"If the courts don't comply with the agreement, our network has to come out and remind them of that promise," said Teerasak Rupsuwan of The Network to Reclaim Doi Suthep Forest. "Start counting down. We'll announce the date soon."
They gave until Monday for the homes to be vacated.
On May 6, the prime minister's office said no one would be allowed to reside in any of the residences and promised to rehabilitate the land with the public's help. Construction of the residences would be allowed to be completed because terminating the project would violate the work contract, Suwapan Tanyuwattana said at the time.
That announcement came days after the group staged a mass protest that was joined by thousands of demonstrators to demand the junta leader address the conflict. A court spokesman said afterward they would comply with any order from the government.
According to Teerasak, the deadline to complete the construction is Monday, but the work is still far from finished.
His movement will organize another protest in front of the Appeals Court in Chiang Mai if the families of court officials do not move out by then, he wrote online Thursday.
"During negotiations, the public allowed [the demolition] to be postponed another month until the delivery date on June 18, 2018, so the government wouldn't be sued by the contractor," Teerasak wrote. "But since the contractor is not able to finish the work on time, the government should no longer be afraid of that reason. The contract must be terminated immediately."
He also demanded the judiciary announce the date it will return the land and accused it of ignoring a direct government order.
"After the negotiations, it still wouldn't let representatives of the people inside the area," the post continued. "On June 12, 2018, it also didn't allow the subcommittee of the people, appointed by the government, to inspect the land. It has always been hostile with and has always insulted the people."
Related stories: