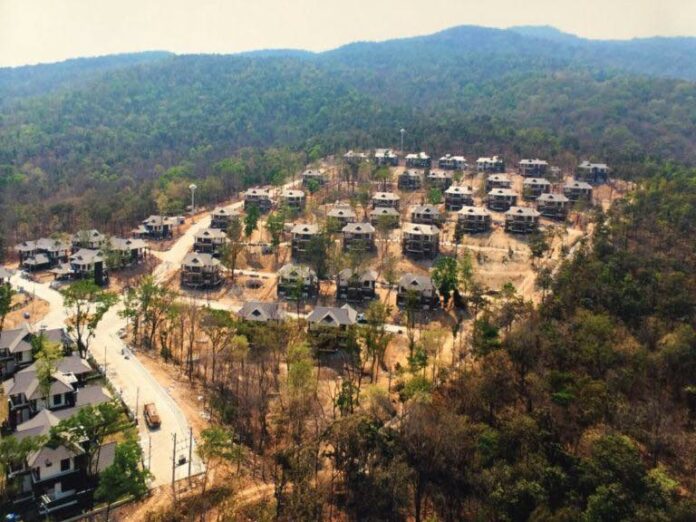 CHIANG MAI — No one will be allowed to occupy homes built for court officials on protected mountain land which will be returned to the wild as quickly as possible, the government announced Sunday.
Activists hailed the surprising development, which fell short of committing to demolish the structures, after a meeting with a representative of the prime minister. According to Suwapan Tanyuwattana of the Prime Minister's Office, Gen. Prayuth Chan-ocha said there were already plans to restore the forest atop Doi Suthep.
"The Treasury Department will be responsible for measuring the original forestland around the nine condominiums and 45 houses, which will not be occupied," Suwapan said. "By following the proposal from the people, they have to make it clear which area has to be restored and what can still be used by court officials."
The Network to Reclaim Doi Suthep Forest, a local opposition movement, organized a demonstration this past Monday which drew thousands of protesters, calling on the junta leader to address the issue within seven days. A spokesman for the courts who stood to benefit from the controversial development later said they would accept any government decision.
Suwapan said the rehabilitation plan could begin May 27 as a joint operation with the public.
As for the longstanding demand that all houses must be demolished, he said the issue could only be discussed after the contractor completes the work next month.
"We will set up a special committee to review this matter later on," he said. "Proposals from the [opposition] groups will be evaluated, like if we should create a sanctuary or what we should do with the buildings."
Teerasak Roopsuwan, a leader of the environmental group, welcomed the decision and vowed to keep up pressure until all structures are torn down and the land returned to the wild.
"What we got from today is a promise that we will certainly have a full forest back on Doi Suthep, which means there will be no buildings left in the area," he said. "I'm pleased with the result today. We will give the authority some time to work on it, but we will keep a close look on them."
Suwapan praised the effort by the people's networks and organizations to resolve the conflict with tolerance.
"We meet today with understanding, cooperation and great intention from all sides," he said. "I believe this is an important lesson … to learn that no matter what we do, we have to consider the rights and other factors that affect the feelings of the people as well."
Related Stories:
Court Forest Homes: Govt Asks Netizens for Solutions
'Help Me Think' Prayuth Says, Dodging on Doi Suthep
Judge Wants Critics to Wait 10 Years to Protest Forest Dachas
Junta Won't Use Article 44 to Reclaim Doi Suthep Land
Court Punts on Pledge to Address Judges' Forest Dachas
Court Forest Homes: Prawit Urges Marchers to Stop