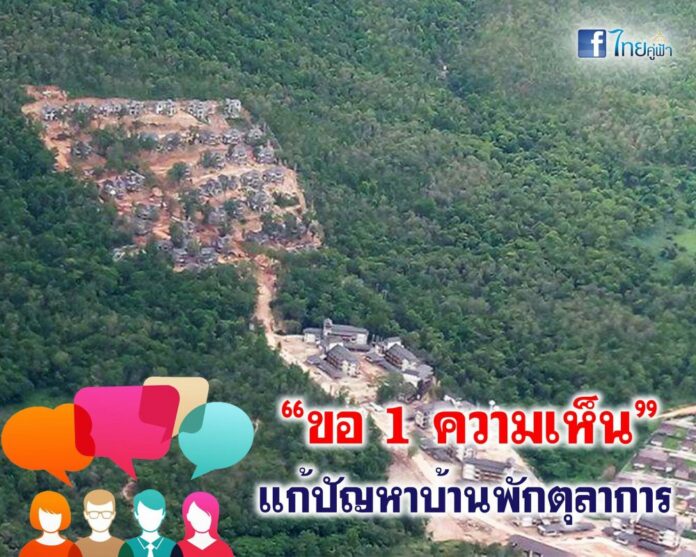 BANGKOK — After claiming he had run out of ideas on what to do with judges' forest dachas under construction on a northern mountain, junta chairman Prayuth Chan-ocha turned to the internet.
In an online post published Tuesday afternoon, an official Facebook page of the Government House asked netizens to comment what the regime should do to solve the controversy. Protesters in the north called on Prayuth to demolish the project entirely, but court officials maintain they need the villas, which perch on the picturesque Doi Suthep, as their homes.
"The prime minister said 'although they don't break the law, it goes against the feeling of the locals. It's about the forest in perspective of the people. So what should the government do? Please also help me think how the government should deal with this,'" the post said. "Therefore, we'd like to open a space to listen to the people's opinion."
The post set three conditions for replies: they must not contain remarks that are rude, libelous or related to politics.
Within three hours, more than 4,500 comments were posted – a vast majority supporting the demolition of the forest homes.
"Please tear it down. Don't be stubborn and continue the construction," user Pezzynana PJ wrote. "They can build wherever they like, but please don't leave Doi Suthep missing a piece like this. It hurts my heart to see it."
"Tear it down. If not, then turn it into a recreational space for the public for their sightseeing in the national park," wrote user Supanut Pareyarkon Sopon.
"If you don't tear it down, you can just put up a large sign at the entrance that says monument of corruption and exploitation of the public. It's all taxpayers money. I'm ashamed for you," user Nuttapon Samaikoon wrote
Some comments also offer humorous solutions.
"Don't demolish it. A budget for demolition will be too wasteful. Let's just grow a new forest on top of those homes," Kob Obob wrote.
"Let's release like 100 king cobras in there," Pratchaya Phornputtarat suggested.
The 340 million baht project sparked series of protests in Chiang Mai province – the biggest one yet took place on Sunday, where over 1,000 people joined a rally calling for the 45 buildings be torn down. They gave Prayuth a week to respond to their demand.
Related Stories:
Judge Wants Critics to Wait 10 Years to Protest Forest Dachas
Junta Won't Use Article 44 to Reclaim Doi Suthep Land
Court Punts on Pledge to Address Judges' Forest Dachas
Court Forest Homes: Prawit Urges Marchers to Stop