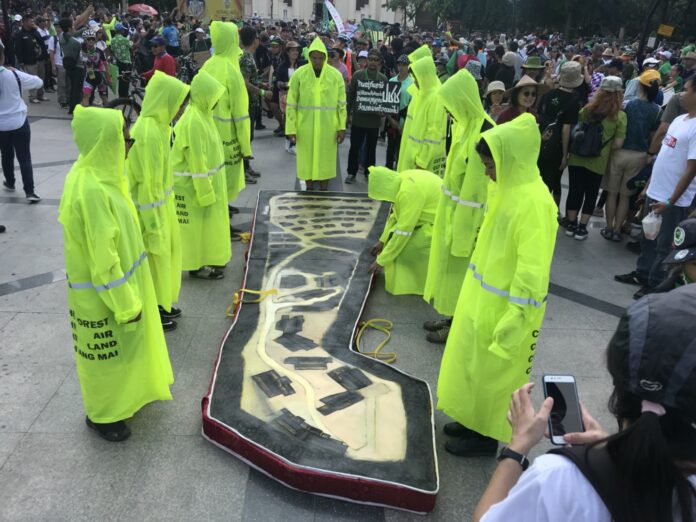 BANGKOK — Saying "help me think," the junta leader Monday asked the public for ideas following the largest protest in years demanding he do something about homes being built for judges atop clear-cut forest.
Gen. Prayuth Chan-ocha remained reluctant to take a stance on the controversial construction project carved into protected forest land on Doi Suthep, after thousands of demonstrators gave him a seven-day ultimatum to address the issue at a Sunday rally.
Read: Protesters Give PM 7 Days to Address Judges' Chiang Mai Dachas
"Everything has to start with the laws. We have to make sure everyone understands this, like the problem with judges' residences in Chiang Mai. Although they don't break the law, it goes against the feeling of the locals," he said. "Please also help me think how the government should deal with this."
He did not specify how.
Protesters on Sunday, led by the Network to Reclaim Doi Suthep Forest, a local grassroots movement, insisted that all 45 houses must be demolished and the land returned to the wild as quickly as possible.
The northern army commander on Sunday said negotiations between both sides remain inconclusive, and that the upscale homes under construction there could not be demolished until the work is complete.
"The contractor will deliver the final phase of the project to court officials in the middle of June. After that we will be able to start a discussion to find agreement together," Lt. Gen. Wichak Siribansop said.
Meanwhile, a court of justice spokesman said they will comply with any direct order from the junta regarding the project.
"The office will not object whichever way the prime minister and his administration see we should proceed," Suriyan Hongwilai said. "Although some groups have provoked us with crude language, the Court of Justice never sought conflict with the public. However, we'd like everyone to respect the law and each other at the same time."
Related Stories:
Judge Wants Critics to Wait 10 Years to Protest Forest Dachas
Junta Won't Use Article 44 to Reclaim Doi Suthep Land
Court Punts on Pledge to Address Judges' Forest Dachas
Court Forest Homes: Prawit Urges Marchers to Stop