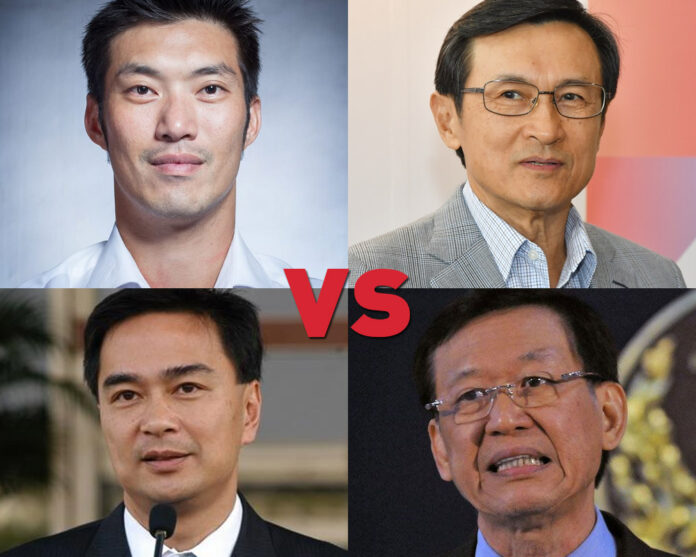 BANGKOK — Democrat Party leader Abhisit Vejjajiva said Thursday the leaders of the ruling junta should now reveal their ambitions for political office after the promised elections are held.
Speaking at a much-anticipated panel on the future of democracy alongside the leaders of three other parties – Pheu Thai, Future Forward and People's Reform – Abhisit said the junta should make clear its intentions.
"The National Council for Peace and Order should clearly announce so there can be fair competition. … If it's unfair, then don't even talk about good governance," Abhisit said, referring to Prayuth's maneuvering to hang onto power post-election.
Politics-wise, the People's Reform Party was the only one present that openly supports the junta, and its panelist was often at odds with the others.
Paiboon Nititawan, leader of the newly formed party, said people shouldn't worry too much about entrusting Thailand to the military.
"I only see a bright future. I think you shouldn't think too much. One thing that people want is peace and order, so the economy can grow," Paiboon said.
Former Pheu Thai MP Chaturon Chaisang said any attempt by Prayuth to return as PM would be tantamount to the junta prolonging its stay in power.
Chaturon, Abhisit and Future Forward leader Thanathorn Juangroongruangkit agreed they would seek to amend or rewrite the junta-sponsored constitution, citing the 250-strong junta-appointed senate as a democratic trap.
For his part, Paiboon said people would eventually appreciate the post-election landscape as designed by the junta.
"Bear with it for five years and you will like it," Paiboon said to loud jeers from the audience.
Thai society should prioritize peace and order and the application of Buddhist teachings, Paiboon said, adding that the new rules would make the past decade of polarization a thing of the past.
"Any democracy that will arise should adopt the principles of dhamma of the Lord Buddha and be put into practice as well," he said. "I want a peaceful society without chaos."
Abhisit said he believes "people do not want to wait for five years" and that the prime minister should be chosen by representatives elected by the people and not junta appointees. He said his party would support amending the charter were there clear consensus supporting the move.
Future Forward Party leader Thanathorn Juangroongruangkit stressed the need to end the cycle of coups. Noting that in the 85 years since a revolt ended absolute democracy, Thailand has been governed by elected leadership for only 24 years – less than a third of the time.
Thanathorn formerly served on the board of Matichon Group, the parent company of Khaosod English.
He rebutted Paiboon, saying the junta has bottled up expression instead of actually creating genuine peace.
"It's not peace and order, because guns are being pointed at people," he said. "Street demonstrations do not create chaos but are a fundamental freedom and right."
He also urged voters to support political parties committed to overhauling the charter so they can achieve a parliamentary super majority to make it possible.
Chaturon, a former Pheu Thai education minister, said his party would, given the opportune time, also seek to change the national strategic plan and reforms imposed by the junta if they are in power.
Junta-appointed legislators today were set to vote on a law that would make it a crime for future elected leaders to not follow its development plans for the next 20 years.
They deferred the decision to another session.
Related stories:
Not Following Junta Plan Could Soon Be a Crime – For 20 Years
Calling For New Charter is Totally Fine: Election Official