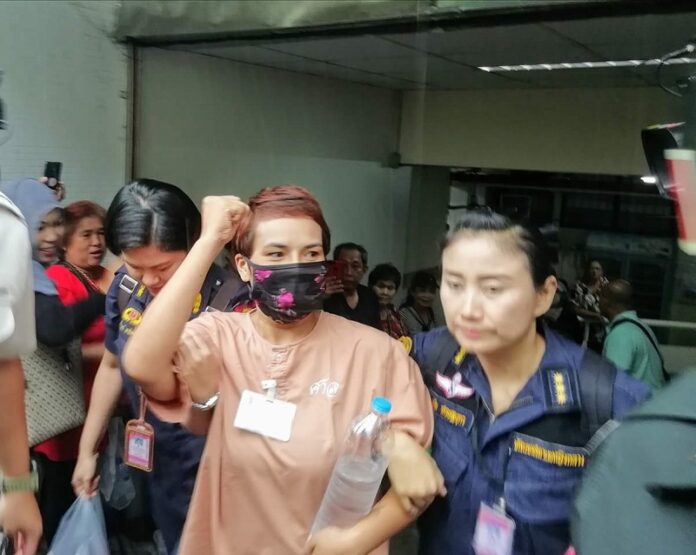 BANGKOK — Some activists on Friday were concerned about the wellbeing of a key witness in the murder of six people at a downtown temple during the 2010 military crackdown on street protests.
Since she was present at Wat Pathum Wanaram as a volunteer nurse when six people sheltered inside were gunned down, Nattatida Meewangpla, has been jailed on accusation of serious crimes ranging from royal defamation to terrorism.
"I am worried that if she requests tranquilizers, she may eventually not be able to communicate effectively," Redshirt and academic Sudsanguan Suthisorn said.
As a military court Friday refused to release her on bail after more than three years behind bars, her lawyer said she has been suffering hallucinations and moderate depression. Her supporters are concerned her mental health may deteriorate to the point where she could no longer serve as a witness in future efforts to bring justice against those responsible for the massacre.
A sum of 900,000 baht was raised in recent weeks to support her application for release on bail.
After it was denied, prominent pro-democracy activist Nuttaa Mahattana said she'd launch a campaign to seek Nuttatida's release, as she believes the witness faces trumped charges and shouldn't be tried in a military court as a civilian.
In 2015, Nattatida was accused of extremism for being part of a Line group chat in which a plot to allegedly bomb the Criminal Court was planned. She was further charged with lese majeste for allegedly posting content that defamed the monarchy under a username her lawyer says was not hers.
She faces a combined 25 years in prison if found guilty.
Another, Redshirt activist Anurak Jeantawanich, or Ford Red Path, believes in a conspiracy theory that has Nattatida the victim of an attempt to rob her of sanity to keep her from testifying. Anurak said she has been claiming to see a female ghost with only half a body.
"I am concerned that given her mental state – and if neglected – it will affect her ability to testify," Anurak said Friday in front of the Bangkok military court, where Nattatida was taken for a secret trial outsiders weren't allowed to observe.
He said she described her experience as "hell" in a letter a year ago and has since suffered hallucinations and mental confusion.
Nattatida's lawyer, Winyat Chatmontree, said the conspiracy theory Anurak floated is unlikely.
"I can attest, but personally I don't think that's the case," the lawyer said on the phone Thursday. "It's not easy to prescribe medicine [to inmates] to make someone mentally ill."
Winyat, who's the secretary general of United Lawyers for Rights and Liberty and provides free legal services, said his client needs a psychiatrist to assess her condition. He hasn't ruled out petitioning the Corrections Department if Nattatida's mental health deteriorates further.
A detainee's mental condition must be clearly observable to be allowed to consult with a psychiatrist, the lawyer said. He added that his client has been taking sleeping pills for some time now.
Winyat said the fact that Nattatida has been accused of terrorism and lese majeste will lower her credibility in future attempts to revive the prosecution of those killed at the temple. Located between the Siam Paragon and CentralWorld malls, it witnessed the aftermath of the violent dispersal of Redshirt protesters in May 2010.
Somyot Prueksakasemsuk, a former lese majeste convict who had a brief chat with Nattatida before she was taken into court Friday morning, said she's still coherent.
"There's no conspiracy inside prison," Somyot said, adding that people who have been in prison for three years tend to become mentally unstable. He himself became suicidal and was prescribed anti-depression medication by the prison doctor.
"Those who have been in prison for three years can lose their minds. Unable to control their mental faculties, their minds wander and hallucinate," he said.
Related stories:
Somyot 'No Longer Human' After 7 Years of Prison For Lese Majeste
This story was updated with additional information about Nuttaa Mahattana's campaign.