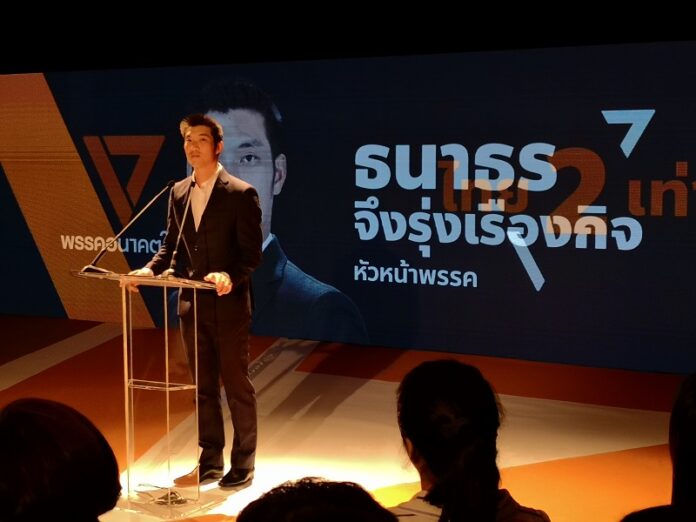 BANGKOK — Saying he's ready to become prime minister, a billionaire-turned-politician on Monday urged people to become members of his party and pledged to raise hundreds of millions of baht for his election campaign.
Speaking at the Future Forward party headquarters in Bangkok, leader Thanathorn Juangroongruangkit said his movement plans to raise 300 million baht for its election campaign, currently scheduled for February 2019. He said the party aims to collect 100 baht on annual membership fees from each member and 2,000 baht from those willing to pay lifetime fees starting Saturday.
"We will definitely raise 300 million [baht] from the public… We will do our best to raise funds," Thanathorn said Monday as the movement relaunched itself after the Election Commission last week legally recognized it as a political party. He said the party – which vows not to take the path of money politics – currently has 1,000 supporters.
Thanathorn added they would sell memorabilia such as teddy bears, totes and T-shirts at their headquarters on Petchaburi Road in Bangkok, but said selling political goods online is prohibited under election laws.
Asked how much the party had spent over the past seven months – with leaders attending meetings and conferences in the United States, Canada and soon Europe – Thanathorn just said to "wait until after January 2019," adding that he planned to disclose the party's ledger on a quarterly basis.
A founding member, who spoke on condition of anonymity for fear of creating conflict within the party, said leaders originally planned to collect a 200 baht annual membership fee, but that some founding members opposed, citing it was too much to shoulder for ordinary members.
"Paying 200 baht may sound little for the urban-middle class but not for ordinary folks," the source said.
It added that the challenge for a party that vows not to rely on money to win votes continues when it invites people for talks in the provinces.
"There's a need to pay at least for transportation fees and food. You can't just invite them and offer nothing. They won't come for the second time," the source said.
While it's common knowledge that former MPs in some big parties are given monthly retention fees of up to 100,000 baht a month, the source claimed to receive 25,000 baht a month from the party and that it's not really sufficient to travel for meetings in other regions.
"When campaigning time comes, we need a budget to hire a car and some campaigning staff and it will costs money, the source said, adding that the party is still working out on the details.
"Maybe Thanathorn's family is telling him to put a lid and not piggyback on the family's coffer," the source said Monday after the party meet the press. Despite his wealth, Thanathorn said he wouldn't use that to fund his party, insisting instead on the opposite model.
Campaigning is a challenge for any new party, especially so for a party vowing not to spend money the "conventional" way by handing out cash and retention payments to canvassers.
"We tell them we don't hand out cash. It's about ideology," said Palakorn Jirasophon, team leader for Bangkok and the surrounding provinces.
Thanathorn himself admitted Monday during the questions and answers session with reporters that unlike established political parties, Future Forward doesn't have a constituency base.
Critics expect the party – which vows to transcend a decade-old political rift – to win some seats through the partylist system, as its strong social media presence has garnered the support of the young and urban middle class. However, Thanathorn remarked on something they lacked.
"We don't have any constituency base… Every group is new group for us," Thanathorn said. "Because we are a new party, it's very difficult to say how many seats we will get."
However, party spokesperson Pannika Wanich who had earlier boasted about how the party is popular on social media – twice topping as the top trending Thai-language hashtag on Twitter – insisted Future Forward is not just the young urban middle class hipsters or social media users.
"Our party is for everyone," she said.
Thanathorn, 39, formerly served on the board of Matichon Group, the parent company of Khaosod English.