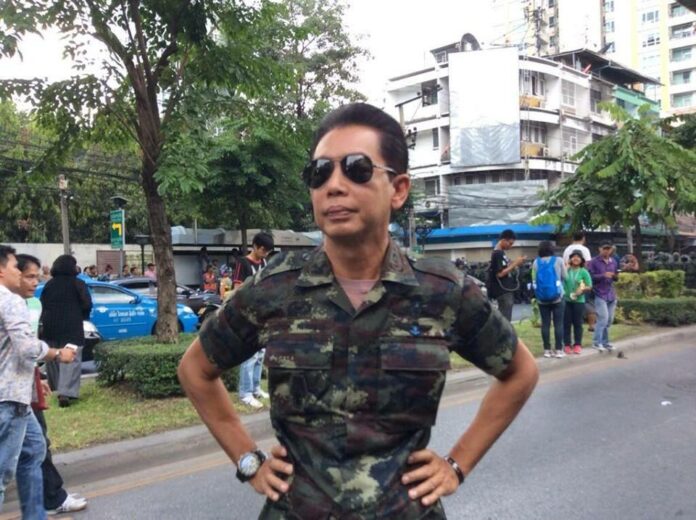 BANGKOK — The new commander-in-chief of the Royal Thai Army on Wednesday reminded troops under his command that their duty is to protect His Majesty the King and the monarchy.
Speaking at army headquarters, Gen. Apirat Kongsompong also lashed out at those behind a recent bid to petition King Vajiralongkorn to remove the military junta, calling them "mentally insane" – a claim denied by the family of one petitioner.
"A majority of those who slander the monarchy are mentally insane, and those who are not insane have strange ideas," Apirat said at a news conference.
He characterized the group of people who tried to submit their petition to the king earlier this month as insulting the monarchy. Gen. Apirat, who assumed his post Oct. 1, said the petitioners were found to be mentally ill and were sent to a mental asylum.
The wife of one such petitioner, businessman Suwaroj Chawanunthanaphokin, denied Apirat's claim.
"If anyone should be sent to Sri Thanya, it's the army chief," Onuma Chawanunthanaphokin said, adding that Suwaroj was unavailable to comment. "It's not true at all."
Onuma said she's unaware about the fate of the other four petitioners arrested Oct. 4 alongside Suwaroj, since he didn't know them personally.
The five were detained by police near the Grand Palace before they could submit their formal petition. They were believed to have been released the same day without charge. Onuma said her husband wanted the king to remove Gen. Prayuth Chan-ocha and his government from power because they were ruining the economy.
Onuma also said Suwaroj, who is in real estate, does not harbor any ill feelings toward the monarchy.
"The security forces are afraid he's connected to politics. But it's not about politics at all," Onuma said. "Everyone in the industry is really having a hard time in this economy."
Gen. Apirat, an infantry commander by career, played a role in the Redshirt protests crackdown of May 2010. At today's news conference, he said the army should remember its loyalty lies with His Majesty the King.
"Some soldiers might have forgotten this, so let me remind them their supreme commander is the monarch," Apirat said. "The army is a servant whose duty and heart are for protecting the monarchy … the army will use every one of its capabilities and capacity to defend the monarchy."
"Governments change, but the monarch must always exist side by side with the Thai nation. This is the duty of the army, and I will protect the monarchy with everything I have," he added.
Related stories: