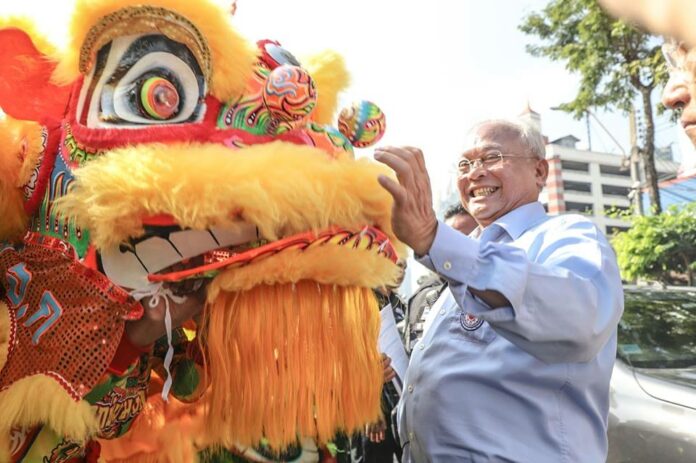 BANGKOK — The politician who organized the street protests which ushered in military rule said Sunday that a YouTube rap video criticizing the junta was "abominable."
After threats of prosecution drew wide interest in anti-junta song "My Country's Got" ("Prathet Ku Mee") – it's been watched 18 million times on YouTube alone as of Monday – Bangkok Shutdown protest leader Suthep Thaugsuban joined conservative politicians to harshly condemn the song.
"[The rappers] were born Thai, but they express themselves in such a disgusting, abominable way where they aim to destroy their own homeland like this. It's highly unwarranted and inappropriate," Suthep wrote Sunday, following a campaign trip through Bangkok's Yaowarat area.
Read: Rap Video Blasting Junta Reaches 6M Views After Police Threats
Suthep, who vowed to never re-enter politics after organizing the protests that brought down Yingluck Shinawatra's elected government, is now one of the leaders of the Action Coalition for Thailand Party, which has been canvassing potential voters.
Deputy police chief Gen. Srivara Ransibrahmanakul said Friday that the authorities would bring the artists in for questioning, alleging the song may have violated an unspecified junta order. However, the deputy director of the Technology Crime Suppression Division seemed to walk back the threat.
"These days, all citizens are free to express their opinions in all aspects. So the authorities have to admit that we can't limit the personal opinions of people, especially of the youth," Maj. Gen. Surachate "Big Joke" Hakparn, who also heads the Immigration Bureau, wrote Sunday on Facebook. "This is their opinion, which the poo yai should listen to."
Surachate said he'd not been asked to investigate the case.
In addition to its popularity on YouTube and Facebook, the song is No. 1 on local iTunes charts and has been played more than 42,000 times on Spotify.
The video, released this past Monday, features 10 artists taking turns laying out the country's perceived ills. The backdrop evokes the laughing lynch mob that watched a hanged corpse be beat with a folding chair, an indelible image of the 1976 massacre at Thammasat University by far right ultra-royalists.
Related stories:
Rap Video Blasting Junta Reaches 6M Views After Police Threats
Police to Summon Rappers Who Criticized Military Govt
With 'My Country's Got,' Thai Rap Voices Rare Dissent Against Junta