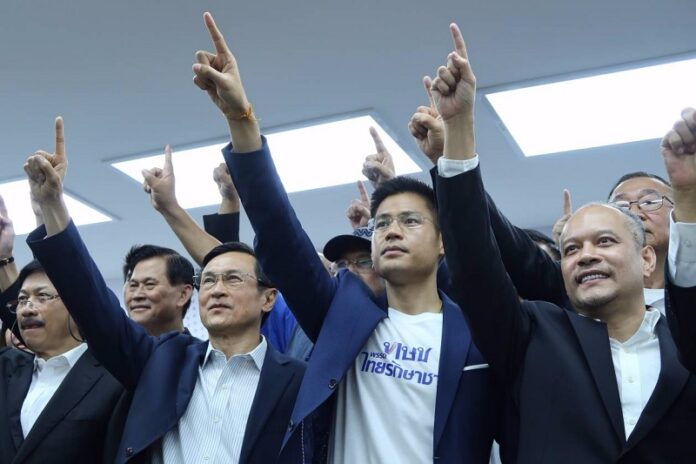 BANGKOK — Splintering into multiple, smaller parties is a sensible strategy under the new rules to gain more seats in the next election, former Election Commission Somchai Srisutthiyakorn said Tuesday.
Somchai remarked that smaller parties are favored by the rewritten rules after 12 people, including well-known former Pheu Thai Party MPs such as Chaturon Chaisang, Weng Tojirakarn and Pichai Nariptaphan and Nattawut Saikua joined the newly formed Thai Raksa Chart Party on Monday.
The former election commissioner said the new election rules put in place under the junta-sponsored charter disadvantage large parties trying to win an outright majority as all votes nationwide will be aggregated and calculated differently than they were in the past.
Read: Pheu Thai Kids, Shinawatra Kin Launch New 'Backup Party'
"It was designed in a way that the number of MP seats is designed to be spread out to medium- and small-sized parties," Somchai said.
Indeed, the rules seemed designed to hobble the strength of large parties in part by diluting voters' say in choosing local representation. National vote tallies will factor into local results.
In the past, voters received two ballots – one for their constituency and another for a party's list candidates, meaning they could even split their loyalties by voting for a politician from one party while supporting another's list.
Now, they will receive only one ballot with a single box to fill in, Somchai said, adding that votes for constituency-based candidates will automatically be a vote for their party-list candidates. Instead of those with the most votes in a constituency winning no matter how votes obtained, the new rules require an aggregate of all votes from all constituencies nationwide to be added up before the number of winning MPs is computed.
Somchai said the bar is set high at roughly 70,000 votes per MP.
Under the old system, two MPs from the same party running in the same constituency who won fewer than 70,000 votes – say 40,000 and 30,000 – could both become MPs if they placed first and second.
Not anymore. The new rules means their votes would be combined, with only one seat being allotted per 70,000 votes. That means some candidates without huge followings could fare better running as list candidates for an offshoot party to capture as much of the national vote as possible.
"If Pheu Thai wins 14 million votes, they will only get 200 MPs under the new system. If they win in 180 constituencies, there will be slots for only 20 party-list MPs," Somchai said.
For two decades, Pheu Thai and its predecessors, all founded by former Prime Minister Thaksin Shinawatra, have been an unstoppable force.
The other major political force, the Democrat Party, has not embarked on a similar strategy as it contends with its own schism between pro-democratic and authoritarian factions. A number of high-profile Democrats have left to support the Action Coalition for Thailand Party, which is unofficially led by Suthep Thaugsuban, a former party secretary general.
Some still hope for rapprochement between Pheu Thai and the pro-democracy Democrats despite their history of bitter conflict and competition.
The former election commissioner, who was forced out earlier this year by the leader of the ruling junta, warned that determining the best way to divide up parties to be more competitive is not an easy task.
Weng, one of the former Pheu Thai parliamentarians who is also a leader of the Redshirt movement, said Tuesday that it's not easy explaining to their supporters which one they should vote for now.
He said more important than choosing party A or B is voting for those in the pro-democracy or  anti-junta camps.
"It's a fight between democracy and dictatorship," said Weng, who called the new election rules a "booby trap."
He said voters should support their preferred party's candidate if he or she is sure to clear the 70,000-vote threshold. In places where their rivals are stronger, they should vote for an offshoot party or one with similar values for a better chance at securing party-list seats.
Therefore, he said Pheu Thai voters should back Pheu Thai candidates in the party's stronghold areas, and one of its three-and-counting proxy parties outside them.
Weng said he left Pheu Thai to join Thai Raksa Chart because he decided it is the best chance for "pro-democracy" parties to stop pro-junta parties from gaining control and extending military rule post-election.
"To concentrate all the votes on Pheu Thai Party is self-destructive and unwise, so I resorted to this strategy," said Weng, who expects to run as a party-list candidate for Thai Raksa Chart.
Related stories:
Pheu Thai Kids, Shinawatra Kin Launch New 'Backup Party'
Pheu Thai, Allies Could Be Disbanded, Election Official Warns