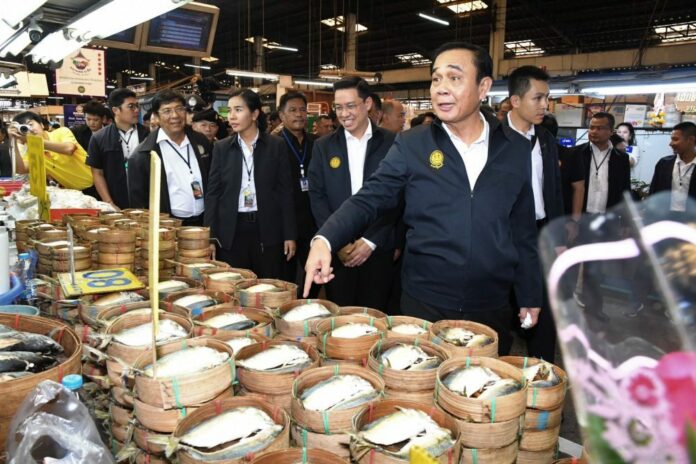 BANGKOK — The Election Commission said Thursday it will investigate whether the military government's decision to hand out nearly 87 billion baht to the poor during the run-up to the election amounts to illegal vote buying.
The statement by commission president Ittiporn Boonpracong came as the leader of the ruling junta defended his cabinet's provision of 86.9 billion baht as a transparent means of decreasing the financial burden on low-income Thais.
Speaking on Thursday in Bangkok's Minburi district, Prayuth defended his cabinet's resolution this week to dole out additional welfare in the form of one-time and monthly disbursements of cash to registered poor and seniors beginning next month.
Those holding state welfare cards – about 14.5 million low-income Thais – will get 500 baht for New Year's and 330 baht to help with utility bills every month for 10 months starting December. Seniors over 65 will get a one-time 1,000 baht and 400 baht per month for the same period to help with housing expenses.
"The 500 and 1,000 baht we have was aimed at reducing the burden on the people. They could buy groceries such as shrimp paste and fish sauce. You can buy it at any shop that has a scanner for the cards. Do not let anyone misrepresent that you are buying it from rich [businesses]," Prayuth said.
Four members of Prayuth's cabinet have registered with political parties that will contest the next election and may attempt to keep the junta leader, who also serves as prime minister, in power afterward.
Critics said Wednesday it was a thinly veiled attempt to win votes with elections promised for just three months from now.
Democrat Party leader Abhisit Vejjajiva said the move was no different from the so-called populist policies the military government criticized after it seized power. Asked if he thought the move was meant to gain an electoral upper hand, Abhisit said he believes the people can see what's happening.
That was the same sentiment expressed by Chamnan Chanruang, deputy leader of the Future Forward Party, who said the move was a clear example of the kind of campaigning that remains illegal for everyone else.
Pheu Thai Party spokeswoman Ladawan Wongsriwong said Wednesday that the aid would only last 10 months and that beneficiaries should not feel indebted or any gratitude toward the government since it came from taxpayers' money, not Prayuth.