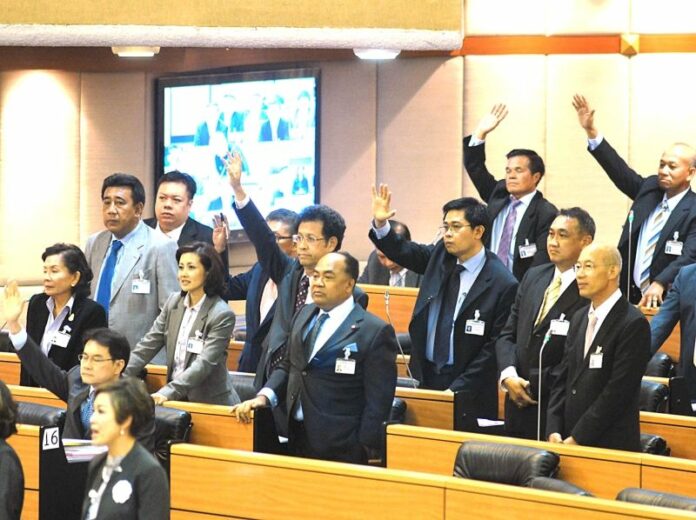 BANGKOK — There's less than a month to go before the parliament reconvenes, but junta-appointed lawmakers have yet to decide on where to meet.
With the 44-year-old Parliament Building slated to be shut down and returned to the palace on Dec. 26, the National Legislative Assembly said Friday that proposals to rent conference halls to use are still under consideration. The choices are now shortlisted to three potential venues, a deputy house speaker told reporters.
Surachai Liengboonlertchai said the candidates are – in the order of viability – the TOT auditorium in Chaeng Wattana, the army-owned Channel 5 conference hall in Phaya Thai and the UN offices on Ratchadamnoen Avenue. He said he wished he had more time to consider other options.
"We're running into obstacles because there's little time left," Surachai said. "It doesn't allow us to talk to a lot of venue owners."
The next parliament meeting is scheduled for Jan. 10, and the new parliament building is still under construction. Work isn't expected to be finished until June at the earliest.
Surachai wouldn't say how much money will be spent on rent.
"I cannot disclose details of rent, because I still have to negotiate," the deputy speaker said. "But, because this is an urgent matter, we aren't prioritizing cost in finding a location. We are prioritizing security."
The current parliament building, located in the Dusit district, will be returned to the Royal Household Bureau. Plans for the facility have yet to be announced.
Related stories:
Dusit Zoo That Recalled Old Bangkok Soon Just a Memory (Photos)