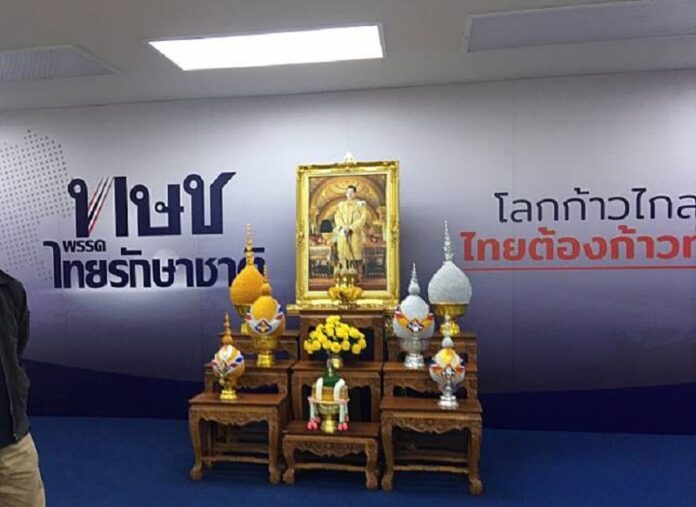 BANGKOK — Word that a party allied with former leader Thaksin Shinawatra was inappropriately displaying His Majesty the King's portrait prompted a police visit Tuesday morning.
A senior officer at Bangkok's Thung Song Hong Police Station said he led several policemen to Thai Raksa Chart headquarters to make sure the portrait was being displayed correctly. The party spokesman wrote online they had no intention to insult the king.
After an inspection was conducted, Maj. Mongkol Thongnueaha said everything was put in order.
On the same day that saw its royal nomination for high office rejected by the Election Commission, Thai Raksa Chart landed in yet more hot water when reporters invited to a news conference saw a portrait of King Vajiralongkorn displayed with krueang thong noi, a flower arrangement only used to memorialize Thai royals.
Read: Election Commission Meets to Discuss Disbanding Pro-Thaksin Party
Photos of the display went viral on social media and outraged supporters of the junta, who have long suspected that Thaksin and his faction holds the monarchy in ill regard.
"They were afraid they didn't know what to do to look like they are loyal [to the king]," one user wrote in a news thread. "But they were never loyal, that's why there was an error."
Some also took offense at the portrait's presence in news conference room; election regulations ban any mention or use of the monarchy in political campaigns.
Party spokesman Pongkasem Satayaprasert said it was a misunderstanding. Writing online, Pongkasem said the portrait was placed in the media room while party staff were buying the proper altar and other flowers for display at another room. The funerary decoration was purely accidental, he said.
"The arrangement was made due to a misunderstanding of party officials," Pongkasem said. "When the party heard the news, we immediately ordered the mistake fixed."
Thai Raksa Chart is already suffering a backlash from royalist circles after His Majesty the King blocked their bid to run a former princess in the upcoming election on the party ticket.
Describing the nomination as "extremely inappropriate," King Vajiralongkorn ruled that Ubolratana Mahidol is part of the nobility and cannot enter politics or run as prime minister.
In further possible legal repercussions, the Election Commission is said to be deliberating on disbanding Thai Raksa Chart Party for violating election law, which forbids using the monarchy for an advantage.