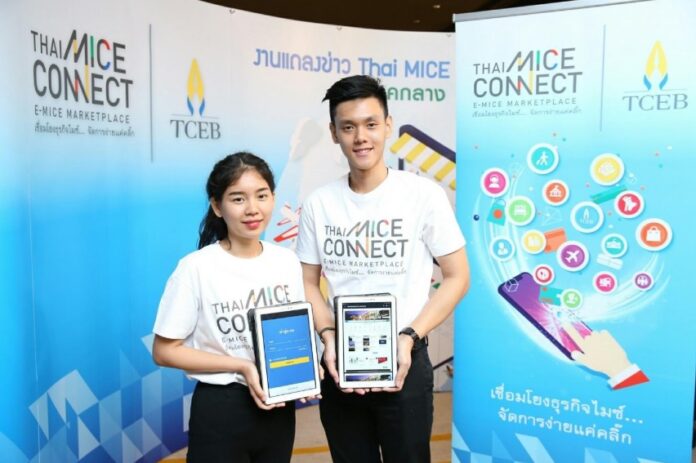 TCEB ventures on to drive MICE industry 4.0 in Thailand with the country's first E-MICE marketplace to give more business opportunities to MICE entrepreneurs through the pioneer project "Thai MICE Connect" into 3 regions; the central, the south and the northeast regions of Thailand in 2019. 
Mr. Chiruit Isarangkun Na Ayuthaya, President of Thailand Convention & Exhibition Bureau (TCEB) states that MICE business is a vital platform that connects several different industries, from tourism to hotels and hospitality and logistics. As governmental organization, TCEB is tasked to promote MICE business under the vision of the government's three main pillars: generation of income, distribution of income to different parts of Thailand and development of MICE industry with innovation, to further strengthen Thai MICE business with equality of opportunity and sustainability. 
TCEB values the importance of national MICE information development to distribute income to other parts of Thailand reduce inequality of opportunity in the MICE industry. TCEB recently launched Thailand's central information system to benefit both the public and the private sectors, give more opportunity to MICE businesses all over Thailand to market their products, research and further improve MICE knowledge and know-how in macro scale. With collaboration with more than 10 public and private organizations, TCEB raises the bar of MICE industry in Thailand with information innovation that allows for systemized information collection from entrepreneurs in each region. Thai MICE Connect is to become the comprehensive gateway to access all information concerning MICE industry. With precision, comprehensiveness and extensive coverage, Thai MICE Connect is Thailand's first complete-Marketplace for MICE businesses. 
Thai MICE Connect is divided into two phases. The first phase commences in the fiscal year of 2019 in central Thailand, the south and the northeast. The latter begins in the fiscal year 2020 in the north and the east of Thailand. 
To fully implement the platform, TCEB is hosting training sessions for businessowners on how to maximize the use of Thai MICE Connect and equip them with know-how to market their businesses on an e-marketplace. During the first phase, the training will be hosted in central Thailand in Bangkok, Ayutthaya, Kanchanaburi and in the south in Phuket, Songkhla, Surat Thani and Nakon Sri Thammarat. In the northeast, the training will take place at Khon Kaen, Udon Thani, Nakon Ratchasima and Ubon Ratchathani. The training will run from July 25 to September 9, 2019, and more than 5,000 participants are expected to attend. 
Thai MICE Connect systemizes the collection of information in E-MICE marketplace. For the first time in Thailand, all information concerning MICE industry as well as insights on its demand and supply chain is surveyed, analyzed and organized to be the national database. Presented in Thai and English, users can access information from Thailand and abroad and take advantage of the information pool of MICE products, services, sellers and producers in the Thai MICE industry anytime, anywhere. Thai MICE Connect maximizes the convenience and competency of Thai MICE industry and caters to the digital MICE trend, allowing MICE businesses to extend their clientele to international markets in one platform. 
Mr. Chiruit Isarangkun Na Ayuthaya, President of Thailand Convention & Exhibition Bureau (TCEB) continues that, "Thai MICE Connect will become the new, innovative platform for Thai MICE industry to compete in the new global market where entrepreneurs are required to constantly learn and improve their products and services to distinguish themselves in the market. Presented in E-MICE marketplace platform, Thai MICE Connect give stars to entrepreneurs that update their product and service information frequently, by means of images and promotion news. TCEB also aims to motivate MICE entrepreneurs to participate in the training session to further develop their business prospects with self-evaluation system. TCEB also offers workshops for information collection and digital marketing where participants can exchange their knowledge to further develop the tools that are most suitable for their businesses." 
Thai MICE Connect: E-MICE Marketplace will be official and live launched on October 15 to become the first and most comprehensive e-market platform for MICE businesses all over Thailand and bridge the gap between all sizes of sellers and buyers domestically and internationally. For the first time in Thailand, the e-marketplace platform is to drive the Thai MICE industry to the global stage. In 2019, TCEB looks to build database of at least 10,000 MICE entrepreneurs in central Thailand, the south and the northeast, and expand to cover the north and the east in 2020 to full cover the MICE industry of Thailand.