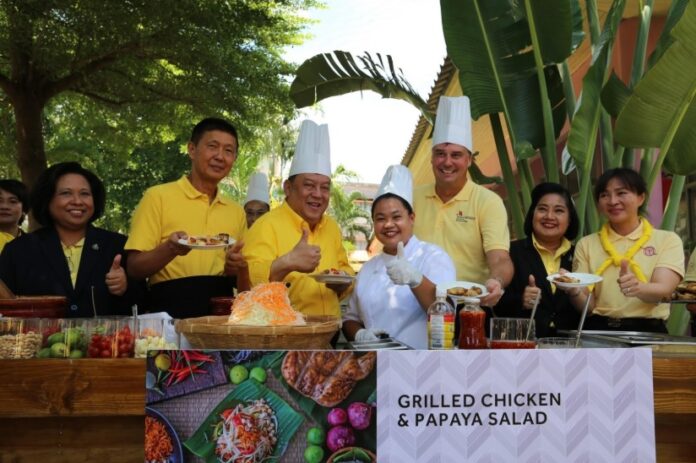 To mark the auspicious occasion of His Majesty King Maha Vajiralongkorn Bodindradebayavarangkun's birthday on 28th July 2019, Bangkok Marriott Marquis Queen's Park has teamed up with the Police General Hospital to prepare a gourmet lunch and provide free medical check-ups to senior citizens at the Ban Bang Khae nursing home.
This important community event, which was hosted on Tuesday 23rd July 2019, had a celebratory atmosphere, with live singers entertaining the 240 guests. Two special guests then took part in a live cooking demonstration; Mr. Chuti Krairiksh, Minister of Social Development & Human Security, helped the hotel's chefs prepare papaya salad, and Police Lieutenant General Witoon Nitiwarangkul, Surgeon General Level 8, cooked grilled chicken.
These dishes formed part of a carefully prepared meal for the elderly guests. The nutritious, delicious and easy-to-eat menu included grilled sea bass with mustard cream sauce, mashed potato, soft tofu with lotus seeds and diced greens, stir-fried spinach with mushroom and oyster sauce, boneless grilled chicken, mild papaya salad, and spaghetti with a choice of meats and sauces.
The guests were then offered a choice of delectable desserts, including mango sticky rice, soft apple tart, Oreo cheesecake with reduced sugar, and a fresh fruit platter. These thoughtful menus allowed the residents to enjoy a delectable lunch without worrying about their health.
To further help improve their wellbeing, the nursing home's residents were invited to take part in free health check-ups with qualified nurses and enjoy complimentary massages.
"This special charity event was a wonderful way of celebrating His Majesty The King's 67th birthday giving back to our local community. Our special lunch was meticulously prepared with the health of our elderly guests in mind. Prior to the event, our kitchen team visited the Police General Hospital's Department of Nutrition to consult with their specialists and devise the best recipes. We hope that we were able to bring smiles to the faces of our guests at the Ban Bang Khae nursing home," said Mr. Simon Bell, General Manager, Bangkok Marriott Marquis Queen's Park.
This charitable occasion forms part of Bangkok Marriott Marquis Queen's Park's broader CSR activities, in line with Marriott International's social impact platform, "Serve 360 – Doing Good in Every Direction," which was launched in 2017 and sets goals for social responsibility through 2025.