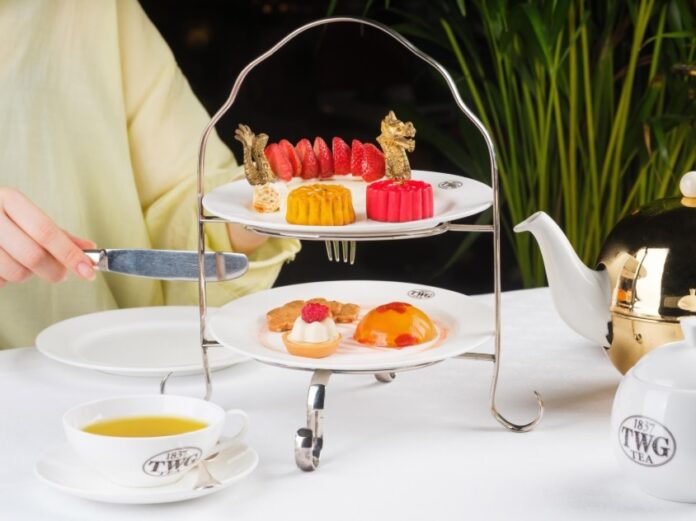 In the spirit of the Mid-Autumn festival, TWG Tea embraces the arrival of autumn with  Moonlight High Tea Set, an array of tea-infused mooncakes and pâtisseries beautifully paired with the new White Sky Tea from the Haute Couture Tea Collection®. 
Celebrating traditions where tea is served to balance the richness and sweetness of mooncakes, the White Sky Tea in Haute Couture Collection® blooms in elegant hues of white and gold – a drop of heaven in a teacup for this joyous occasion. Imparting an exquisite fragrance of ylang ylang flowers from the islands of the Indian Ocean archipelago, this majestic Yin Zhen white tea lends its crystalline flavour to this celestial, fruity blend. An exceptional tea to pair with delectable desserts.
Begin the gastronomic journey with delicately handcrafted mooncakes, infused with exclusive tea blends to tantalise the palates of tea lovers and gourmands alike. Embracing the beauty of the festival, savour the grand yellow mooncake concealing a Geisha Blossom Tea infused white lotus filling and surprising peach confit in a white chocolate heart; and the decadent mooncake encased in a lavish, red crust with a luxurious Mistral Tea infused white lotus filling, enveloping a refreshing strawberry almond paste. These TWG Tea creations are accompanied by a dragon-shaped dark chocolate infused with Red Chocolate Tea coated in gold and strawberry feuilletee served with Sweet Romance Tea infused cream.
Indulge in a selection of tea-infused pâtisseries, featuring an aromatic and refreshing Moon Route Tea infused jelly with goji berries; the traditional almond cookies blended with Imperial Lapsang Souchong for an auspicious beginning; and the sensational lychee panna cotta revealing texture of raspberry coulis layered with Vanilla Bourbon Tea infused mousseline cream. 
TWG Tea's White Sky Tea and Moonlight High Tea Set are priced at 1,360 baht and 588 baht respectively. Available from 1 to 30 September 2019 at all TWG Tea Salons & Boutique in Bangkok. For more information, please call 0-2259-9510.