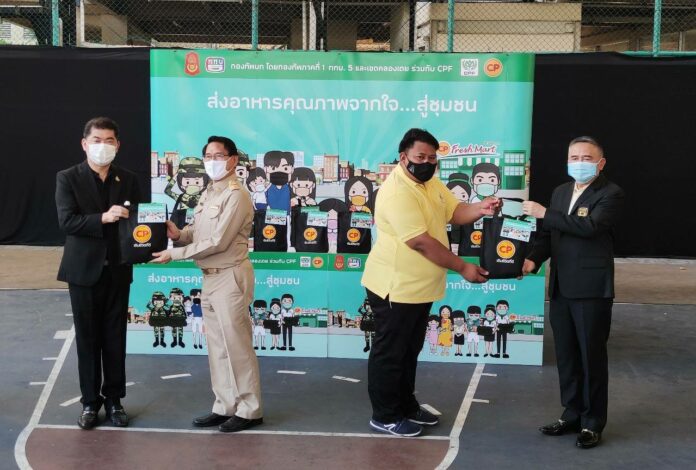 The First Army region, the Royal Thai Army Radio and Television Station in collaboration with Charoen Pokphand Foods PCL (CPF) offered free foods to 8,499 households in Khlong Toei community during COVID-19 crisis.
Gen. Kittichet Soradithaphan, President of the Royal Thai Army Radio and Television Station, said "The First Army region and CPF's Food from Heart to Communities" has been launched to assist people in the underprivileged community during COVID-19 outbreak. Most of them are daily wage workers who are struggling financially from the virus lockdown.
"Thankfully, CPF has offered a much needed helping hand to the Royal Thai Army in this matter. The food supplies from this project will greatly assist people in the community," he said.
Mr. Prasit Boondoungprasert, Chief Executive Officer of CPF, said the company recognizes that COVID-19 has impacted many groups of people, especially underprivileged groups. At the beginning, the company will support Khlong Toei community with 41,280 people living in 8,499 households.
"CPF would like to use its expertise as a food company to help those in need. We are offering 25,000 packs of frozen rice and curry and 17,000 bottles of water. Three packs of frozen food and two water bottles are given to each household." Mr. Prasit said, adding that the frozen meal pack used innovative food packages that can be easily reheated in boiling water instead of using a microwave machine.
In addition to the project, CPF has joined forces with the Ministry of Public Health to offer free food products for over 20,000 people returned from overseas to self-quarantine, COVID-19 frontliners in 105 public hospitals nationwide as well as 18,000 families of frontline doctors and nurses.