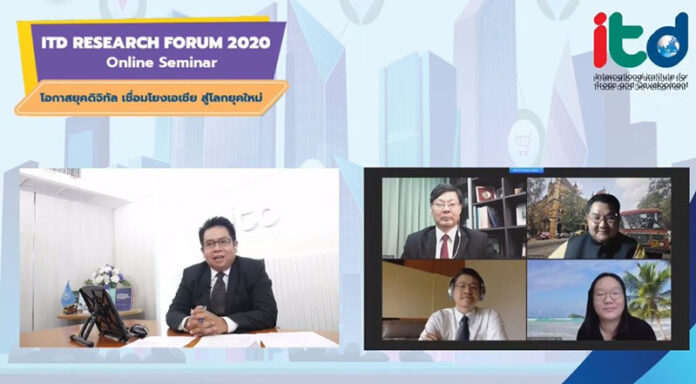 Recently, The International Institute for Trade and Development (Public Organization) or ITD hosted "ITD Research Forum 2020 – Online Seminar", which aimed to release four research results describing the economic and development trends in the digital age. Besides, it was attracted more than 500 attendants including government, private sectors, academic institutions, etc.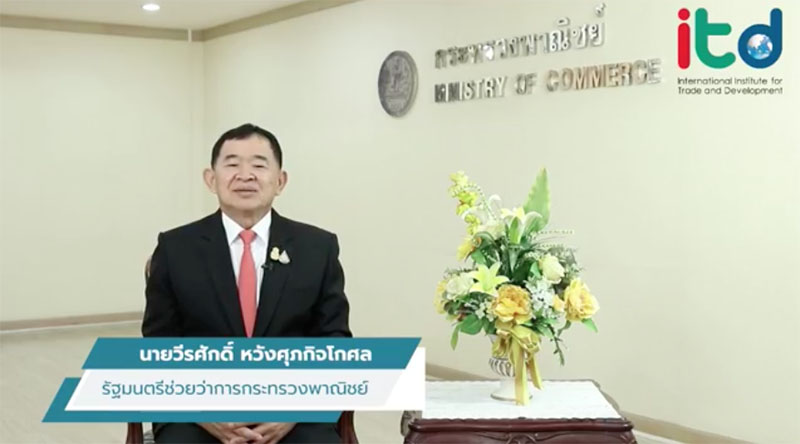 Mr. Weerasak Wangsuphakijkosol, Deputy Minister of Commerce had an opening speech of the seminar that during the Covid-19 crisis, E-Commerce play a significant role in the global market, consequently, Thai businesses need to be prepared for and adapted to New Normal. ITD has been assigned as a Think Tank for the Ministry of Commerce, and an assistant for Thai entrepreneurs to realize and take opportunities in this changing globalization including economic, social, and technology. Besides, ITD is an academic institution, which has advanced in data analysis and strong academic networks both domestically and internationally. Thus, we could ensure that Thailand could become a winner on the global stage in the near future.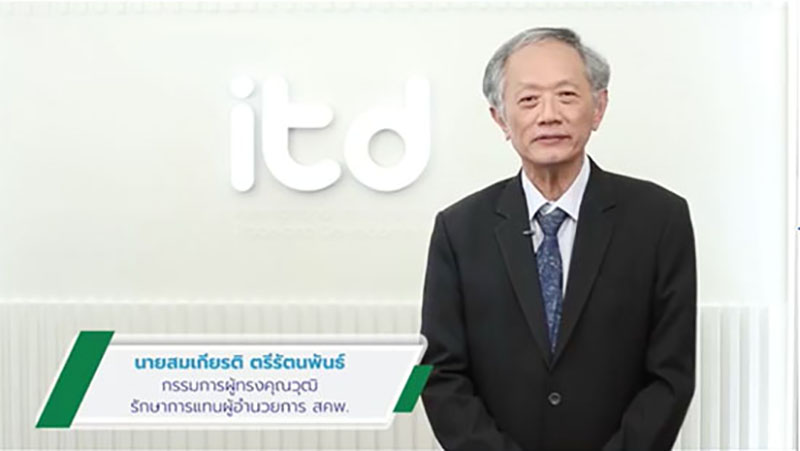 Mr.Somkiat Triratpan, Acting Director of ITD said that ITD Research Forum 2020 would present four research topics. Starting from the preparation for moving forward to the digital economy, followed by China's cooperation policy was called the Belt and Road Initiative (BRI). Thirdly, it would talk about investment in South Asia where is a huge consumer base with a high economic growth rate by developing BIMSTEC cooperation frameworks. And lastly, local economy development between Thailand and neighboring countries by using Special Economic Zones as a production base.
        The research on Trade and Investment Opportunities of Thailand One Belt, One Road Initiated by China has shown that the Thai government especially the Ministry of Commerce of Thailand seriously adjusts the exported products to China by focusing on exporting finished goods such as jewelry and home accessories, etc. Lately, China's middle class is still growing. Chinese consumers are most willing to buy products online, with around 650 million people ordering products through mobile phones. Therefore, it is a good opportunity for Thailand to seriously adjust the structure of the export of finished goods to China in accordance with the said phenomenon. However, the market complexity and highly competitive market are issues that we have to concern. Both government and private sectors are request to do hard work in terms of information preparations including in-depth studies about Chinese market, related laws and regulations, consumption trends. Furthermore, The Thailand Board of Investment should adjust the investment structure by providing investment benefits which focusing on quality rather than quantity and should have strict standards and conditions for promoting investment from China, for example should be an investment project that will benefit Thai community /local economy; should create jobs and strengthen the Thai economy, such as creating professional knowledge and technology or having a subsidiary company managed by Thai people; should be an investment that will create added value and use raw materials from Thailand, especially from agricultural sector; and should help solve the problem of falling agricultural prices, such as establishing a tire manufacturing plant that using raw rubber from Thai farmers, etc.
        The research results from Policy Developments to Extend Creation of Economic Value and Utilize the Development of BIMSTEC Free Trade Area Frameworks for Thailand found that the Bay of Bengal is regarded by Thailand as a target area not only because of its proximity as a neighbor but also because of its being one of the largest economic zone in the world, holding a total GDP of USD 3.62 trillion in the year 2018. When considering the size of the economy after adjusting the cost of living, India will become the world's largest economy, with the total volume of USD 10.498 trillion, third only to China and The United States. 
        Thailand should set up policies to interact with other BIMSTEC member states and to promote BIMSTEC to regional cooperation. This could be done by raising awareness, interest, and importance for the people. Thailand should consider India and BIMSTEC depend on the context of each area since the countries in the region of the Bay of Bengal are complex in culture, language, religion, ethnicity, and politics. Each country is unique and has a long and different history. Therefore, it is important to thoroughly study and clearly understand these differences.
        For the negotiation of the BIMTEC framework agreement, the relevant authorities should use the Early Harvest processes. In other words, the member country that ready to enforce any agreement should force without waiting for all countries to ratify and become effective. This can make an incentive in two dimensions. 1) External factors that those countries who signed and gain effective benefit from the Free Trade Agreement will be an incentive for those who have not signed yet. 2) Internal factors by operators and consumers of each country that has not signed yet and/or not come into force, urging the government to sign the agreement to become effective so that entrepreneurs and consumers can take the benefits from the agreement.
        ITD should provide a training course on intercultural communication as a starting point to prepare for the entrepreneurs so that they might see opportunities in trade and investment in the Bay of Bengal Area. This studies analyzed the factors that are influenced by intercultural communication among BIMTEC member countries, organize field trips for businesspeople to explore the actual sites along with scholars to enable them to see tangible opportunities. For example, taking businesspeople and investors to travel experience the places and environments, communication, society, culture, language, and temperament as well as conversations to indigenous people. This could make the investor understand the traditional opportunities and challenges before deciding to invest in BIMTEC.
        The study of Local Economic Development to Support Opportunities and Impacts from Special Economic Zones along the Southern Economic Corridor has suggested that the development of Special Economic Zones is very essential because Thailand could gain benefits from increased connectivity with neighboring countries. However, it also needs cooperation and joint action between government, private sectors as well as local people.
        A case study of Kanchanaburi province where is connected to Dawei Special Economic Zone, Myanmar. There are some recommended development plans such as a creation of organic agribusiness, applying for Geographical Indications (GI), constructing convention centers, distribution market, etc. While Trat province could enhance cooperation with Koh Kong, Cambodia in terms of branding provincial products especially the agriculture sector such as the application of Good Agricultural Practice (GAP), promoting premium medical tourism for elderly people, human resource training center, warehouse, etc.
International Institute for Trade and Development (ITD)a Tel. 02 2161894-7 ต่อ 186,188