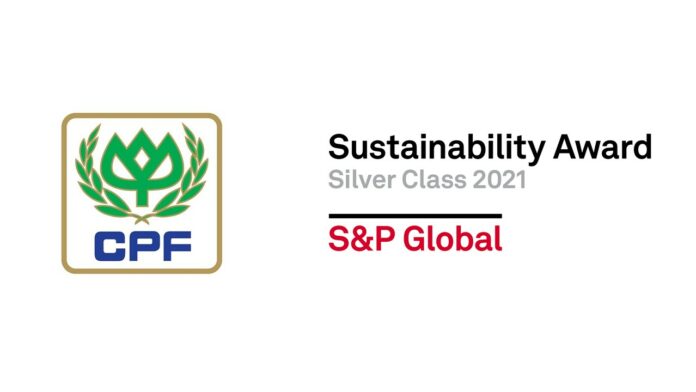 Charoen Pokphand Foods PCL (CPF) was ranked Silver Class distinction in S&P Global's Sustainability Yearbook 2021, one of the world's most comprehensive publications providing in-depth analysis on corporate sustainability.  The prestigious ranking that affirms the Company's commitment towards global-level sustainability as "Kitchen of the World".
Mr. Wuthichai Sithipreedanant, Senior Vice President – Corporate Social Responsibility and Sustainable Development of CPF, said this achievement reflects CPF's position in the international stage as the company with outstanding performance and records of sustainable development.
"The distinction is a milestone of CPF's path towards sustainable growth. It reflects the Company's outstanding performance in sustainability as the Sustainability Yearbook is a very reliable source for international organizations' sustainability records. The distinction will help raise confidence in CPF among stakeholders across the world," he said.
S&P Global is specialized in sustainability-related investment. It collaborated with Dow Jones Sustainability Indices (DJSI) in assessing the sustainability performance of the world's largest companies in 61 industries. Annually, S&P Global selected outstanding companies for the Sustainability Yearbook. CPF joined DJSI questionaire and won Silver Class distinction as its scor is within a range of 1% to 5% of the industry's top-performing company's score.
The recognition affirms CPF's commitment to operate accordingly to the sustainable development principles that highlight "ESG" (environmental, social and governance) in all countries where CPF operates. The commitment follows CPF's 3 sustainability pillars – "Food Security, Self-Sufficient Society and "Balance of Nature". It also supports the United Nations Sustainable Development Goals (SDGs), to raise the quality of life of all and strike the economic, social and environmental balance. CPF strives to continually improve sustainability performance, to overcome challenges and achieve long-term resilience.