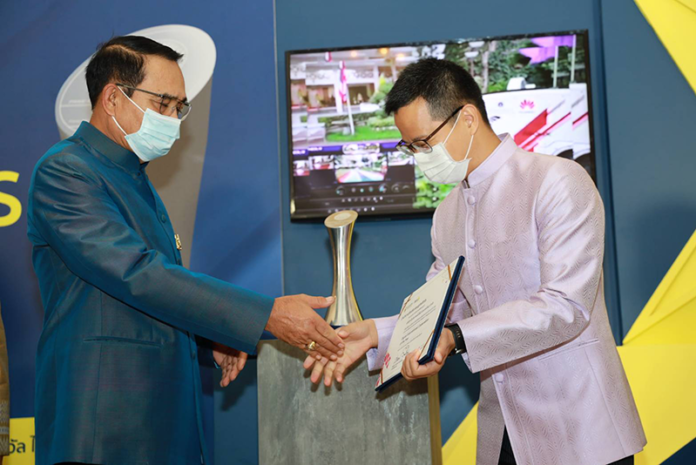 Corporate Mission "Grow in Thailand, Contribute to Thailand"
aims to support digital transformation while giving back to society
[Bangkok, Thailand/ 9 March 2021] Huawei Technologies (Thailand) Co., Ltd. has been chosen for the Special Prime Minister Award for the "Digital International Corporation of the Year" category. The award recognizes Huawei Thailand for its valuable support and outstanding contributions to Thai society since its establishment in the country 21 years ago and its efforts to support digital transformation. It is the only company to receive this award.
Mr. Abel Deng, CEO of Huawei Technologies (Thailand) Co., Ltd., accepted the award from HE General Prayut Chan-o-cha, Prime Minister of Thailand in the presence of Mr. Nuttapon Nimmanphatcharin, President/CEO of Digital Economy Promotion Agency (depa), during the award ceremony held at Government House.
The Prime Minister congratulated this year's awardees. He commended the younger generation for being able to apply digital technology creatively and for leveraging on innovation to create new businesses to move ahead together. He also added that the government gives importance to the development of 5G and AI systems to drive Thailand forward and expressed hope that today's success will inspire university students to make use of digital technology to create business opportunities for the country in the future. In addition, the Prime Minister congratulated Huawei executives and asked them to continue the company's mission to drive Thailand forward.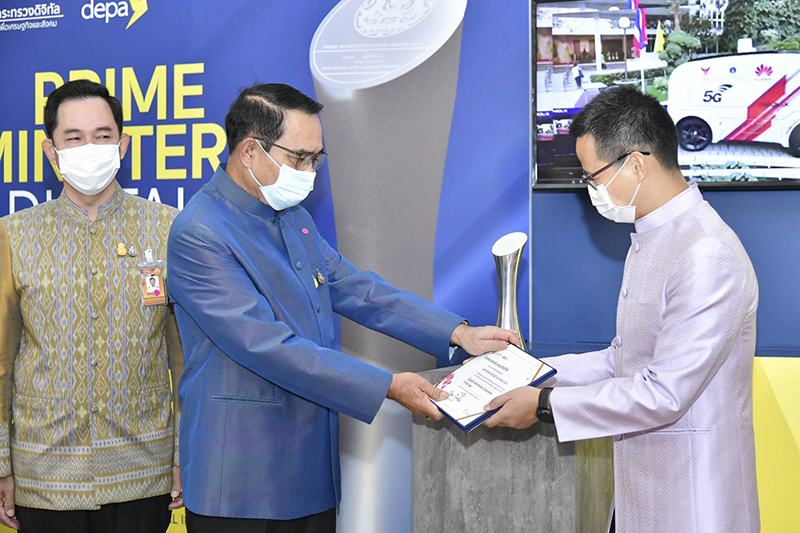 "The PM's Digital Awards recognize organizations whose products and solutions help drive digital technology and innovation development. For the PM's Special Award: Digital International Corporation of the Year, the criteria for this distinction includes excellence in development of digital technology that supports enterprises, services and the society; application of digital technology that drives better economy, society, culture and security for Thais; investment that creates jobs in Thailand; social and environmental development that support local and international economy. Huawei received the highest scores from our distinguished committee," said Mr. Nuttapon Nimmanphatcharin, President of Digital Economy Promotion Agency. "Our collaboration with Huawei has been central not just for the country's development, but also crucial when technology is used for emergency responses to unforeseen events such as natural disasters, security threats, health crises and others. During the COVID-19 pandemic, the company instantly applied the world's leading technology called AI-assisted solutions and 5G technology to support the country's medical working teams at government hospitals. Recently, Thailand's first 5G Ecosystem Innovation Centre (5G EIC) was launched at depa's office, thanks to a collaboration between the Digital Economy and Society Ministry, Digital Economy Promotion Agency (depa) and Huawei. Our partnership with Huawei and our ability to leverage on 5G technology give us an edge in enhancing our business competitiveness. I would like to congratulate the company on this achievement. We are grateful for Huawei's goodwill and continuous efforts to help drive the digital economy in the country," he added.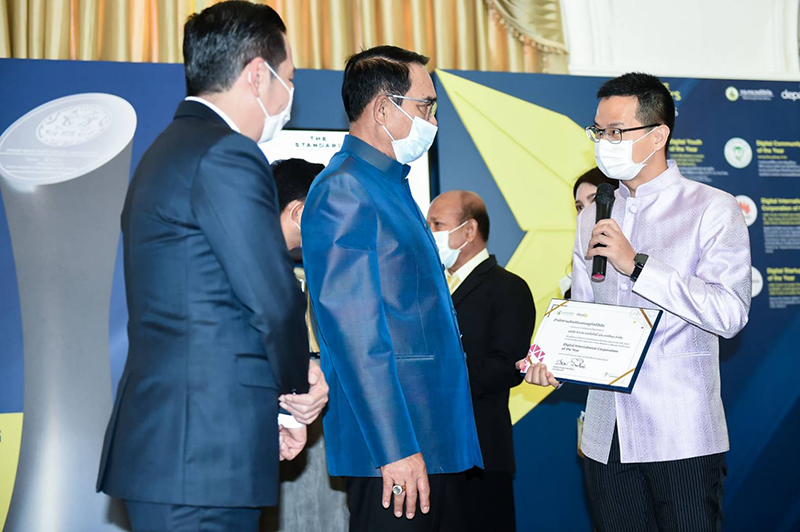 "It is an honor for me to accept the Prime Minister's Award on behalf of Huawei Technologies," said Mr. Abel Deng, CEO of Huawei Thailand, during the ceremony. "At Huawei, we value long-term partnership. We are committed to collaborating with customers and partners to help keep Thailand at the forefront of the digital age. With the mission of 'Grow in Thailand, Contribute to Thailand, Huawei reinforces its commitment to helping the country move forward to Thailand 4.0 and become a digital hub in the Asia Pacific region, and to ensuring that no one is left behind. We will bring digital to every person, every home and organization, for a fully connected, and intelligent Thailand."
This year's award is another recognition of Huawei's leadership in Thailand's digital scene. Among its success factors for this special recognition are:
For digital economy:
• Open Lab Bangkok: one-stop support to provide industry solutions for the IoT, Big Data, and cloud computing, a verification platform, and ICT training services for customers and ICT industry entrepreneurs in Thailand and Southeast Asia
• 5G EEC Testbed: established the first 5G Test Bed in a real world-setting in Southeast Asia located in Kasetsart University, Sri Racha campus (Eastern Economic Corridor).
• Thailand 5G Ecosystem Innovation Center: Jointly established by Digital Economy Promotion Agency, Ministry of Digital Economy and Society, the center serves as a sandbox for SMEs, startups, developers, educational institutions to develop the digital innovations for 5G applications and service, incubate local digital talents and upgrade digital skills.
For social advancement:
• AI-assisted solutions for government hospitals: AI-powered software provided to Ramathibodi and Siriraj Hospitals to help make COVID-19 diagnosis solutions faster and more efficient using 5G technology.
• Huawei Telemedicine Video Conference Solution for the Ministry of Public Health: Real-time and full-functional teleconference system that can facilitate Thai medical staff and teams without risk of infection; doctors can conduct remote online consultations; patients can be diagnosed, treated and monitored through their own smart devices.
• Unmanned vehicles using 5G: contactless delivery of medical goods within the hospital to reduce infection risks of frontline workers.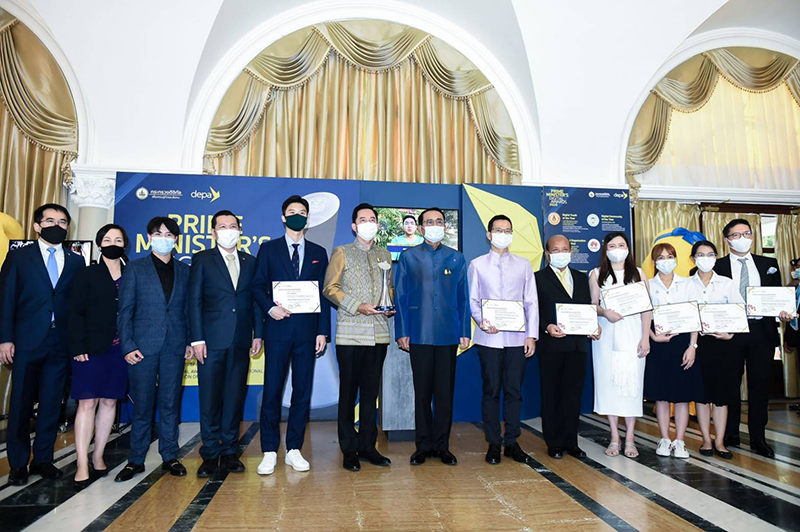 For human capital development:
• Huawei ASEAN Academy: partnering with local business, technical and engineering schools to "produce 100,000 digital and tech-related workers within 5 years"
• 5G courses by global experts and chief scientists from Huawei: topics such as 5G trends, commercial plans, 5G standards, use cases, business model ideas, etc. to promote multi-dimensional thinking
The leading tech company announced that more projects will be organized later this year to help Thailand strengthen its 5G ecosystem. In partnership with depa, Huawei will host the 5G Summit, 5G Industry Alliance and 5G Hackathon aiming to incubate local tech talents. The two parties will also release a 5G Whitepaper to help guide the industry towards the next-generation economy.
About Huawei
Huawei is a leading global information and communications technology (ICT) solutions provider. Our aim is to enrich life and improve efficiency through a better-connected world, acting as a responsible corporate citizen, innovative enabler for the information society, and collaborative contributor to the industry. Driven by customer-centric innovation and open partnerships, Huawei has established an end-to-end ICT solutions portfolio that gives customers competitive advantages in telecom and enterprise networks, devices and cloud computing. Huawei's 180,000 employees worldwide are committed to creating maximum value for telecom operators, enterprises and consumers. Our innovative ICT solutions, products and services are used in more than 170 countries and regions, serving over one-third of the world's population. Founded in 1987, Huawei is a private company fully owned by its employees.
For more information, please visit Huawei online at www.huawei.com or follow us on:
http://www.linkedin.com/company/Huawei
http://www.facebook.com/HuaweiTechThailand