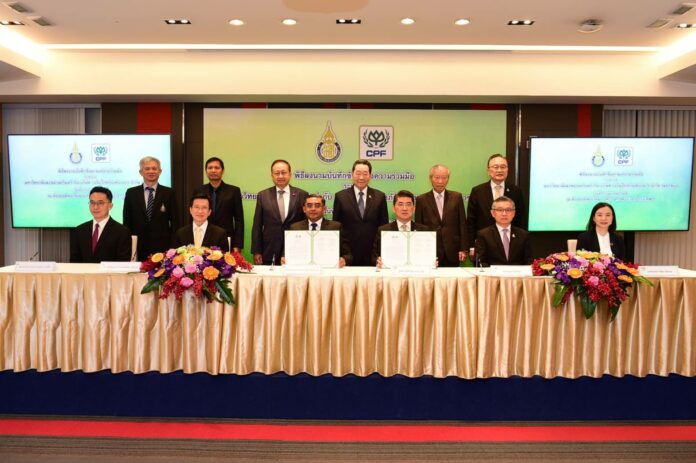 Prince of Songkhla University (PSU) and Charoen Pokphand Foods PCL. (CPF) have signed the "Collaboration Agreement on Integrated Agro-industry and Food Study" which will involve upstream to downstream agricultural studies to empower young agribusiness entrepreneurs.
Charoen Pokphand Group's Senior Chairman Dhanin Chearavanon presided over Memorandum of Understanding (MOU) Signing Ceremony between PSU and CPF. The agreement was signed by PSU President Asst. Prof. Dr. Niwat Keawpradub and CPF Chief Executive Officer Mr. Prasit Boondoungprasert at True Tower, Bangkok. Attending the signing ceremony were Mr. Adirek Sripratak, Chairman of CPF's Executive Committee; Mr. Siripong Arunratana, Chief Operating Officer – Livestock Business of CPF;  Ms. Pimonrat Reephattanavijitkul, Executive Vice-President of CPF and Mr. Rangsan Sriworasart, PSU Council Committee.
Dr. Niwat noted that PSU sits on the expertise in producing quality agricultural graduates and has continually improved the curriculum to enhance students' knowledge, skills and experiences. The collaboration marks a good opportunity as CPF, a leading agro-industrial and food company, will throw supports to the university's research and study process, involving the assignment of employees to a working committee and the preparation of training grounds for students to achieve concrete benefits.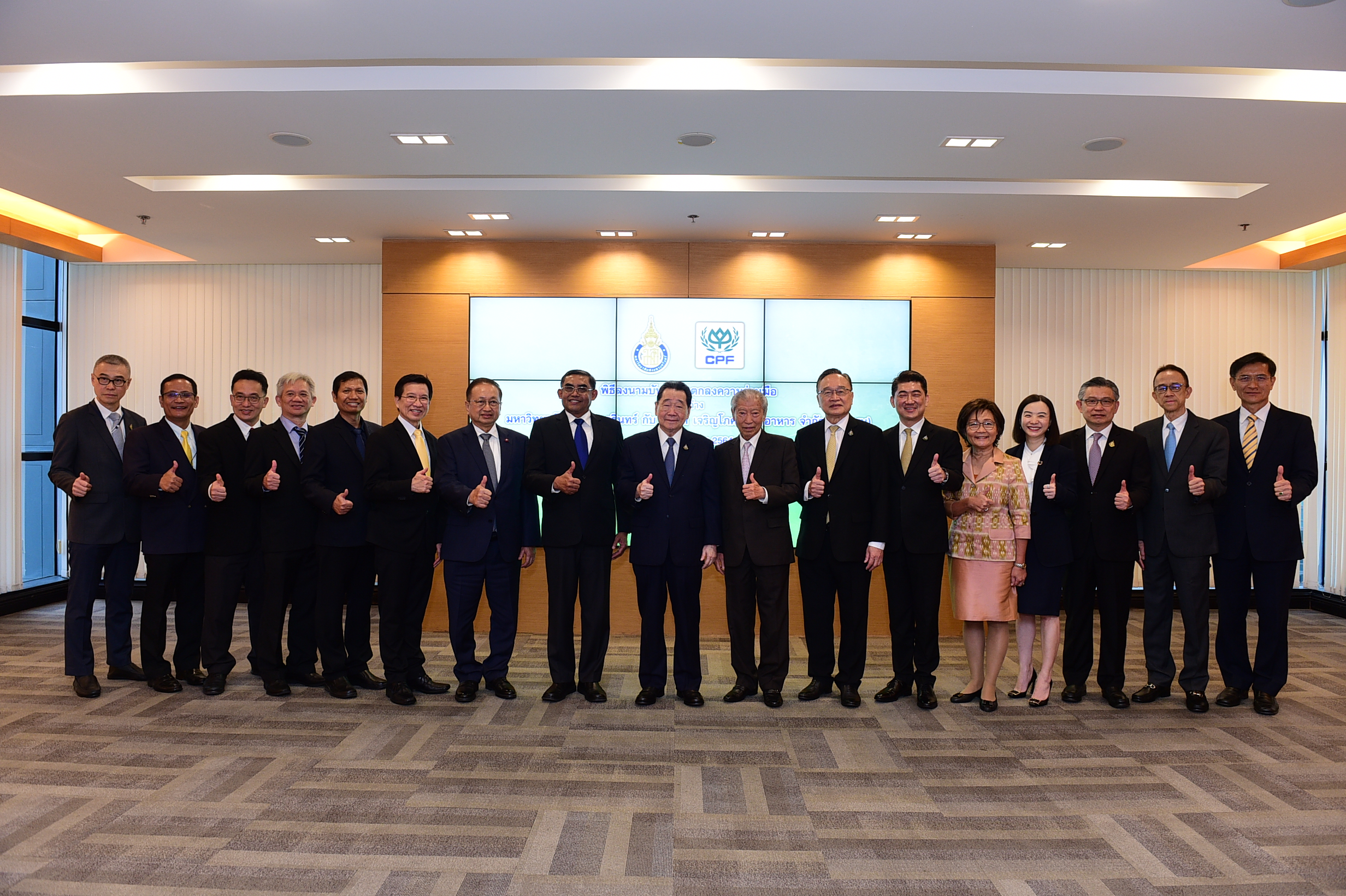 "The collaboration on integrated agro-industrial and food research and study between Prince of Songkhla University and CPF takes Thailand's education to the next level, as a business company's real knowledge, expertise and experiences will be shared with and practiced by students. I'm confident that all students passing this project will be ready for the job market or turn themselves into agribusiness entrepreneurs," Dr. Niwat said.
Mr. Prasit added that as a leading agro-industrial and food conglomerate with the upstream to downstream supply chain (Feed-Farm-Food) and retail business, CPF is guided by the vision of "Kitchen of the World". Ready to support the development of Thailand's education, CPF has teamed up with several educational institutions, with Prince of Songkhla University being the latest. To be shared with students is CPF's knowledge involving agribusiness innovations and digital technology as well as researches of its Feed-Farm-Food businesses in livestock, aquaculture and plant-based raw materials for animal feeds. Students will also be equipped with agribusiness skills, to help them become young agribusiness entrepreneurs. CPF's goal is to produce young workers who meet the job market's demands and enhance their entrepreneurship.
"As a good corporate citizen, CPF has operated under the '3-Benefit' principles. The collaboration is aligned with the principles, as it involves the transfer of real-world experiences and expertise to the university's students who show interest in the integrated agribusiness and food industry. It will contribute to education development and build quality and desirable young workforce that will benefit the country's agricultural sector," Mr. Prasit said.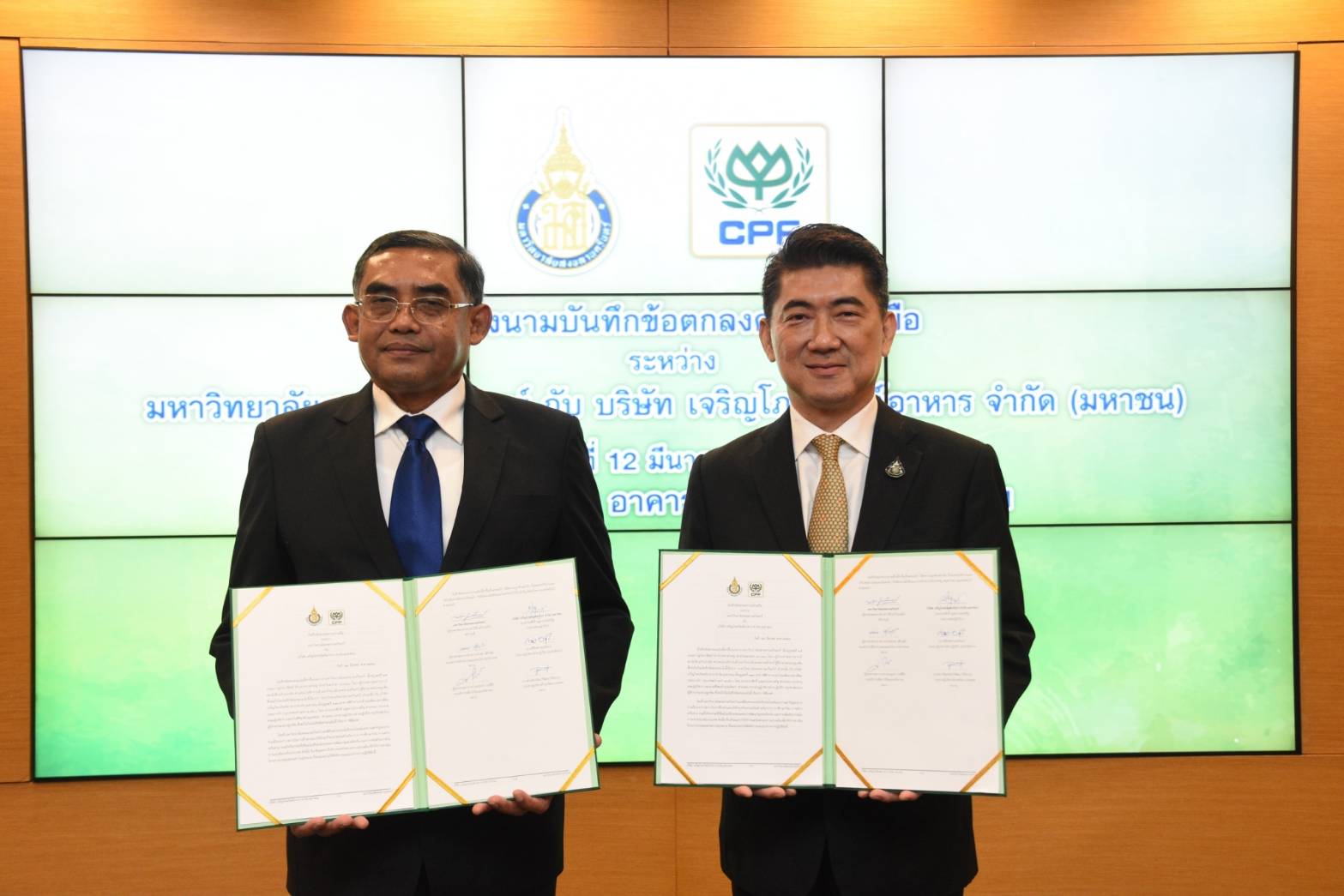 The project has a systematic workstream , covering three aspects, including developing curriculum for Young Agri-business Entrepreneurs, joint research and development for feed and food products, and, lastly, other relevant collaborations such as CPF in your Area in which student can gain a first-hand experience from Five Star business model, Alumni Panelist, sharing expertise from PSU-graduated CPF staffs, and etc.