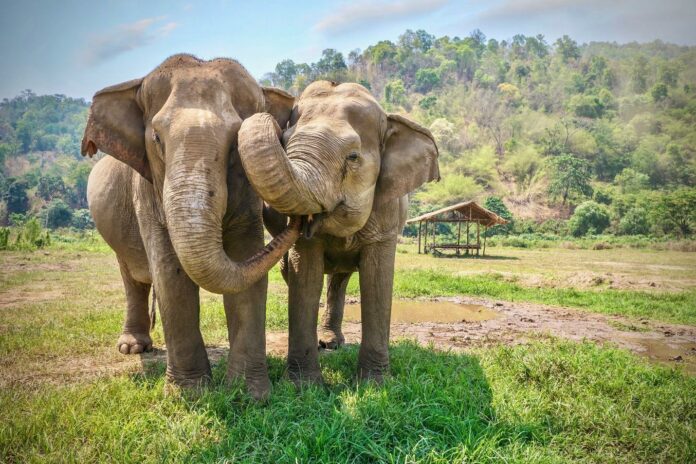 With many countries of the world rapidly focusing on vaccinating their citizens, we may soon be reaching the end of the pandemic, and borders will be happily reopening at some point. Many travellers are already drawing up their plans and itineraries to visit Thailand. And no trip to Thailand would be complete without a visit to an elephant nature park.
If you're unaware of the plight of the elephant in Thailand, you especially owe it to yourself and your family to visit one of the elephant nature parks. They represent the best hope for the preservation of Thailand's elephants. 
History of Elephants in Thailand
Elephants are revered in Thailand because of their strength and intelligence. But at the same time, they've also been the subject of many cruel practices and systematic abuse over the years.  
Elephants used to be used in the logging industry when Thailand was a major exporter of teak and other hardwoods. When logging practices got out of hand, and the country was facing deforestation and flash floods in the southern regions of Thailand in 1989, the nation banned all commercial logging. 
Many of the owners and mahouts of these out-of-work elephants started offering elephant rides to tourists, and these can still be found in some regions of the country today. But with the elephants having to work from dawn to dusk carrying these crippling "Howdahs," or saddles, on their backs, these tourist trekking companies are starting to face opposition from animal lovers and environmentalists. 
Other elephant owners resorted to begging on the streets of large cities in Thailand. The elephants often suffered from malnutrition when living this life, and traffic accidents would also claim the lives of the elephants at times.  
Sanctuaries for Elephants
Elephant nature parks were established as a sanctuary and rest home for older, homeless, sick, crippled, and unwanted elephants in Thailand. As ecologically-minded travellers began to visit these parks all over Thailand, they loved what they saw. Through the power of social media, they spread the word about elephant nature parks, and these sanctuaries became a must-see destination for any visitor to Thailand.
The fees and donations the tourists offer are used to provide food, housing and medical care to the elephants. Most of the elephants are donated as their previous owners recognised that these sanctuaries represented a better life for their beloved elephants. 
Interacting with Elephants
There are usually two to three sessions a day for tourists visiting an elephant nature park. The groups are controlled so as not to overwhelm the elephants. Tourists are invited to touch, feed, bathe and otherwise interact with these gentle creatures who soon realise they're in a safe environment and will never again have to work. 
On your next trip to Thailand, come and experience the magic of interacting with elephants at an elephant nature park. Besides having hours of fun, you'll be contributing to the conservation of elephants in Thailand.