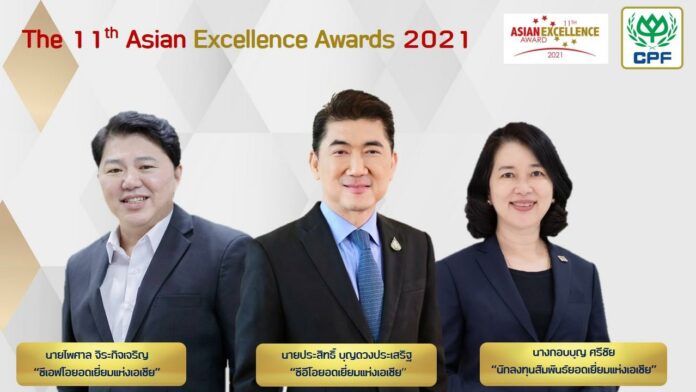 Charoen Pokphand Foods Public Company Limited (CP Foods) has won five international awards from 11th Asian Excellence Awards 2021, organized by Corporate Governance Asia magazine, the Hong Kong-based magazine dedicated to economic and corporate governance reporting. The awards demonstrated operational excellence that create food security for the consumers across the world.
Asia's Best CEO has been given to Mr. Prasit Boondoungprasert, Chief Executive Officer. The award reflects on the success of business management under good corporate governance, helping CP Foods to achieve sustainable growth as well as creating good returns in the long run for the organization and all stakeholders.
Asia's Best CFO has been given to Paisan Chirakitcharern, the company's Chief Financial Officer, from the ability to manage finances and funds effectively as well as to create added value and maxized benefits to the organization.
Best Investor Relations Professional, Asia's Best Investor Relations Professional has been given Mrs. Kobboon Srichai, Company Secretary and head of Investor Relations Office, from outstanding role in communicating with investors.
At corporate level, Best Investor Relations Company and Best CSR Company have been given Charoen Pokphand Foods PLC (CP Foods) for the company's transparency in disseminating information and social and environmental impacts on communities based on CP Foods' the 3 pillars towards sustainability – Food Security, Self-Sufficient Society and Balance of Nature; as well as its measures to protect employees and improve their quality of life respectively.
During the COVID-19 outbreak, CP Foods raises the highest standards of safety for employees. The company also set up a field hospital to maintain the health and safety of employees. These measures help CP Foods to feed people across the world without disruption.
Aside its business, CP Foods initiated COVID-19 relief project, CPF food from the heart against Covid-19, delivering millions of food supplies to medical personnel and vulnerable group in 500 locations nationwide.
This year, CP Foods also announced the sustainability strategy goal "CPF 2030 Sustainability in Action", emphasizing on taking action and build food security for all people on the basis of environmentally friendly production while promoting social growth and mitigate the impacts of climate change to support the United Nations Sustainable Development Goals (SDGs).
The Asian Excellence Awards are presented by Corporate Governance Asia to organisations that demonstrate good corporate governance. The awards are extended to visionary leaders with excellent management acumen, financial performance, corporate social responsibility, environmental practices and investor relations.