Following a launch event in December, 11 bright and authentic street food carts and trucks will be rolled out at Marriott's hotels and resorts in Southern Thailand throughout 2022
Bangkok, Thailand – Marriott Bonvoy On Wheels, the innovative food delivery and takeaway service from Marriott International, is gearing up for an exciting year-long culinary carnival in Southern Thailand in 2022, as a series of stylish food trucks and traditional carts roll up at Marriott International's hotels and resorts in Phuket and Khao Lak!
From January to December 2022, in-house guests and local residents will be invited to savor an amazing array of flavors, including casual, handheld dishes and delicious drinks freshly prepared to-order by Marriott's expert chefs and served straight over the counter. With 11 pop-up carts, trucks and trolleys rotating between 11 properties throughout the year, diners can make new culinary discoveries every month!
This year-long gastronomic extravaganza officially launched at Boat Avenue in Laguna Phuket on 17 December 2021, as all 11 hotels and resorts and 11 food trucks and carts come together for a fun-filled fiesta of food and drink, giving guests a glimpse of tantalizing taste of what lies ahead.
Then throughout 2022, the colorful pop-ups will be pulled, pushed and driven between Marriott's hotels and resorts in Phuket and Khao Lak! Diners will be able to grab gourmet burgers, bao buns, hot dogs and lobster rolls from the sleek Bun Bar, while the Mexican Trailer is the place to go for hand-rolled burritos, tacos, quesadillas and nachos, and the BBQ Smoker will specialize in succulent smoked meats, ribs, beef brisket, pulled pork and chicken.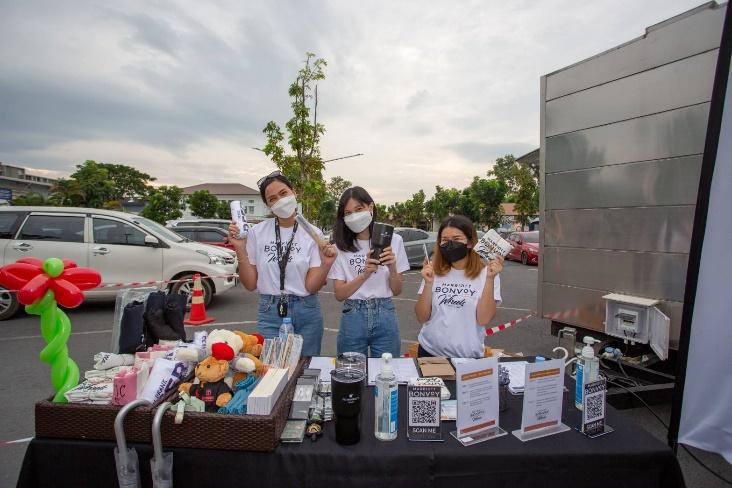 The traditional Thai-style Street Grill will offer barbecued skewers and sausages, the Crispy Cart is the perfect place for fish & chips, finger lickin' chicken and "poutine" cheesy fries, and the Plant Based trailer is a haven of mouth-watering meat-free masterpieces, such as vegan burgers and wraps, salads and rice paper rolls.
The Coconut Bar, a bright motorcycle and sidecar, will serve fresh young coconuts and cocktails, while a cute Ice-Cream Cart will present local popsicles, ice-creams and shaved ice, and a Fresh Fruit counter will be slicing up tropical fruits, sugar cane, squeezing healthy juices and blending smoothies. Finally, for guests seeking grown-up refreshments, the Gin & Tonic stall will be mixing cool drinks and bubbles, while the Brew Bar will be offering craft beers and coffees.
These two-, three- and four-wheeled wonders will be pulling up at Marriott's hotels and resorts throughout Phuket and Khao Lak, so don't miss out! 
"When we launched Marriott Bonvoy on Wheels, our aim was to bring Marriott's world-class restaurant dishes into people's homes. Now, we're flipping this concept around by bringing the best street food to our hotels! The food truck trend has taken off all around the world, and Thai food carts are always popular among locals and visitors alike. We can't wait to roll out our food truck fiesta in 2022," said Jakob Helgen, Area Vice President – Thailand, Vietnam, Cambodia & Myanmar, Marriott International.
To learn more about Marriott Bonvoy on Wheels, the takeaway and home delivery service from Marriott International in Thailand, please visit https://marriottbonvoyasia.com/R+B/local-discount/Marriott-Bonvoy-on-Wheels-Thailand.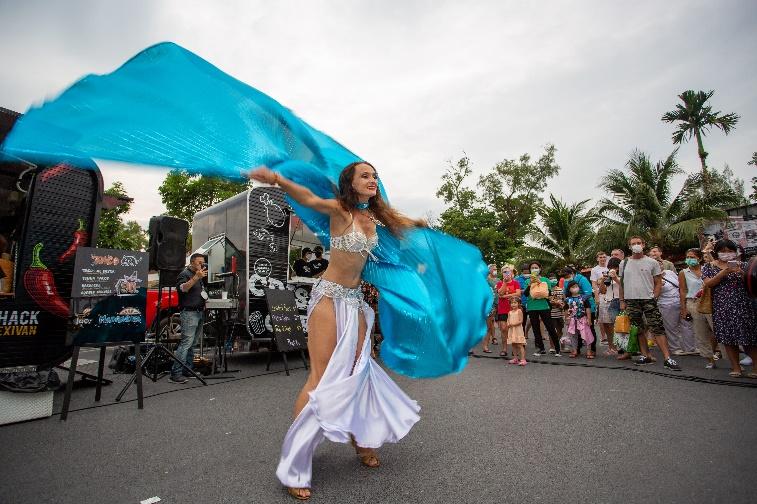 Marriott International hotels and resorts taking part in the food truck fiesta include:
JW Marriott Khao Lak Resort & Spa

Le Méridien Khao Lak Resort & Spa

JW Marriott Phuket Resort & Spa

Renaissance Phuket Resort & Spa

Phuket Marriott Resort and Spa, Nai Yang Beach

Phuket Marriott Resort & Spa, Merlin Beach

Four Points by Sheraton Phuket Patong Beach Resort

Le Méridien Phuket Beach Resort

The Naka Island, a Luxury Collection Resort & Spa, Phuket

Courtyard by Marriott Phuket Town

The Westin Siray Bay Resort & Spa, Phuket