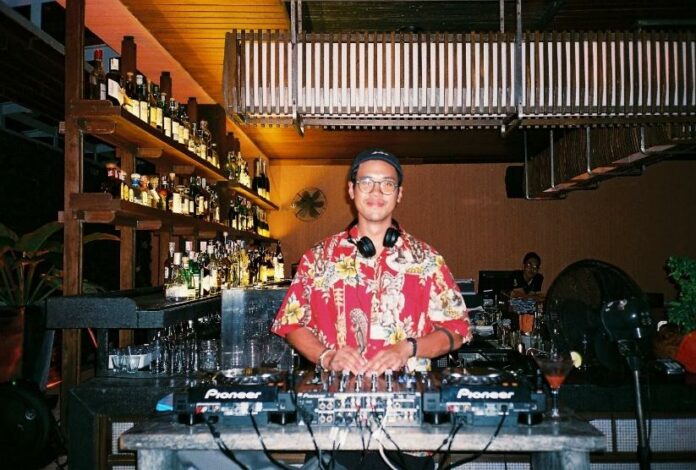 Guests and local residents invited to dance the night away at the Beach Bar on 4th March and Lido Bar on 5th March 2022, as this pioneering Thai DJ performs two exclusive sets
HUA HIN, THAILAND, FEBRUARY 2022: The Standard, Hua Hin's newest and coolest beach resort, will continue to bring an upbeat Miami Beach vibe to Thailand's gulf coast in March as it presents "Sunny Grooves", two live sessions from DJ Slowlygreen that will add an extra spark of energy and excitement to the weekend evenings.
Staged on 4th and 5th March 2022 at The Beach Bar and Lido Bar, the resort's chic social spaces, Sunny Grooves will let guests and local residents drop in, chill out and boogie down in a spectacular alfresco setting, surrounded by verdant lawns, tropical greenery and just steps away from the shimmering sea.
On Friday 4th March, DJ Slowlygreen will be spinning his eclectic tunes at The Beach Bar from 6pm till 9pm, so hotel guests, beachgoers and other party people can soak up the laidback atmosphere and throw some shapes on the soft sand. Then on Saturday 5th March, this pioneering Thai DJ will be setting up his decks at The Lido Bar from 4pm till 7pm, giving The Standard's in-house guests and visitors the chance to unwind by the pool or get groovy on the grass.
Naturally, The Beach Bar and Lido Bar will be serving their sophisticated selections of cool cocktails, light bites and casual Thai snacks on both evenings. Diners seeking a more immersive culinary experience can head to Praça, The Standard's restored heritage house and Thai izakaya by the sea, which serves authentic yet innovative Thai cuisine with a creative, international twist.
The co-founder of Durian Radio and part of the Däydang collective, which organizes some of the most talked-about parties in Bangkok, DJ Slowlygreen is inspired by sounds from around the world. His sets are always lively, with influences from the US house scene, disco, jazz, dub and world beats. Despite his name, he never takes things too slow! The Sunny Grooves sessions will be upbeat enough to let guests get down and dance barefoot, as day melts seamlessly into night. Check out for more detail: https://www.standardhotels.com/hua-hin/happenings/sunny-grooves-with-dj-slowlygreen
This is the latest example of The Standard's commitment to showcasing local music and culture in all its forms, from emerging talents to established acts, in inspiring and intimate settings. Just as every Standard hotel around the world is unique, The Standard, Hua Hin sets the stage for artists and acts that reflect the diversity of Thailand's vibrant music scene, including electro DJs, indie bands and more.
Newly-opened in December 2021, The Standard, Hua Hin brings a cool Miami vibe to Thailand's golden gulf coast. With 199 rooms, suites and villas, the mid-century style Lido pool and bar, a Thai izakaya restaurant and juice café, this chic seafront hotel is a haven for curious global explorers.
The Standard hotels are only present in the planet's most desirable destinations, from Miami Beach to the Maldives, London to New York, Hollywood to Hua Hin. For more information, please visit www.standardhotels.com.
Connect with the hotel via:
Facebook: The Standard Hua Hin
Line: @thestandardhuahin
Web: www.standardhotels.com