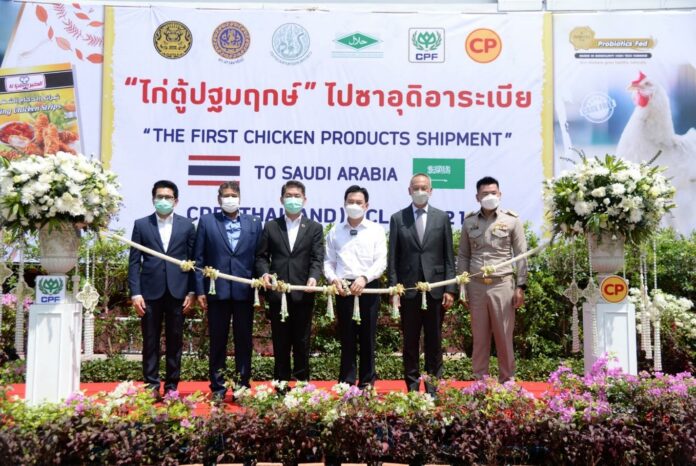 Charoen Pokphand Foods Public Company Limited (CP Foods) says it has sent the first shipment of chicken products to Saudi Arabia since 2004 after five CP Foods' chicken plants have been given permission by Saudi Food & Drug Authority to export chilled, frozen and processed chicken.  
The historic shipment took place just two weeks after Saudi Arabia lifted a 18-year ban on Thai chicken and egg imports.  
CP Foods held a launch ceremony today (March 28, 2022). The event at CP Foods' Minburi Chicken Processing Plant 2 was joined by Commerce Minister, Jurin Laksanawisit, Department of International Trade Promotion Director-General Phusit Rattanakul Sereroengrit, Department of Internal Trade Director-General Wattanasak Sur-iam, Maj.Gen. Surin Palaree, Secretary-General of the Central Islamic Council of Thailand, CP Foods' CEO Prasit Boondoungprasert, and the company's management members.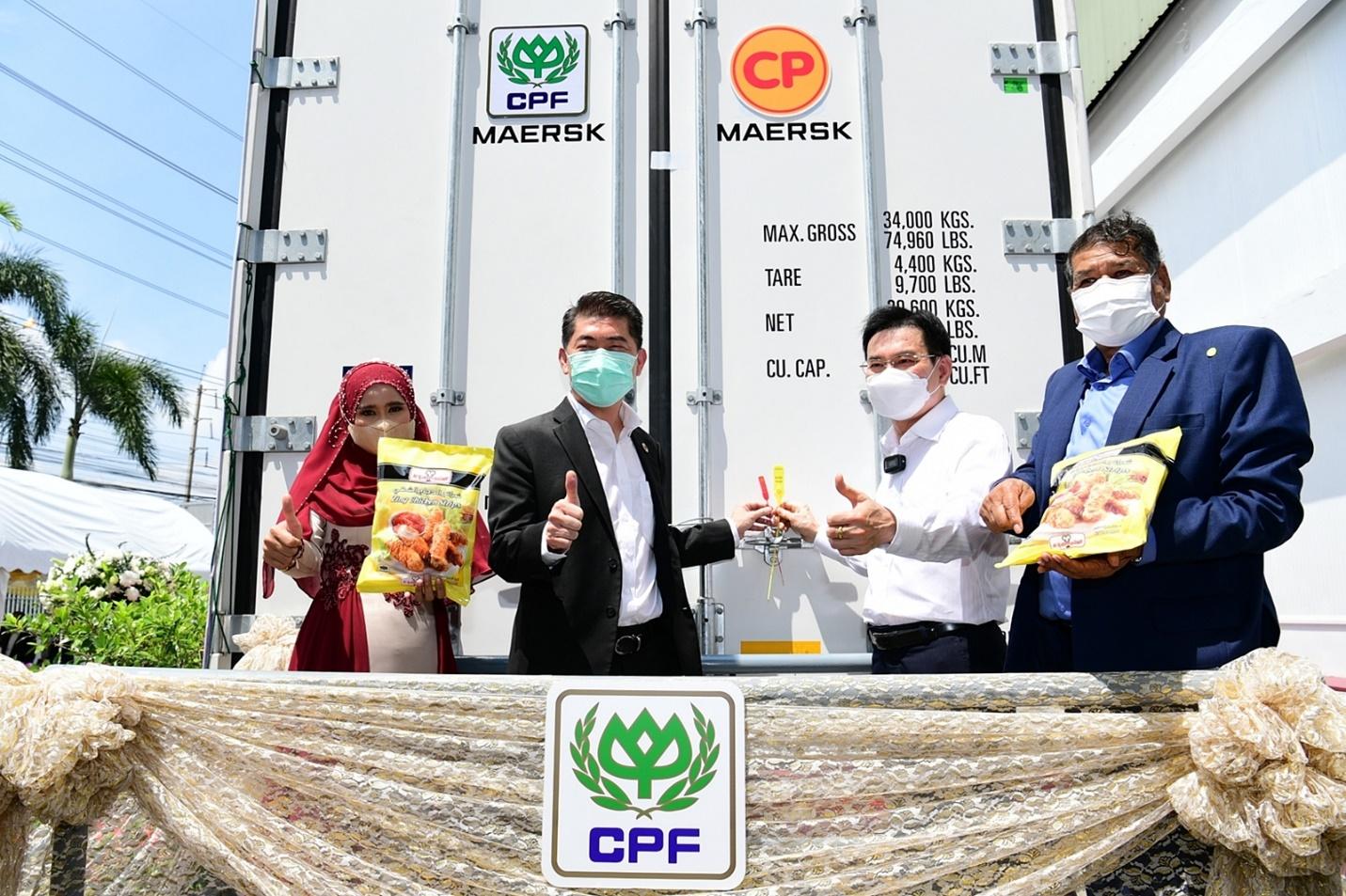 Mr. Jurin said that Thailand's chicken industry has made a monumental step in the Middle East today. This is thanks to the Prime Minister's historic visit to Saudi Arabia and the continuous efforts to restore diplomatic ties by the Ministry of Commerce Ministry of Agriculture and Cooperatives and the Ministry of Foreign Affairs. The Minister also thanks to the Central Islamic Committee of Thailand for helping the government to develop Thai chicken production in accordance with Halal standards. 
"Congratulations to CP Foods for being the first company to export chicken products to Saudi Arabia. It is a new era for Thai and Saudi trade. Thailand aims to export 10,000 tons of chicken to Saudi Arabia this year, which will help increase the value of Thai broiler exports abroad," he said adding Thailand aims to export broiler to the world totalling 9.8 hundred thousand tons, an increase of 7% from the previous year. The Saudis will be one of the most important and largest markets in the Middle East, especially for Halal products.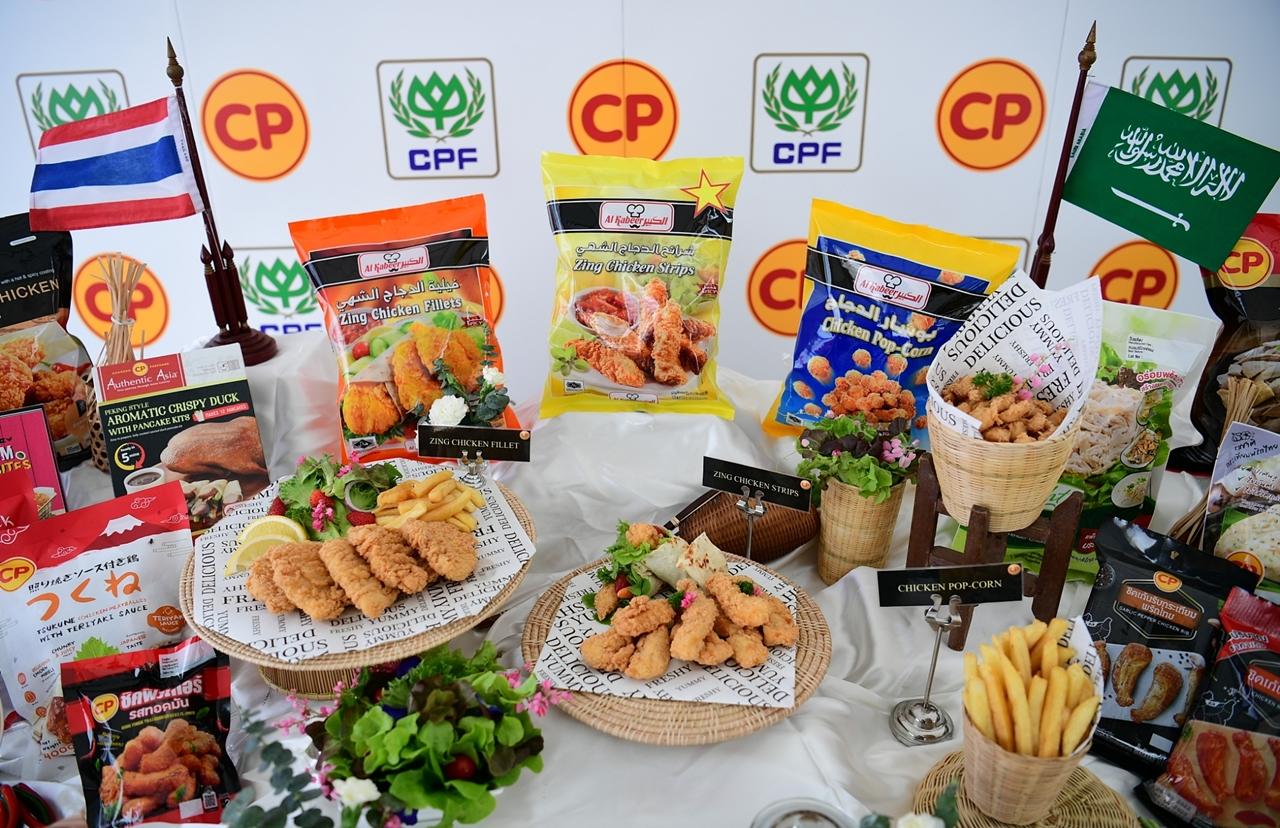 Mr. Prasit added that CP Foods will export 600 tons of chicken products, worth 47 million baht, to Saudi Arabia within March this year. He also thanks to the Prime Minister General Prayut Chan-ocha, Minister of Commerce, Minister of Agriculture and Cooperatives, and all relevant agencies for coordinating with the Saudi authorities, helping Thai chicken exports to grow strongly. 
"CP Foods will export 6,000 tons of chicken meat products with a total export value of 473 million baht in this year. CP Foods is eyeing chicken export of 60,000 tons in the next five years, which is about 4,200 million baht," Mr. Prasit said. 
The chicken products are certified internationally recognized standards such as GMP, HACCP, ISO 9001, IFS (International Food Standard), BRC (British Retail Consortium), ISO 14001(Environment Management System), Thai Labor Standard TLS 8001, ISO 45001 (Occupational Health and Safety Management Systems) and, most importantly, Halal certification. Mr. Prasit explained that the products use halal-certified ingredients and are free from any prohibited procedures by Islamic dietary guidelines. As a result, CP Foods' products are recognized by customers all over the world. Especially, including highly competitive markets such as the United Kingdom, Japan, European Union countries.  
With a population of 36.5 million people, Saudi Arabia is the country with the highest proportion of food imports among the Gulf Corporation Council and will be the largest importer of chicken from Thailand in the Middle East. The Thai broiler industry expects to gain a 10% to 15% of total market share in the country.