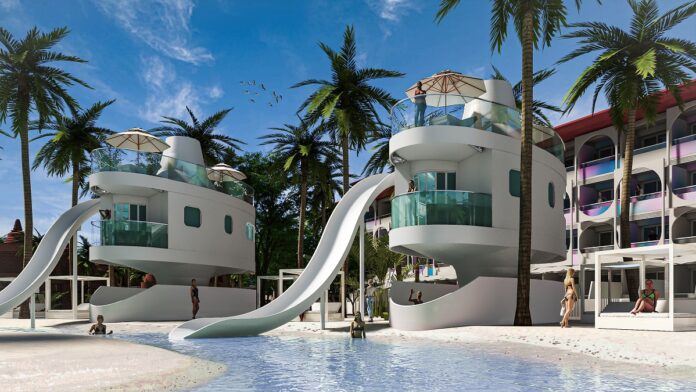 Azure Rich partners with Siam LBS introducing the Hybrid Construction Technology brand 'Evolutions' into the construction industry on its projects- save time, manage quality and environmentally sustainable
Azure Rich Group (ARG), a Thai Australian International Property Development Group, signed an MOU with Siam Lucky Building System (Siam LBS) a modular construction subsidiary of Siam Steel International Public Company Limited in Thailand, for an internationally co-developed state-of-the-art technology with its partners in the area of high-speed hybrid construction for projects in Thailand and overseas, using the technology brand 'Evolutions', such as starting on ARG's resort chain projects.
The assistance of Modular/Hybrid technology in construction will save time, manage quality and become a more environmentally sustainable construction solution
ARG's 4 billion THB flagship project, 'Nebu Residences Jomtien' as part of its Asia Pacific Resort Chain 'Nebu World' consisting of 950 keys in Na Jomtien, Sattahip, Chonburi, Thailand is now under construction.

The project will include some full factory pre-made buildings, some hybrid (modular and traditional) and some traditional construction using the combined resources of the 'Evolutions' team including Siam LBS, Thai contractor Pacific Rim Rich Group Co., Ltd. and the international architects Greenarc (Thailand) Co., Ltd. 
Australian architect Mark Tanner (founder of Greenarc International (Architecture) Group) a co-creator of the technology said, "As the tourism industry comes back with vengeance in Thailand and many other countries globally, the construction industry is hit with difficult deadline expectations from hotel owners and developers trying to expand facilities to current and projected tourism demands. 'Evolutions' is a combination of over 20 years of experience by our 3 groups born out of an objective to save time, manage quality and become a more environmentally sustainable construction solution".   
Siam LBS as a PLC subsidiary, was established in 1998 and has had a long history across many sectors including the construction industry with Siam LBS focused on modular and prefabricated construction technology for over 25 years with a wide range of significant projects, including for the tourism industry. Internationally this includes, Japan, Australia, Dubai and within Thailand. 
Greenarc International Group was established in Australia in 2000 and Thailand in 2010, with a long history in the construction industries internationally, with over 10 years in developing modular and high-speed modular construction technology with a design edge, which has included patents being registered in Australia and possesses international project experience.  
Thailand businessman Kitichai Kunanantakul, managing director of Siam Lucky Building System's business unit, Siam Steel International PLC, said, "We have seen a move over the last several years Internationally and within Thailand, where demand for the superior time saving and quality control of this technology is starting to grow and so its market share in the construction industry is rapidly increasing.
Siam LBS has for the last 25 years been heavily involved in hybrid construction in the condominium industry providing pre-made bathrooms and we see the opportunity in other sectors like the hospitality industry where pre-made construction saves so much time, the projects financials are improved overall with faster completion and a faster start to the earning of revenue".  
As the population ages and labor shortages are already becoming evident globally and with global warming and all the issues that it brings to the construction industry, it is logical that the industry will evolve with the rise of technology at its side. The construction industry is a very traditional industry and has been slower to evolve than others with advantages of technology, but its time certainly seems to now be coming. 
Investors throughout the world are now looking for green and sustainable investments. Many large hedge funds and institutions globally now have mandates ever-increasing that are driving the funds they manage in these directions across all sectors including in property. Governments around the world are also steering planning and construction regulations in the same direction and so closing the gap for unsustainable development and construction practices on an environmental level.  
ARG, established in 1996 in Thailand and 2000 in Australia, co-founder and Managing Director in Thailand, Dr. Supareak Charlie Chomchan said, "We are happy to be moving in a financially and environmentally sustainable direction with the assistance of smart technology, in the development of our Asia Pacific Resort Chain.
The faster our asset can commence operations, the greater the return on investment can be achieved. We hope the market, from the point of view of equity investors and property purchasers, see our vision and support initiatives like ours and others in the market. This will create an awareness and urgency in the industry that the technology is one of the key successes to move toward to sustainability and profitability to all stakeholders".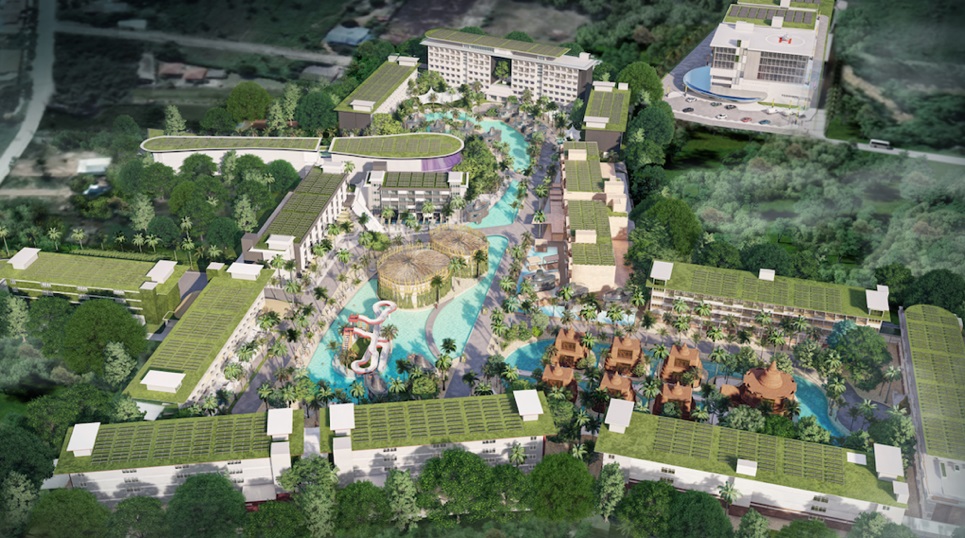 About Azure Rich Group
Azure Rich Group is an international conglomerate with Partners from Thailand, Australia, Singapore, United States of America, Switzerland, and New Zealand. The founding Company was established in 1996 in Bangkok, Thailand, followed by Queensland, Australia in 2000. The Group provides a range of business services including property development, property consultancy, corporate consultancy, investment, hospitality, prop-tech and construction. For more information, visit www.azurerich.com
About Siam Lucky Building System
Siam Lucky Building System is a subsidiary company of Siam Steel International PCL, which was established since 1998 in order to support the continuous growth of factory-built building products. "Siam LBS" is specialized in all kinds of steel-structured prefabricated building system, especially in Modular building system, proving its highest standard in the international stage by exporting to several countries across the globe such as Japan, Australia, Dubai, Indonesia, India, as well as in Thailand.
We offer a total one-stop-service project management from research, plan, design, manufacture, and installation. We are proud of our achievements in being one of the leading industrial groups in Thailand with a firm history of more than 6 decades and experience to meet the needs of domestic and international markets.
About GreenArc International Group
Greenarc Group's first company was established in Australia in 2000,  in London in 2003, in   Thailand in 2010 and  in Myanmar in 2013. The group is primarily an Architectural practice, that also provides Development and Project Management services, along with Interior Design, Landscape Design, Web3 Design and Commercial Art. Over the last 22 years of business, it has designed most types of buildings including: hotels, resorts, commercial, retail, housing, industrial, mixed-use, condominiums, apartments, well-being and co-work facilities.