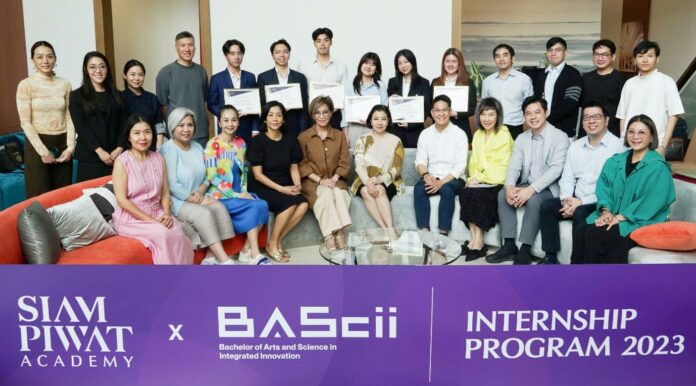 Siam Piwat, a leading real estate and retail developer, the owner and operator of Siam Paragon, Siam Center, and Siam Discovery, and a joint venture partner of ICONSIAM, ICS, and Siam Premium Outlets Bangkok, has joined forces with the Chulalongkorn School of Integrated Innovation to organize the Siam Piwat x BAScii Internship Program 2023.
The initiative offers young talents an opportunity to enhance their potential and gain experience as interns at an organization recognized as the Icon of Innovation and an imminent developer of world-class destinations.
Through this program, Siam Piwat will be fostering a new generation of leaders to support the growth of the retail industry in the future, underlining its commitment to the creation of a well-growing platform for internal and external parties across all sectors.
Chanisa Kaewruen, Head of Creative and Innovation, Siam Piwat Co., Ltd., said that Siam Piwat places great emphasis on driving business with creativity and innovation in its mission to deliver experiences beyond expectations as well as on knowledge and expertise enhancement, particularly among younger generations who will contribute to the limitless growth of the company.
This initiative enables Siam Piwat to share real-world work experience as a business leader, while also opening Siam Piwat's executive team to a more diverse range of innovative ideas from young talents. Organized for the second consecutive year, the objective of the collaborative program between Siam Piwat and the Chulalongkorn School of Integrated Innovation is to develop new bodies of knowledge and essential work skills for the future as well as contribute to the economic development of Thailand in the future.
A BAScii student participating in last year's program has been accepted to Siam Piwat's Think Tank team and tasked with the oversight of the company's Web 3.0 projects.    
For the Siam Piwat x BAScii Internship Program 2023, a total of eight third-year and fourth-year students from the Bachelor of Arts and Science in Integrated Innovation Program, Chulalongkorn University, have been selected for internship, where they will gain hands-on experience and work with executives who are project leaders as well as professionals across various lines of work at Siam Piwat, including Corporate Strategy and Business Growth Division, Shopping Center Business Division, Customer Experience Division, Retail Business Development Division, and Business Development and Investment Division over the course of two months from June to July, 2023.
The participants will also enjoy an opportunity to work closely with function-level executives, with project mentors consistently providing instructions, guidance, and advice throughout the internship period, as well as present their special project plans, with the Chief Executive Officer and senior management in attendance to provide feedback and suggestions.
"As a developer of world-class landmarks, we are equipped to create a unique learning experience for students, where they will take part in our key projects in support of our exponential and limitless business growth. We strive to build a team of young talents who will create inspiration at the global level and develop a well-growing platform for all," concluded Chanisa.