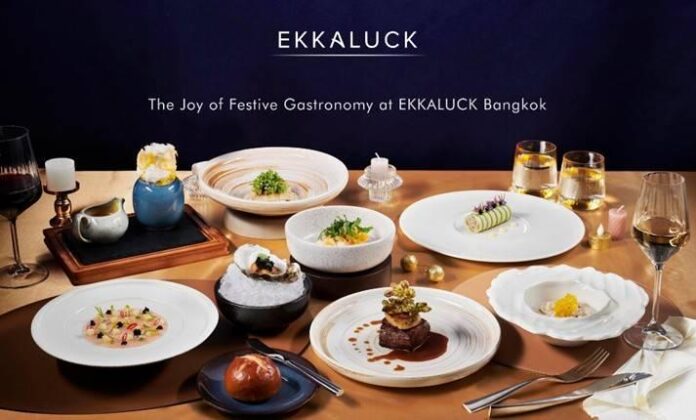 Chef Wuttisak "Wut" Wuttiamporn to surprise and delight diners
with a trio of exciting epicurean experiences for Christmas and New Year
Bangkok, Thailand – EKKALUCK, the innovative dining destination at Madi Paidi Bangkok, Autograph Collection, is inviting discerning local diners and international explorers to come together and enjoy a highly creative and cosmopolitan festive season, with a trio of culinary experiences that will immerse every guest in the magic of the holidays.
Chef Wuttisak "Wut" Wuttiamporn, whose avant-garde style is reimagining traditional Thai cuisine with a cosmopolitan touch, is now ready to help couples, families and friends elevate their Christmas and New Year to new heights at EKKALUCK.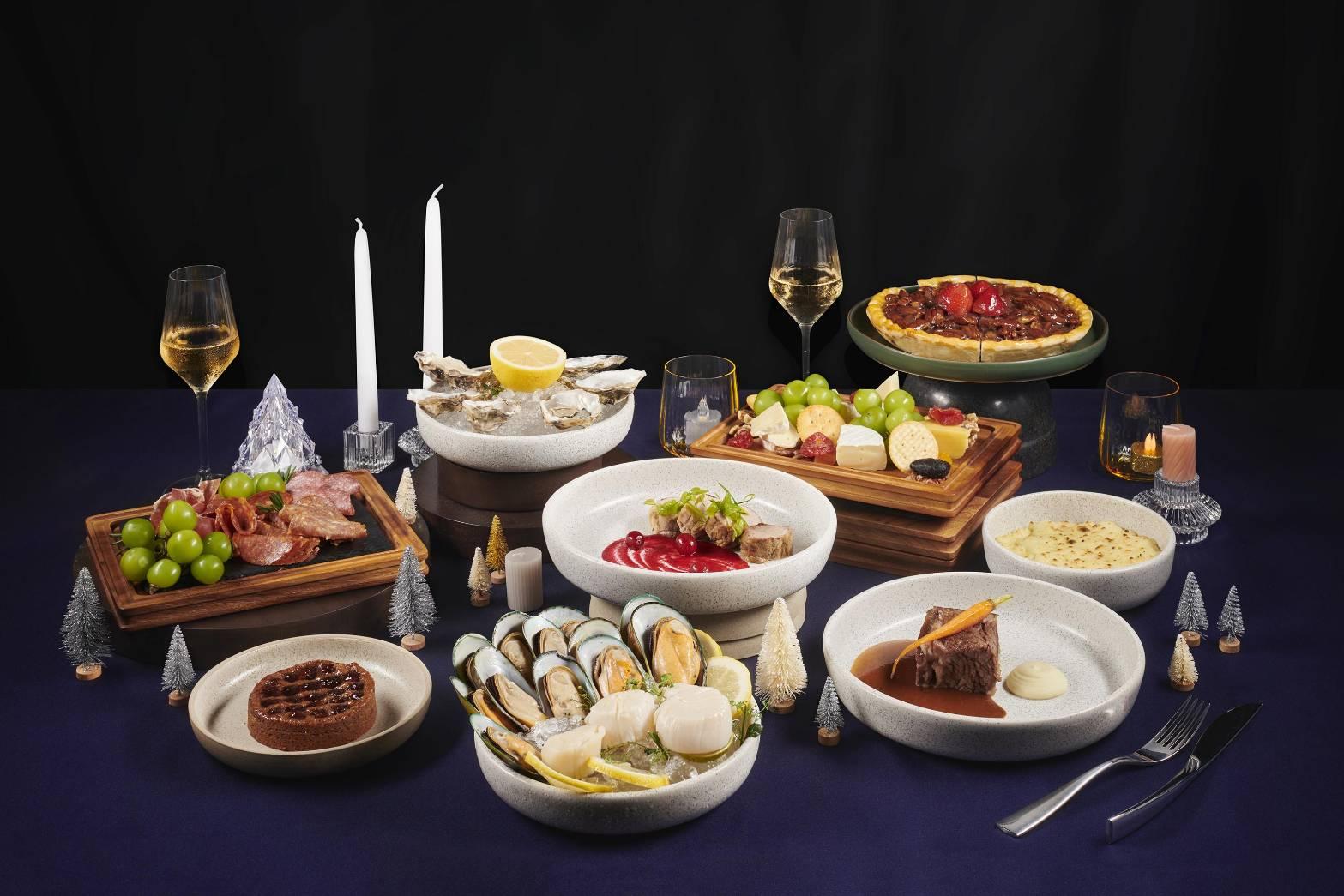 On 24th December from 18:00 – 22:00 hrs, the "Christmas Eve Semi-buffet" will see Chef Wuttisak put his own unique, contemporary twist on a classic Christmas dinner. All ages can savor an extensive array of delicacies, including handcrafted Thai appetizers and salads, imported cold cuts and cheeses, succulent seafood on ice, soups, a live Bagel Station, and a Christmas Carving Station featuring turkey breast, honey-glazed ham with cloves, roasted lamb leg and more, plus a series of side dishes. 
Guests can also choose two main courses from a selection that includes roasted pork tenderloin with cranberry glaze, Chef Wut's signature shepherd's pie, slow-cooked beef short ribs with vegetables & mashed potatoes, and many more. And of course, every meal ends on a sweet note with handcrafted desserts, such as Christmas pudding, stollen and yule log. All diners will be treated to a welcome drink and entertainment from a live saxophonist.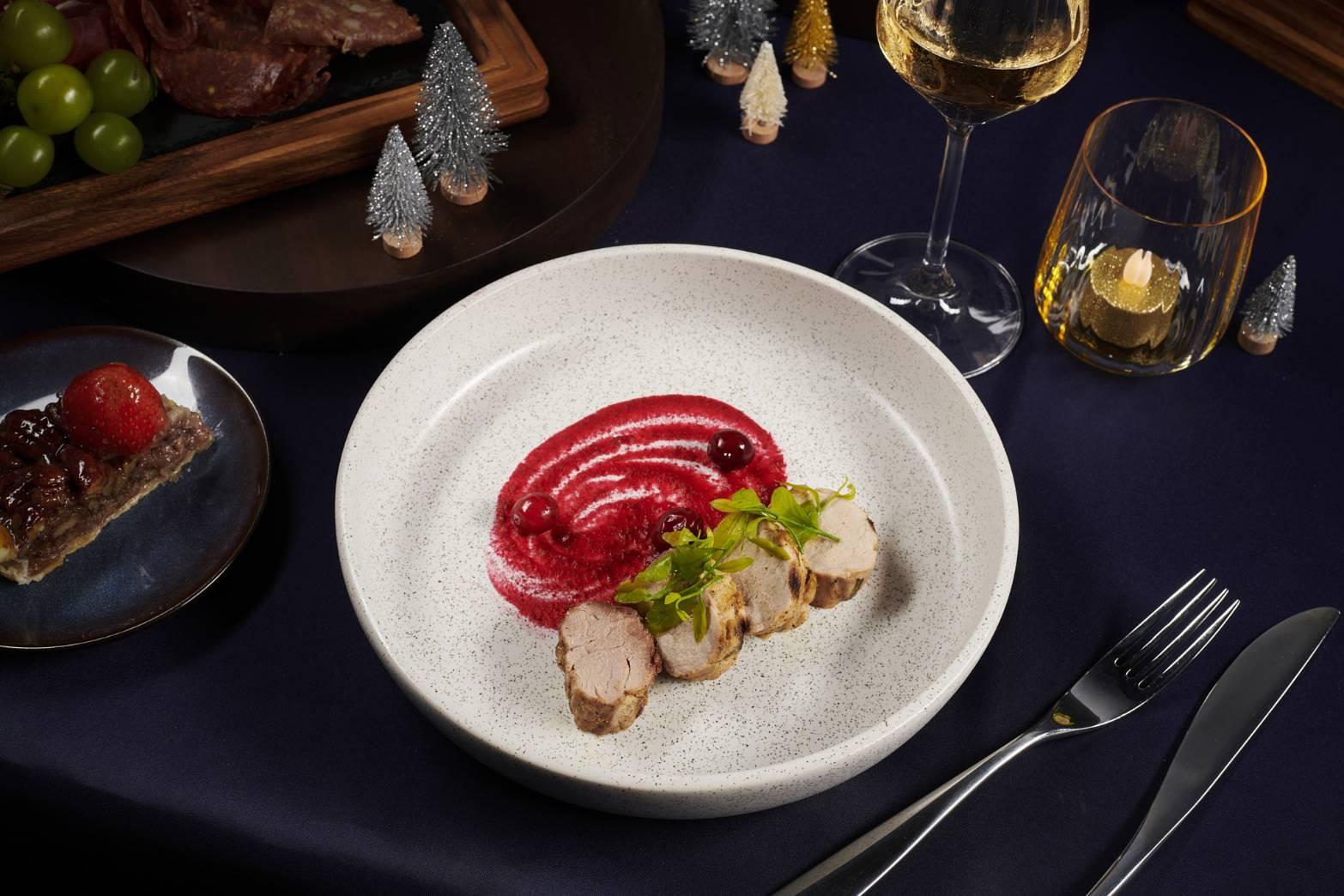 Then on 31st December from 18:00 – 22:00 hrs, couples and friends are invited to celebrate the last day of the year in style at EKKALUCK's "New Year's Eve 7-Course Set Dinner." This sophisticated evening will transport guests on a gastronomic journey that showcases the finest local and imported ingredients.
Following a French Gillardeau oyster with caviar, diners can savor Carabineros carpaccio (Spanish red prawns) with Kumquat-shoyu vinaigrette, Korean chili & yuzu oil, and fresh Phuket lobster with orange & avocado salad. A sublime soup using Thai mushrooms from Mahrarakram and coconut milk from Chumphon will then be followed by a palate cleanser of Phetchaburi tamarind and longan honey from Chiang Mai.
Two mouth-watering main courses will highlight the finest produce from land and sea: pan-seared turbot with Ceylon spinach, seaweed caviar & tom kha beurre blanc or tenderloin wagyu beef with crispy cowslip creeper, foie gras and a red wine & truffle jus. Finally, this culinary journey concludes with a raspberry yoghurt panna cotta, made with milk from Chiang Mai. With a welcome glass of Champagne and live music from a saxophone and traditional Thai musical instruments, this enchanting evening will live long in the memory.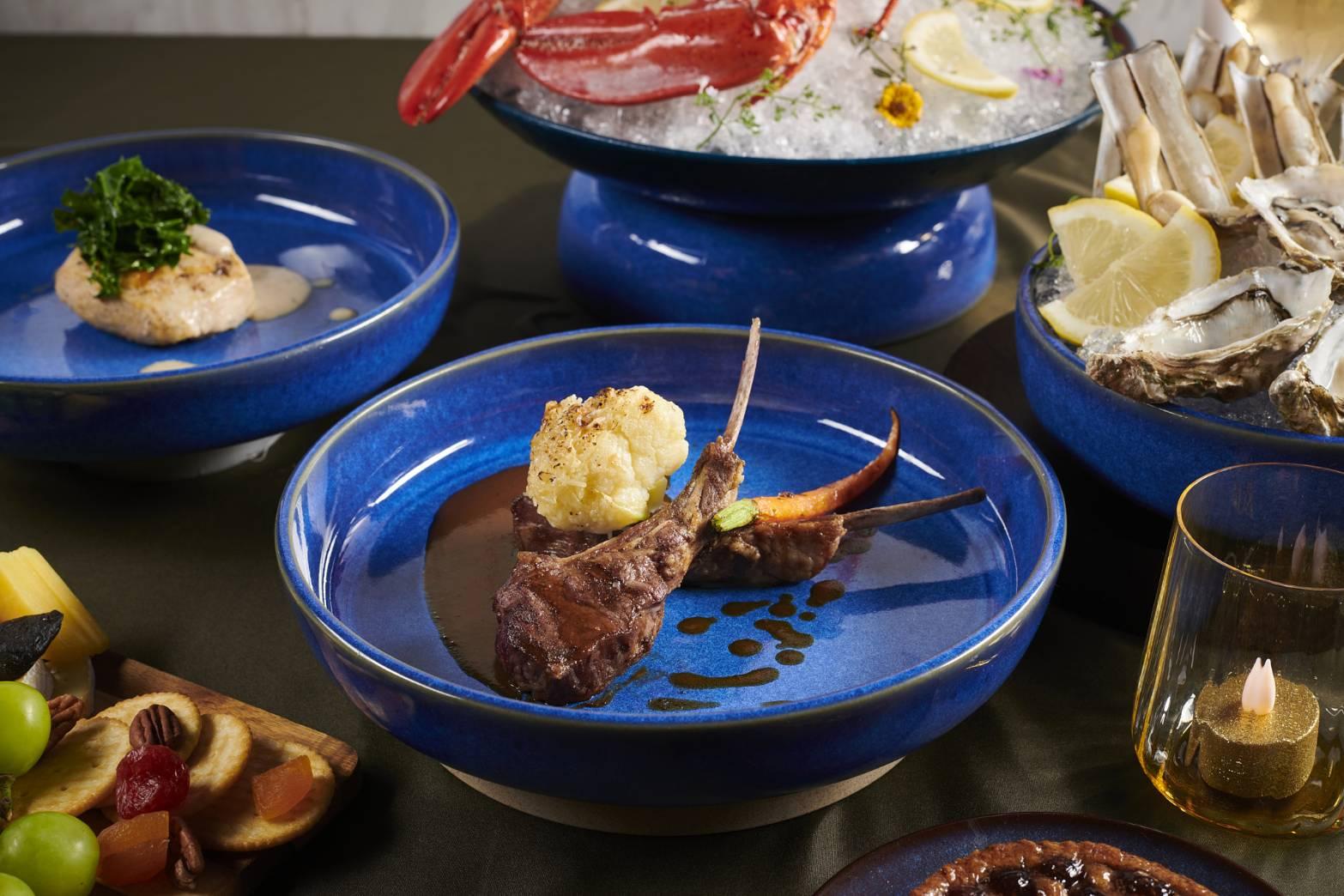 Then on 1st January 2024 from 11:00 – 15:00 hrs, diners can step into 2024 together at EKKALUCK with the "New Year Brunch." This fantastic feast will be a celebration of family, friendship and flavors with an extensive array of succulent seafood on ice, a salad bar, cheeses and cold cuts. 
Diners can choose from two main courses, freshly cooked on EKKALUCK's charcoal grill, including wagyu flank steak, chicken breast, Australian lamb chops, river prawns, sea bass, grilled snow fish, or roasted cauliflower, all accompanied with sides and sauces. And of course, the Dessert Station will feature sumptuous sweets, organic ice creams and smooth sorbets. 
The "Christmas Eve Buffet" is priced at THB 4,453++ per person, with an optional free-flow beverage package for THB 1,350++. The "New Year's Eve 7-Course Set Dinner" is also available for THB 4,453++ per person, including one glass of Champagne and an optional wine-paring package for THB 1,500++, and the "New Year Brunch" is priced at THB 1,753++ per person, with free-flow Prosecco and Bloody Mary cocktails.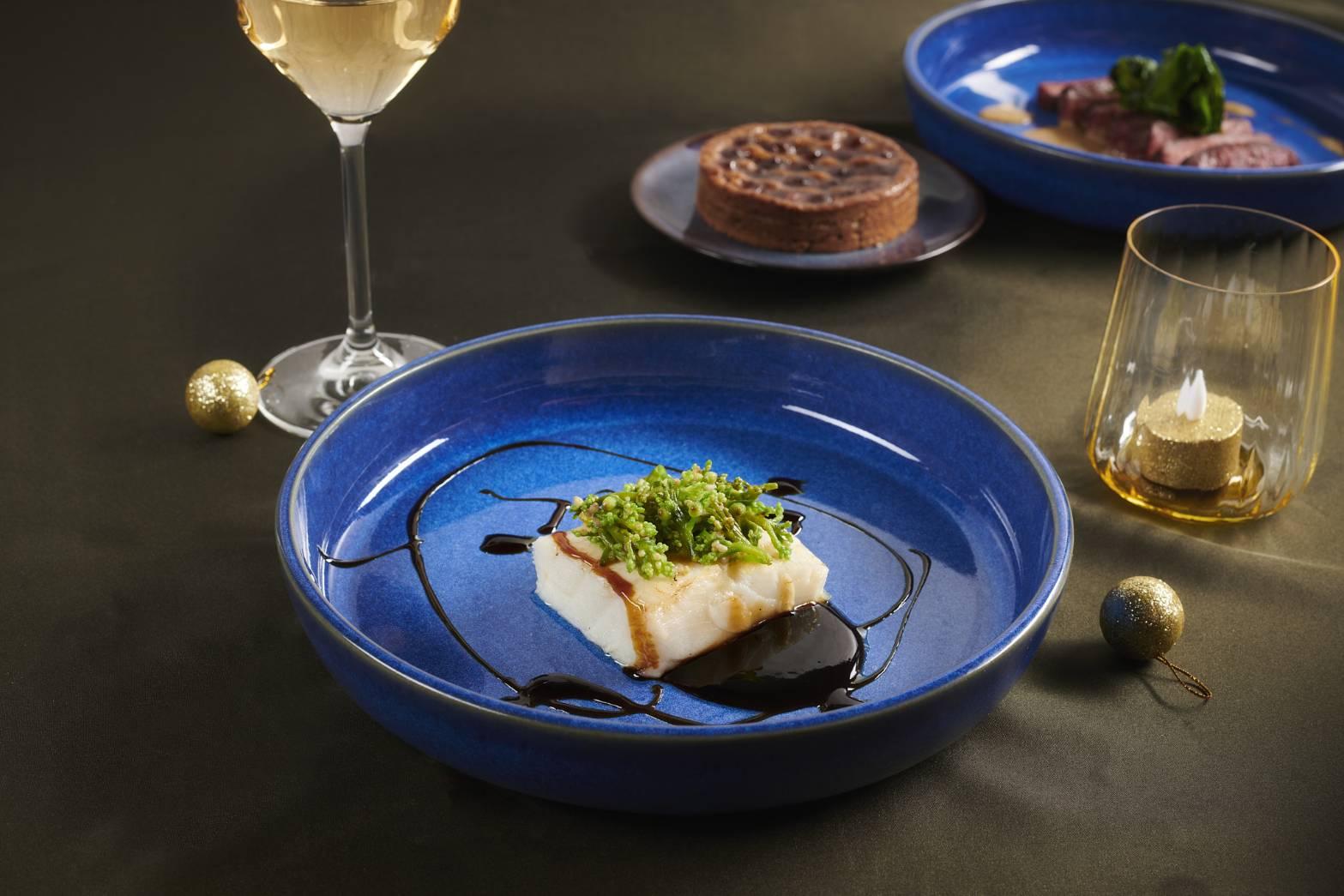 A 15% early bird discount is available for bookings made before 15th December (for the Christmas Eve and New Year's Eve events) or 20th December (for the New Year Brunch), and Marriott Bonvoy members get 10% off! 
For more information and to book your table, call +66 (0) 2 127 5999, email [email protected] , or follow us on LINE @ekkaluckbangkok.
To learn more and to reserve an urban escape at Madi Paidi Bangkok, Autograph Collection, please visit http://www.madipaidibangkok.com/