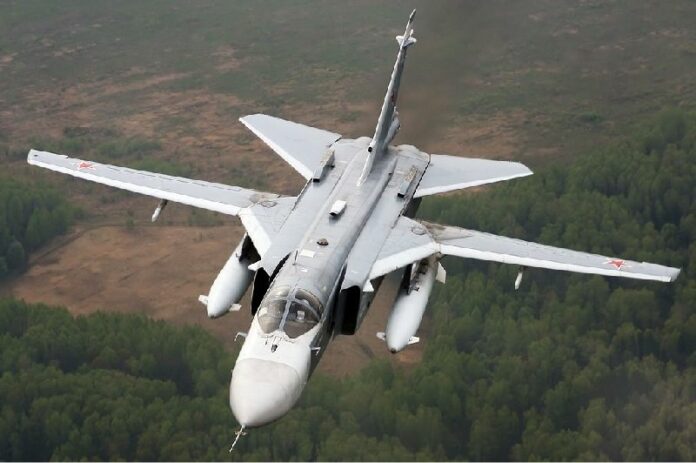 MOSCOW — Turkish F-16s shot down a Russian fighter plane near the border with Syria, Anadolu news agency reported, and the Defense Ministry in Moscow confirmed one of its Sukhoi Su-24s had crashed.
The jet went down near the north-western Syrian Turkmen town of Bayirbucak, and the Turkish military said the jet was given 10 warnings in five minutes before being shot down, according to Anadolu.
"A warplane of unknown nationality that breached Turkish airspace over Hatay's Yayladagi region at 9:20 am [0720 GMT] was alerted 10 times in five minutes," it said in a statement quoted by Anadolu, adding that the F-16s' response was in line with the country's rules of engagement.
Syrian rebels claimed that one Russian pilot was killed after his plane was shot down.
"Killing of a Russian pilot in Latakia province at the hands of the revolutionaries … and the search is ongoing for the second pilot," the Tenth Coastal Brigade rebel group wrote on its Twitter and Facebook pages.
A legal adviser to the Free Syrian Army rebel alliance confirmed that the pilot had been killed. It was not yet clear how he died, Osama Abou Zeid told DPA.
Two airmen parachuted from their jet after it was hit near the Turkish border, the Syrian Observatory for Human Rights said.
The Observatory, which monitors the conflict through a network of local activists, reported that Russian helicopters were searching the area where the plane came down in the Jabal al-Turkoman mountains.
The area has seen fighting over the past two months between government forces backed by Russian airstrikes and Syrian rebel factions.
Turkey has previously warned against violations of its airspace by Russian jets, which began flying missions in support of Syrian government forces at the end of September.
Kremlin spokesman Dmitry Peskov said: "We have to be patient, it is a very serious incident, but again, without all of the information it is impossible to say anything, and it would be wrong," according to state news agency TASS.
He would not discuss the status of Russian Foreign Minister Sergei Lavrov's scheduled visit to Turkey this week.
The Russian Defence Ministry said preliminary reports suggested the plane was shot down from the ground while at an altitude of 6,000 metres, TASS said.
"Throughout the flight the plane was exclusively over Syrian territory. Objective monitoring data confirm that," the ministry said.
Russian President Vladimir Putin is meeting Jordan's King Abdullah on Tuesday in the Russian Black Sea resort of Sochi to discuss the crisis in Syria and the Islamic State.
Activists in the area posted a video online showing the plane crashing and someone screaming: "God is great, it is a Russian plane." The footage could not be independently verified.
The area near the crash site, in the northern outskirts of the coastal city of Latakia, witnessed fierce clashes and airstrikes, activists said.
Story: DPA